Disappearing Twinns
Submitted by

Little Raven

on Sun, 2015-12-06 17:44
My Twinn Berkeley: The Last of the Berkeley-hicans

A couple of days ago, I counted ten separate My Twinn face sculpts available from My Twinn's Adopt a Friend page; today there are eight: Rosemary, Teresa, Katie, Kate, Madison, Ariel, Emma, and Lenora are all that's left; and there are only one or two left of some of those, like Ariel and Madison.
Just a few weeks before that, there were about twelve or thirteen sculpts. I was fortunate to get the very last Berkeley (originally an Asian mold) at that time, and I haven't seen any new ones introduced.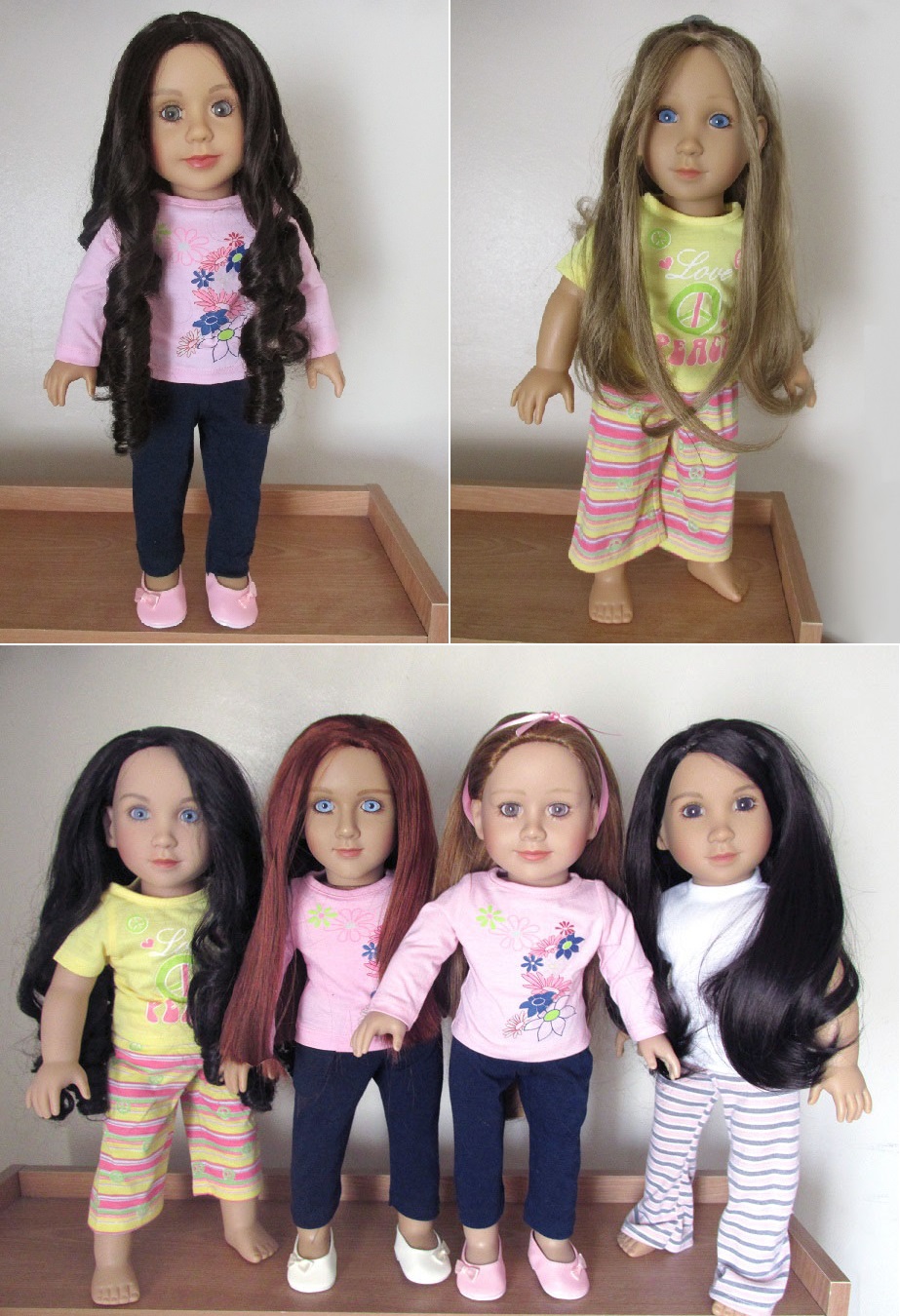 MY SIX TWINNS, PREVIOUS TO BERKELEY#4 ABOVE, WHICH NOW MAKES SEVEN

Come to think of it, there isn't a single blonde doll left, nor a darker skinned one. It's also impossible to get a
custom
darker-skinned My Twinn. Wow, and last year there were about twenty-five sculpts available, in all skin tones, eye, and hair colors. There may have been more than twenty-five before then.
Not sure what is going on, but it makes me a little concerned. I hope they are just getting rid of their old inventory to bring out some new stuff. I'd hate to think they are closing out. :( No other doll manufacturer has offered as many unique looking and varied dolls as My Twinn. If they closed up shop, I can't think of another even close to being able to take their place.
On the bright side pf things, they've been running a really great sale for an extended period of time now. While I got my last few dolls at $31 (down from their usual $79) they are still currently offering them for a low $39.50 I guess we can benefit from whatever might be going on, if nothing else!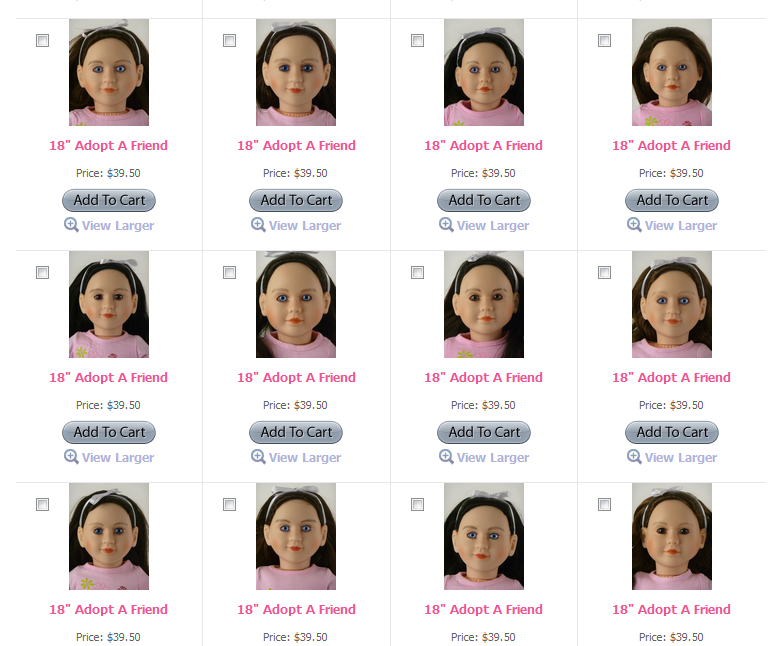 A WHOLE PAGE OF ROSEMARYS AND TERESAS; NOT MUCH ELSE IS LEFT


---
UPDATE:
I dropped by the My Twinn site again this evening, just a few hours after my original post, and the last Ariel sculpt was now also gone. Make that seven face molds left!



---

UPDATE: Slightly under two weeks later, a total of three Adopt a Friend dolls remain--that's three (3) dolls in total. And the option to create a custom doll has completely disappeared! Not to mention a closeout sale with up to 90% off entire store has been announced. Well, this is all pretty concerning, but I don't think it 100% indicates My Twinn is going out of business. Maybe they are taking some time off, regrouping, or whatever. I've got a bit of faith they'll be back somehow sooner or later. They have to! It would be such a shame to lose access to these unique and varied dolls. I guess we'll just wait and see. . .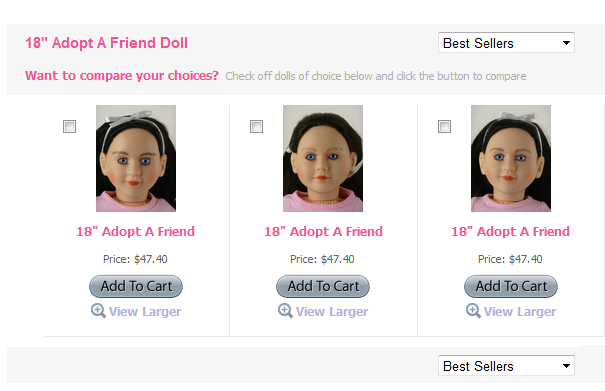 ---

UPDATE:
Welp, all the Adopt a Friends are now gone. However, not sure if I missed this before, but looks like My Twinn has announced the Friends will be back after Christmas with new looks. That's awesome! I'm not sure if this means that all the dolls will have new looks, or if there will be additional dolls available with new looks. Either way it's pretty fantastic news! I can't wait to see what will be when they're back.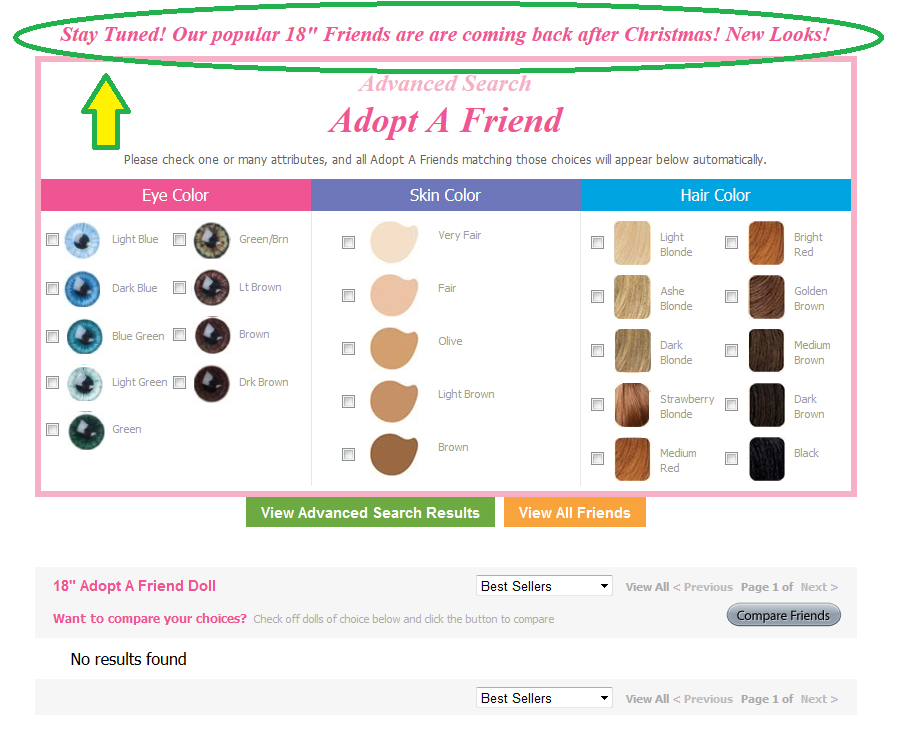 ---
UPDATE: A week or two of nearly all "Kate" facesculpt My Twinn offerings with a few scattered rare ones like Cookie thrown in, and then the site went closed for good. Wow, don't even know what to say. :(