Kingstate Friendship Kids
Submitted by

Little Raven

on Wed, 2016-04-06 21:44
Kingstate the Dollcrafter originally produced porcelain collector dolls in 17" or 19", but in 1998 they released a vinyl 18" doll collection called Friendship Kids that strongly resembled the company's
porcelain dolls
.
Then in the mid 2000s, the Friendship Kids were slightly updated with a new wardrobe to look less like their predecessors and more like popular vinyl dolls. The new collection nonetheless retained most of the older, "classic" features such as the mask-like faces, extra large eyes, and
white cloth body
.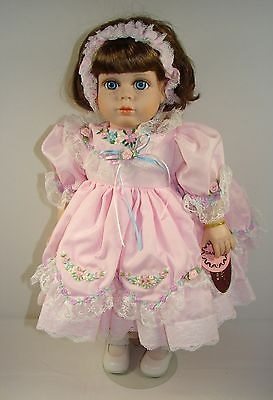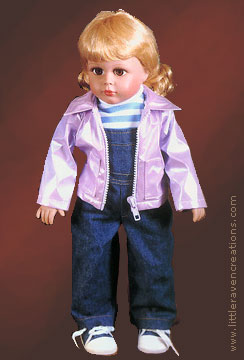 Original and Updated Friendship Kids dolls
Shortly after, the classic face molds were dropped in favor of newer, more lively faces. There were four or five (possibly more) different sculpts introduced, though the white body seems to have hung around for bit longer, eventually replaced with a flesh tone body. The new Friendship Kids collection was also given the additional title of "Friends Forever."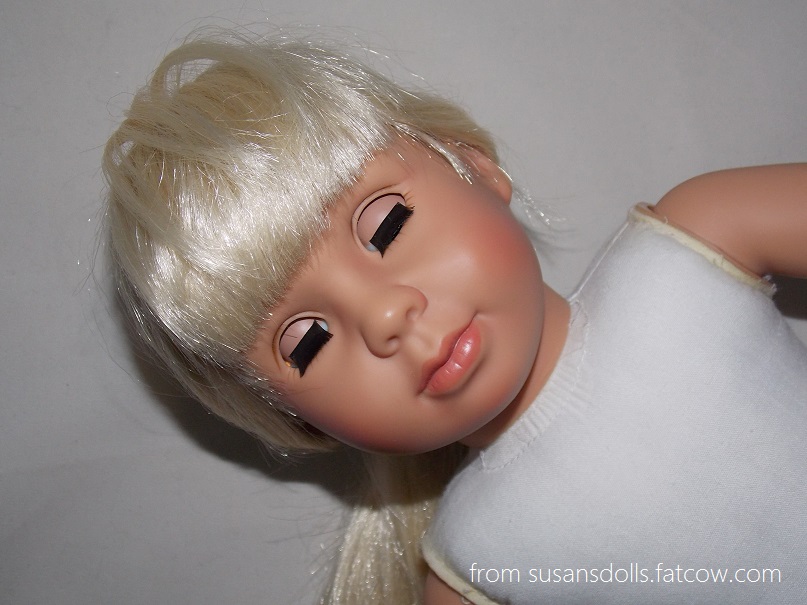 Friends Forever doll with new face mold and white body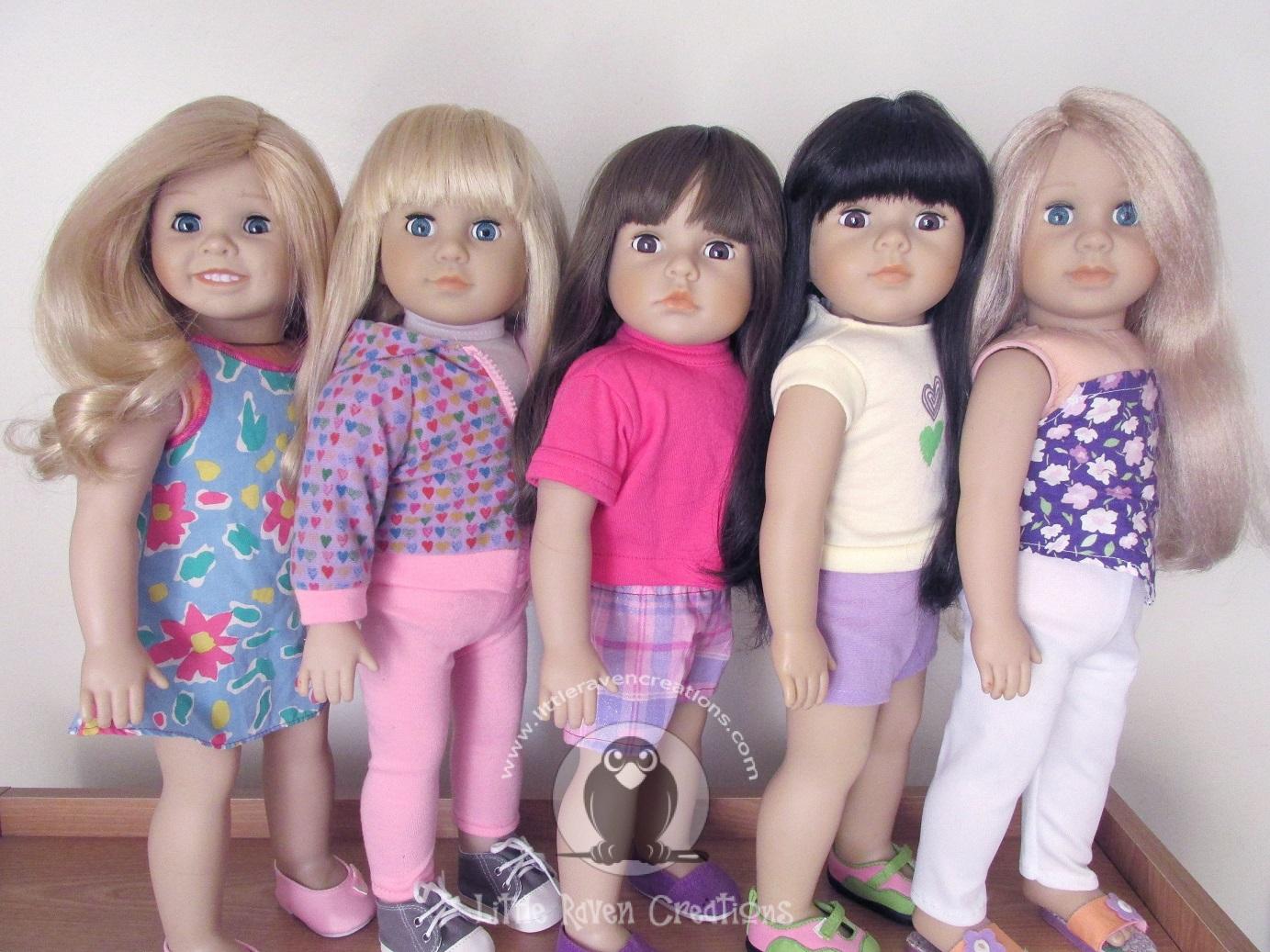 Five facemolds from the Friends Forever collection , including rare smiling mold at left.
The face sculpts of the later Friends Forever Kids are some of the cutest ever made for play dolls, each with an abundance of personality.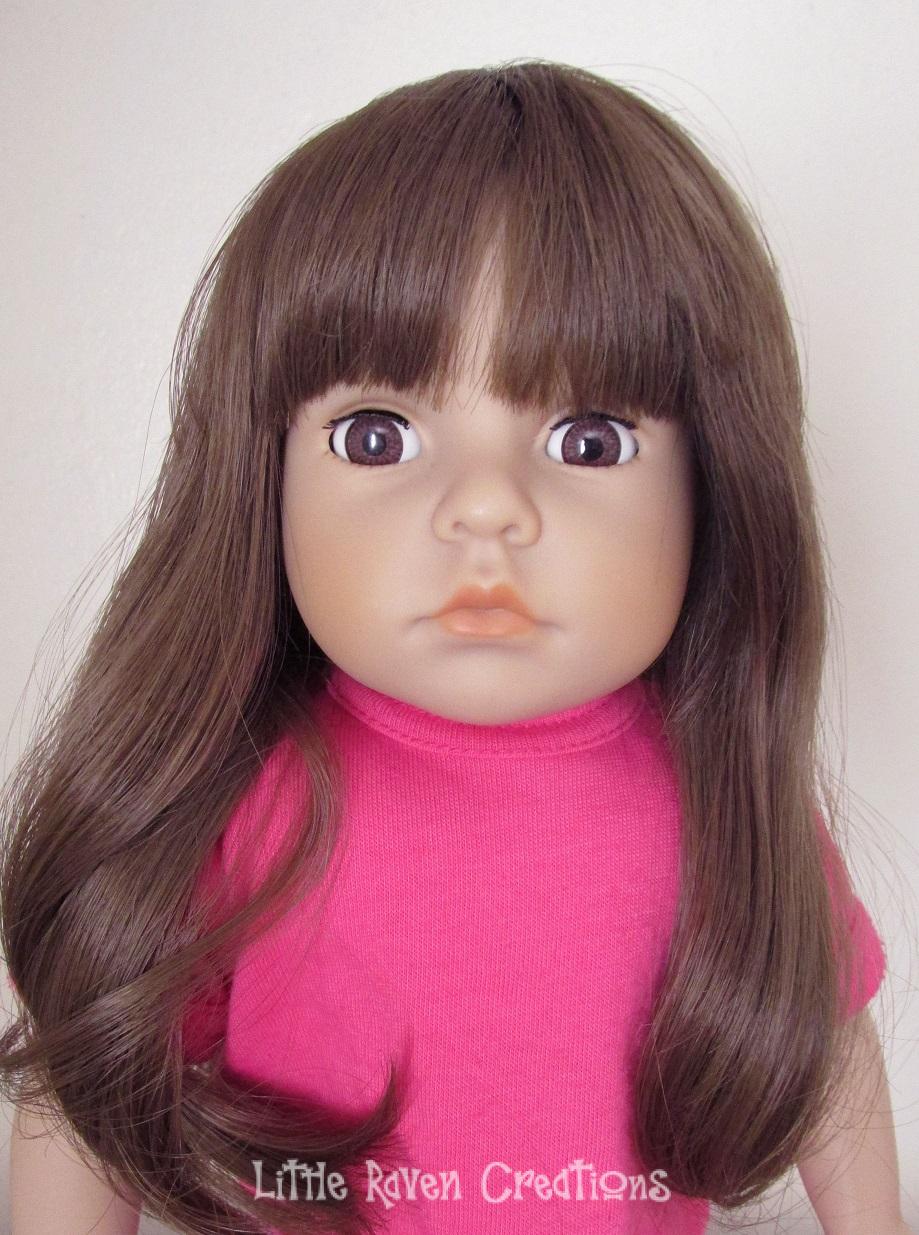 Perhaps one of the few negative things that can be said about the collection is that some of the dolls were released with non-articulated, rag doll type bodies. The reason for this is unclear, but when purchasing a Friends Forever doll, one should be wary that some have this unusual construction, especially if one is looking for a true, articulated doll.
Friends Forever articulated and rag doll body types
The rag doll bodies can start either
above
or below the knee and elbows, though the latter is more common. As to which dolls are articulated and which are not, the style of packaging may be an indication, though this is by no means foolproof.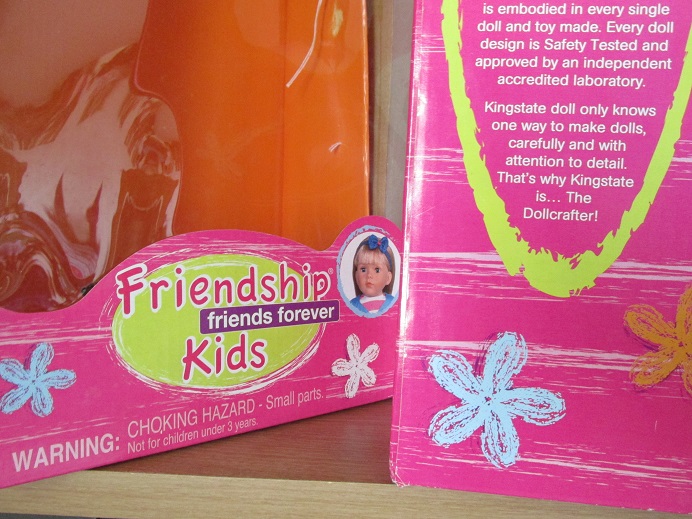 And while the articulated bodies are of a fair quality, they aren't as well made as those of American Girl or pricier dolls. The cloth body can vary in color and does not always match the vinyl skin. The dolls don't always stand as steady on their feet, and their arms or legs sometimes splay out to the sides a bit. But for the modest cost Friendship Forever dolls usually go for, they are a very nice alternative to costlier dolls--and they're undeniably cute!

Friendship dolls are wigged, and the quality of the wigs is not the best. Most become very frizzy and unmanageable over time. The hair may sometimes fall out when brushing. Fortunately the wigs are easy to remove and replace, should they become unmanageable.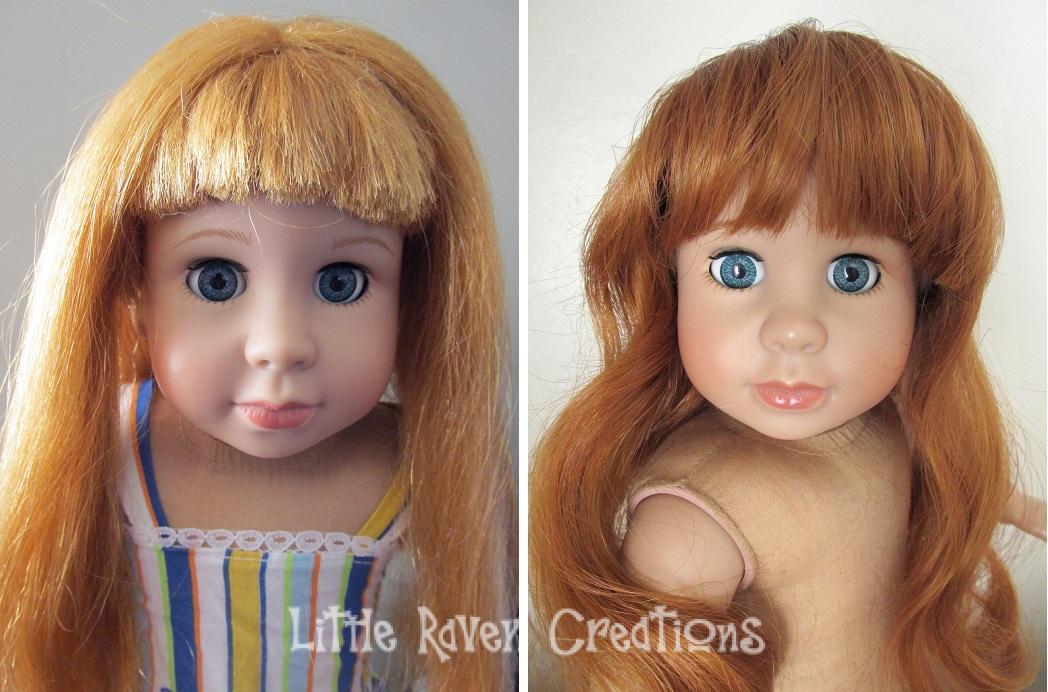 Rewigged Friendship Kids doll

Many have also noticed Friends Forever dolls have just the right kind of features for making excellent custom boy dolls, either by cutting their hair or using a boy doll wig.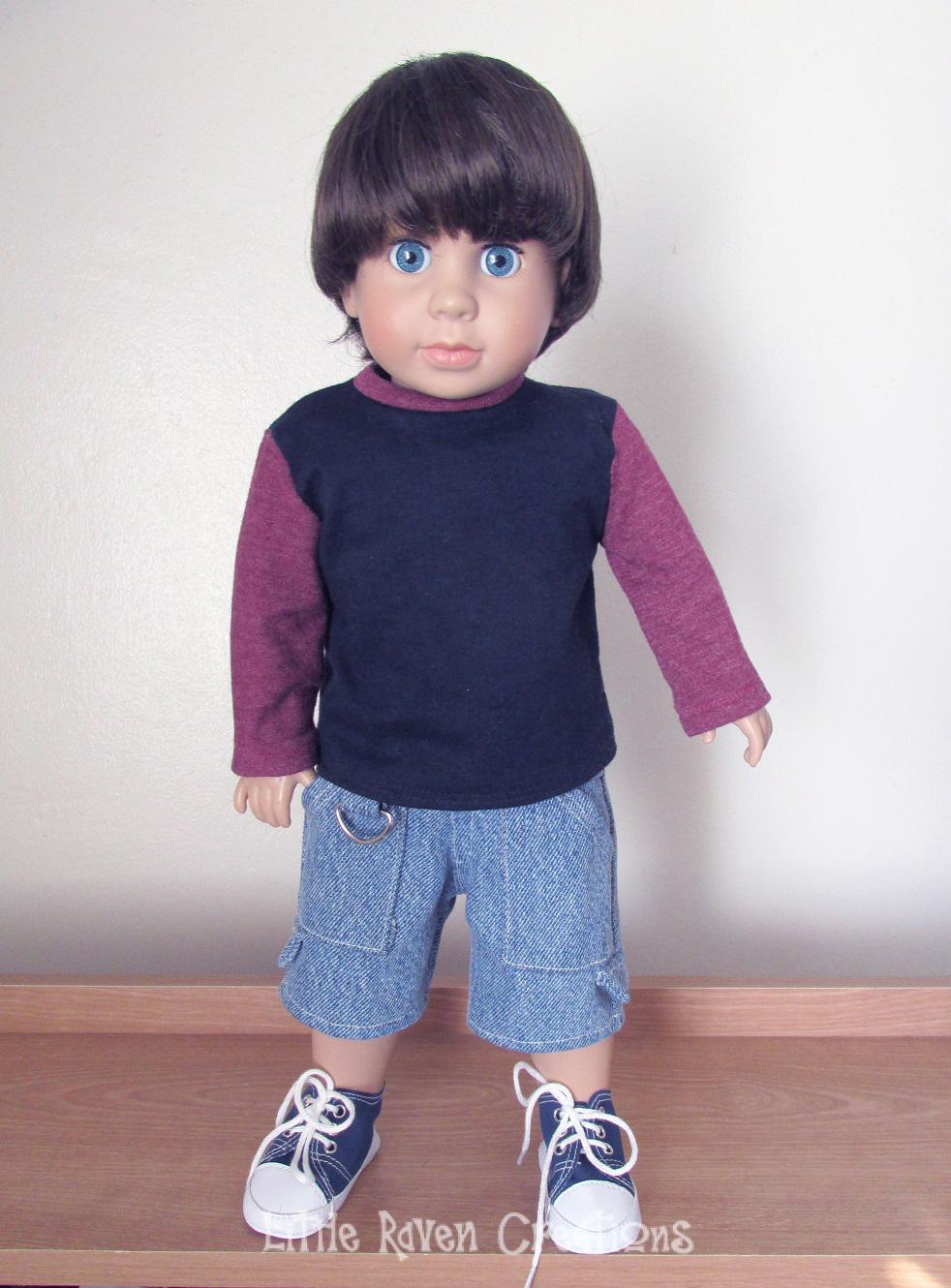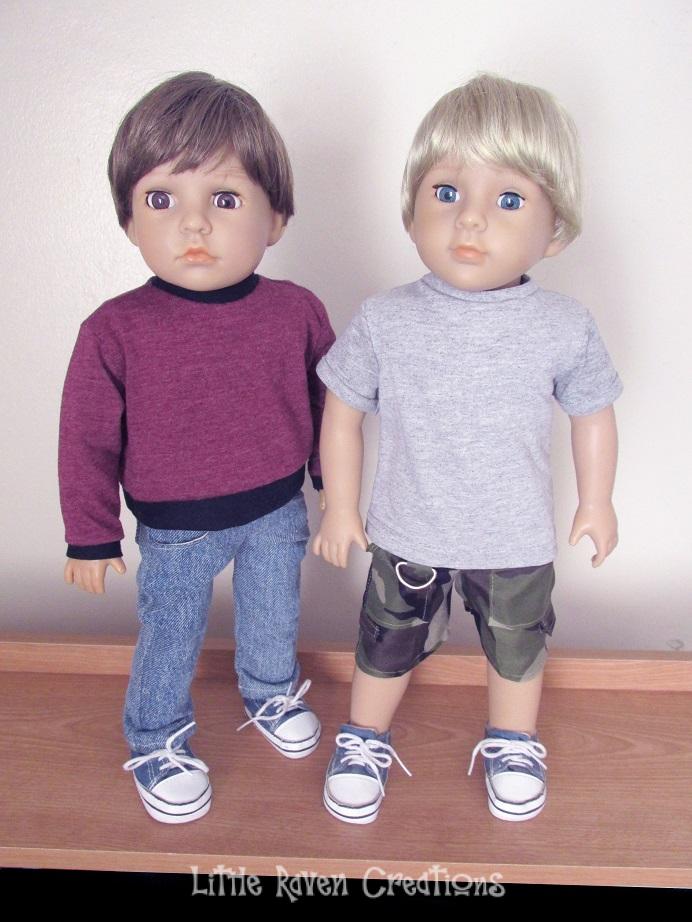 Rewigged custom boy dolls
Friendship Forever default wigs are either straight or slightly wavy and long, with or without bangs/ fringe (usually with). The hair can be varying shades of blonde or brunette, with the occasional rare ginger/red thrown into the mix. The dolls open/close eyes come in brown or blue. Their vinyl skin can be either fair or dark (rare), though the fair skin can range from a muted peach color, to a light tan-beige, to a rather sallow beige.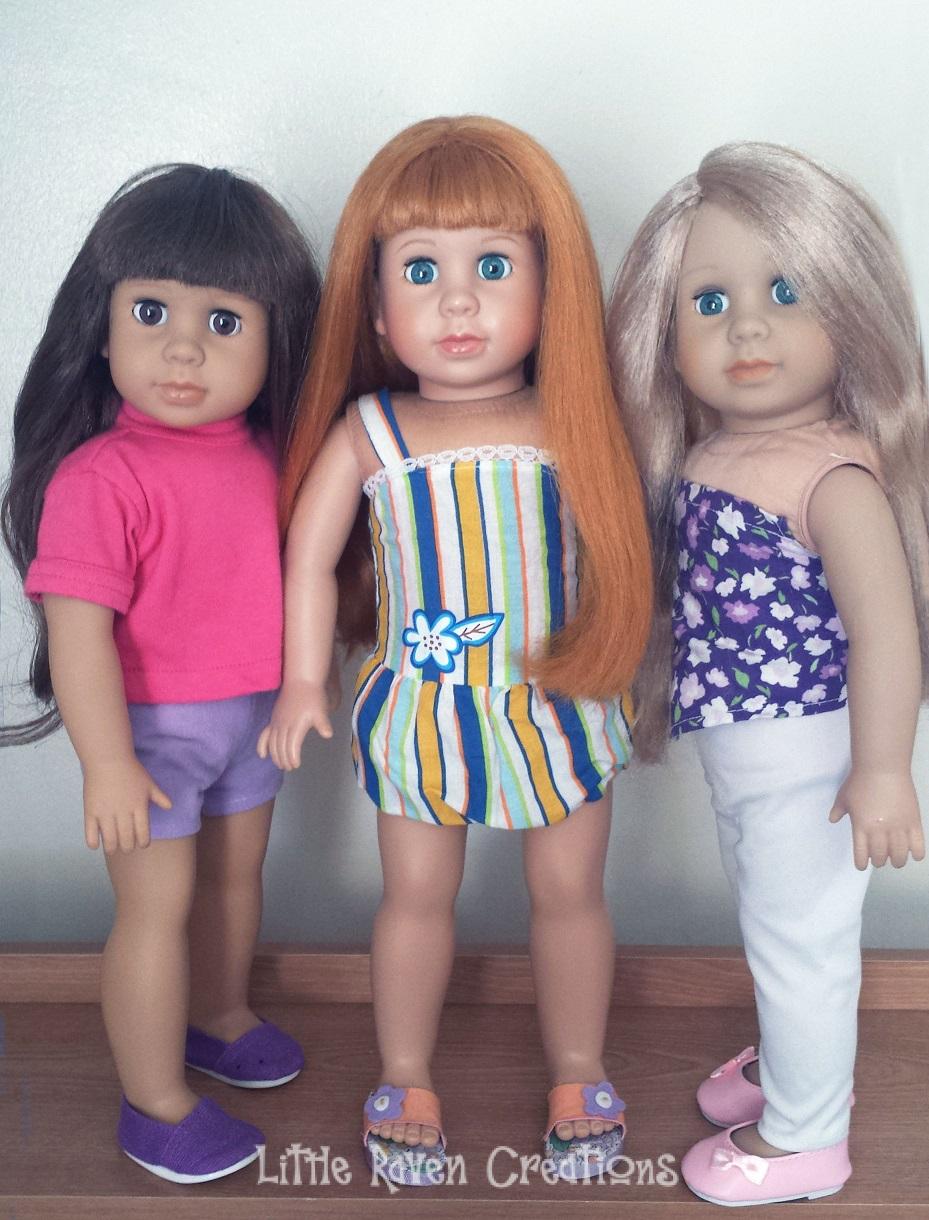 "Fair" Friends Forever Dolls


The rarer dark-skinned dolls are universally darker skinned, though rarely a lighter dark-skinned doll will be found among them.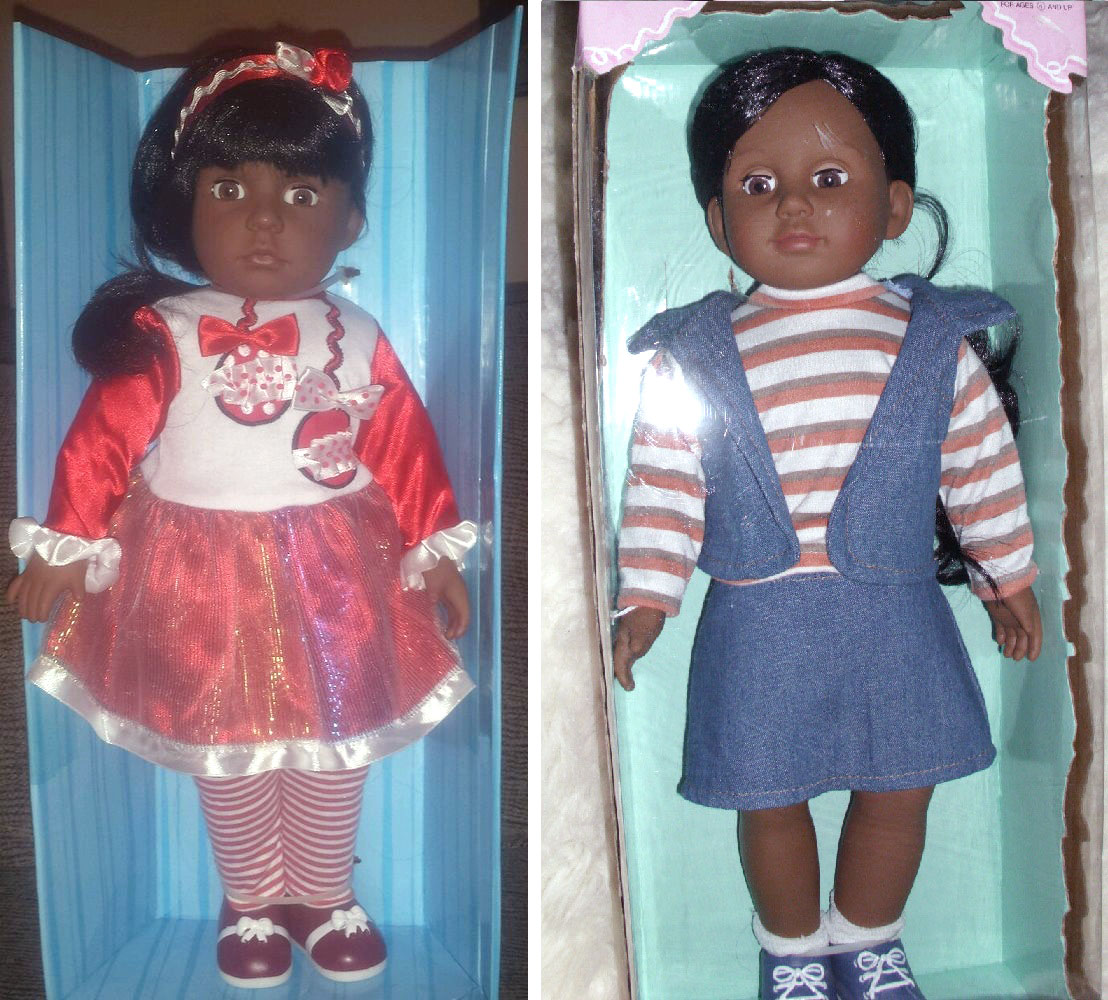 Darker skinned dolls do exist but are rare.
Friendship Kids/ Friends Forever stand 18", very comparable to American Girl dolls, although their heads are slightly smaller. (They sometimes take a smaller wig size than other 18" dolls.) Their arms and hands are marginally thinner/ smaller, meanwhile their legs and feet are comparable.
American Girl #42 and Kingstate Friends Forever doll

| | Pleasant Company AG | Mattel AG | Kingstate Friendship Kids - Friends Forever (Articulated) |
| --- | --- | --- | --- |
| height | 18" / 46cm | 18" / 46cm | 18" / 46cm |
| head | 12 1/4" / 32cm | 12" / 30.5cm | 11.5" / 29cm |
| chest | 11 1/2" / 29cm | 11 1/4" /28.5cm | 11" / 28cm |
| waist | 11 1/4" /28.5cm | 10 1/2" / 27cm | 10 3/4" / 27.5cm |
| hips | 12 1/2" / 32cm | 12" / 30.5cm | 12" / 32cm |
The measurements are approximate. Individual dolls may vary.
Friendship dolls come in a variety of starter outfits and the quality of the clothing is not always the best, but some of the outfits are fairly cute. Not to mention they can share clothing and shoes with most standard 18" dolls.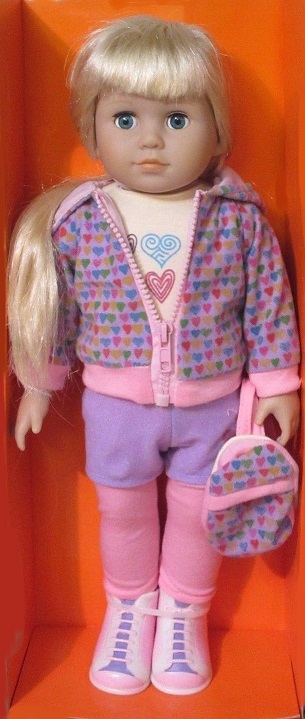 Friendship Kids/ Friends Forever dolls are retired, but they can very easily be found used on secondary markets like eBay, and usually for a very good price, about $10 to $25. They can sometimes be found new in box by various sellers for higher costs, up to about $70 or more.
[Prices quoted reflect the market at the time of this post; they may differ from the item's current value.]