A Life of Faith Dolls
Submitted by

Little Raven

on Sat, 2016-05-28 23:06
A Life of Faith dolls, originally "The Elsie Dinsmore Doll Collection," debuted in 1998 when homeschooling parents Lee and Bill Bereza created the small business Breezy Point Treasures and based their custom doll on the heroine of the
Elsie Dinsmore
Christian book series by Martha Finley.
Doll artist Sandra Bilotto was hired to design the doll and renown doll maker Lloyd Middleton was secured to produce the collection. Breezy Point Treasures soon offered a second doll based in the Elsie Dinsmore series, Elsie's cousin Mildred Keith.
Both Elsie and Mildred went through several iterations between 1998 and 2009, during which time Mission City Press, who had purchased Breezy Point Treasures in 2003, rebooted and expanded the Elsie Dinsmore series. Doll artist Robin Woods was brought on to give the dolls a new, frillier, flashier style.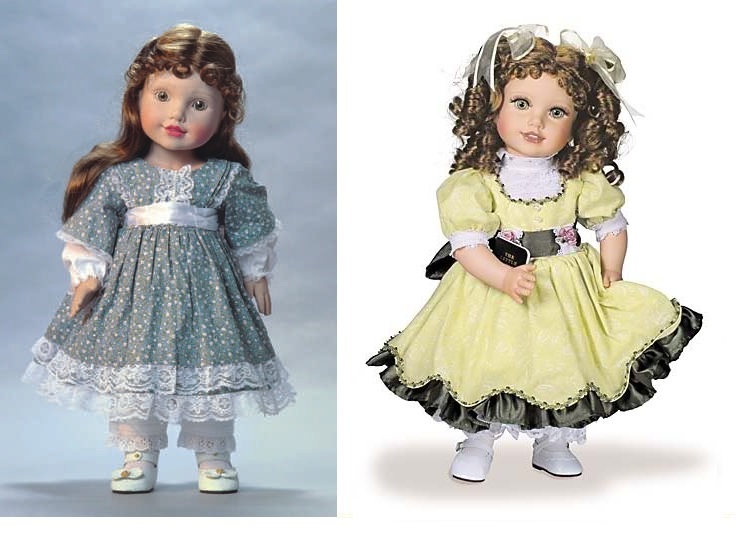 ORIGINAL (L) AND UPDATED (R) ELSIE DINSMORE (from alishasdolls.com)
Rebooted Elsie went from slightly wavy hair to a head full of ringlets, while Mildred, whose name was modernized to Millie, was given long blonde braids and bangs (she was originally a brunette). Both dolls were given extensive makeovers including darker eye makeup and lashes, meanwhile their dresses and undergarments became much more elaborate and ruffly.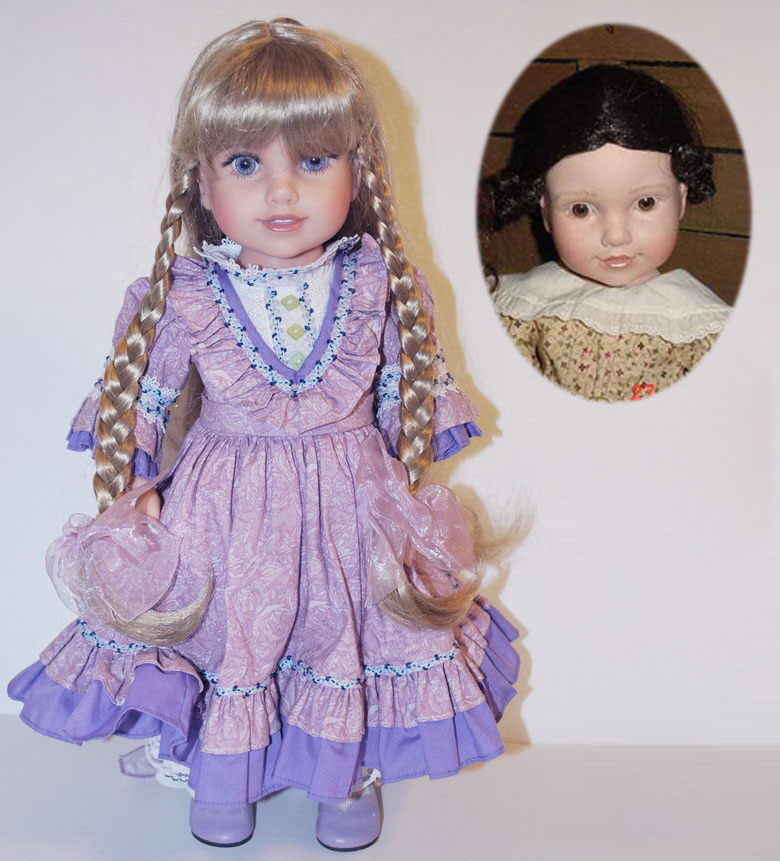 MILLIE KEITH'S UPDATED LOOK. INSET SHOWS ORIGINAL MILDRED KEITH DOLL
(from justmagicdolls.com)
Mission City Press also introduced three additional characters: Violet Travilla who was Elsie's daughter in the series, Laylie Colbert, a young African American Girl born into slavery (and helped set free by Millie Keith) and Kathleen McKenzie, a girl living some decades later during the Great Depression. Both Laylie and Kathleen each introduced a new, closed-mouth face mold which differed from the previous Sandra Bilotto mold. The new mold may have been designed by Robin Woods who was also behind the collection's new style. (Laylie and Kathleen do somewhat resemble some of Woods's other doll designs.)
VIOLET TRAVILLA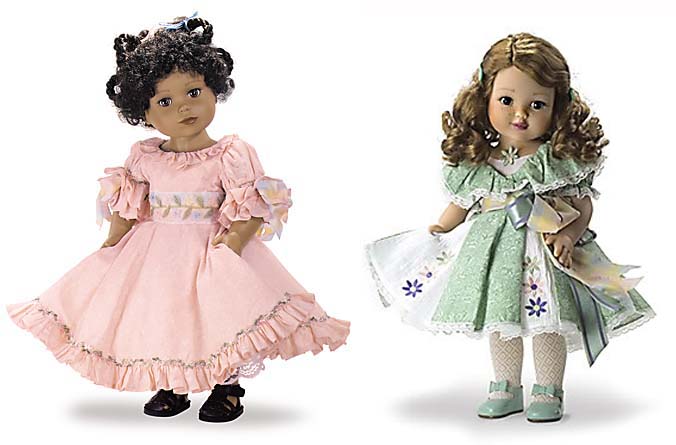 LAYLIE COLBERT and KATHLEEN McKENZIE


It was also at this time that the collection was re-branded from "The Elsie Dinsmore Collection" to "A Life of Faith."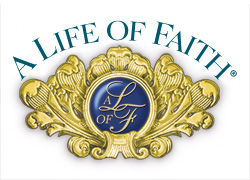 The company was soon struggling to stay afloat however, and after a final version of the dolls with simpler clothing and packaging, Mission City Press ceased production on A Life of Faith dolls in 2006. The dolls have nonetheless remained popular and are still sought out by fans and collectors today.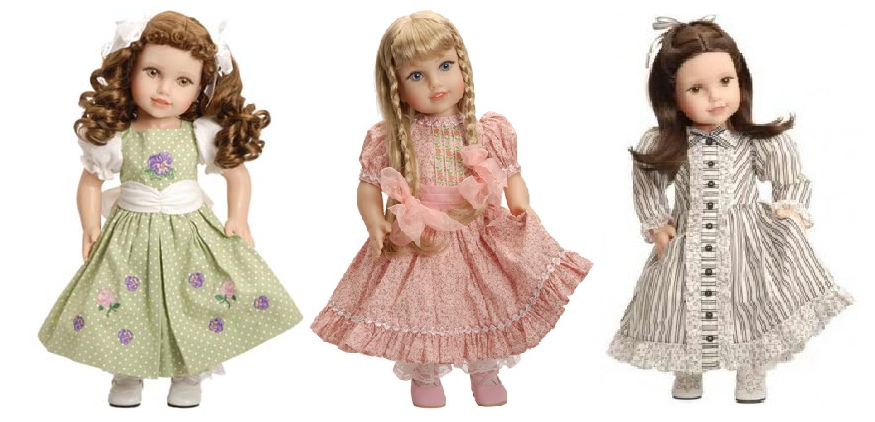 THIRD AND FINAL ITERATION OF A LIFE OF FAITH DOLLS

A Life of Faith dolls have an undeniable, high quality feel to them with well-structured, balanced, full vinyl bodies, beautifully detailed hands and feet, and cute, tilting heads. They stand a smidgen over 18" tall, and unlike most full vinyl-bodied dolls, they have similar proportions to American Girl dolls.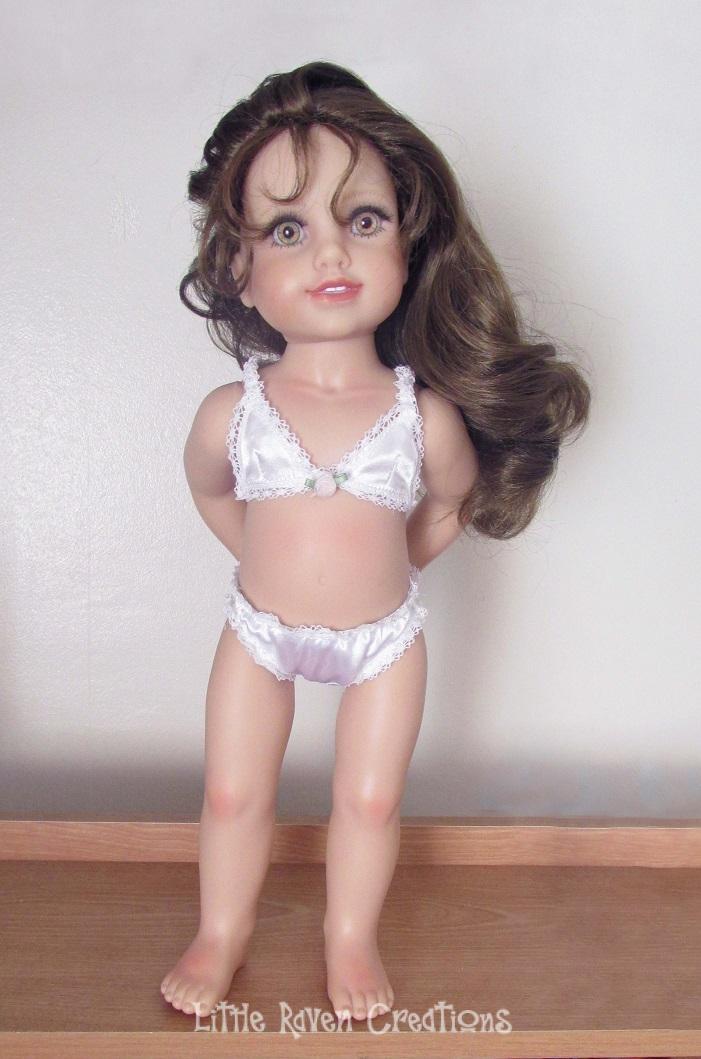 They are actually a good match, and while still slightly slimmer, they can easily share most clothes with AG dolls. Their feet are a bit longer however, so some ALOF doll shoes may fit loosely on American Girl dolls. Nonetheless most AG shoes still manage to fit ALOF dolls well enough.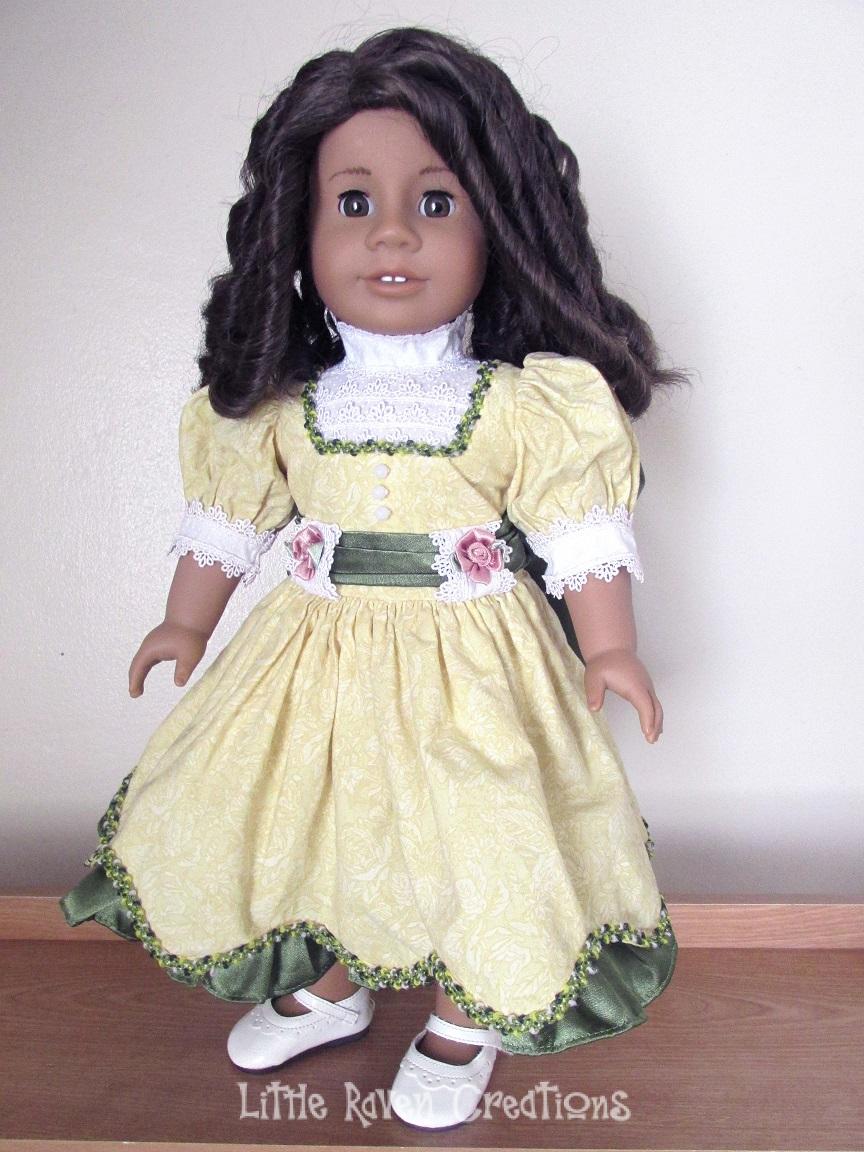 AMERICAN GIRL #26 WEARING ELSIE DINSMORE'S MEET DRESS
Interestingly, there are two or more structurally different versions of the A life of Faith doll: 1) a hard vinyl body with a pale, porcelain like coloring, and 2) a slightly softer vinyl body with rosy, warmer coloring, 3) some random combination of the two (?). Also, some dolls are smaller and thinner than others.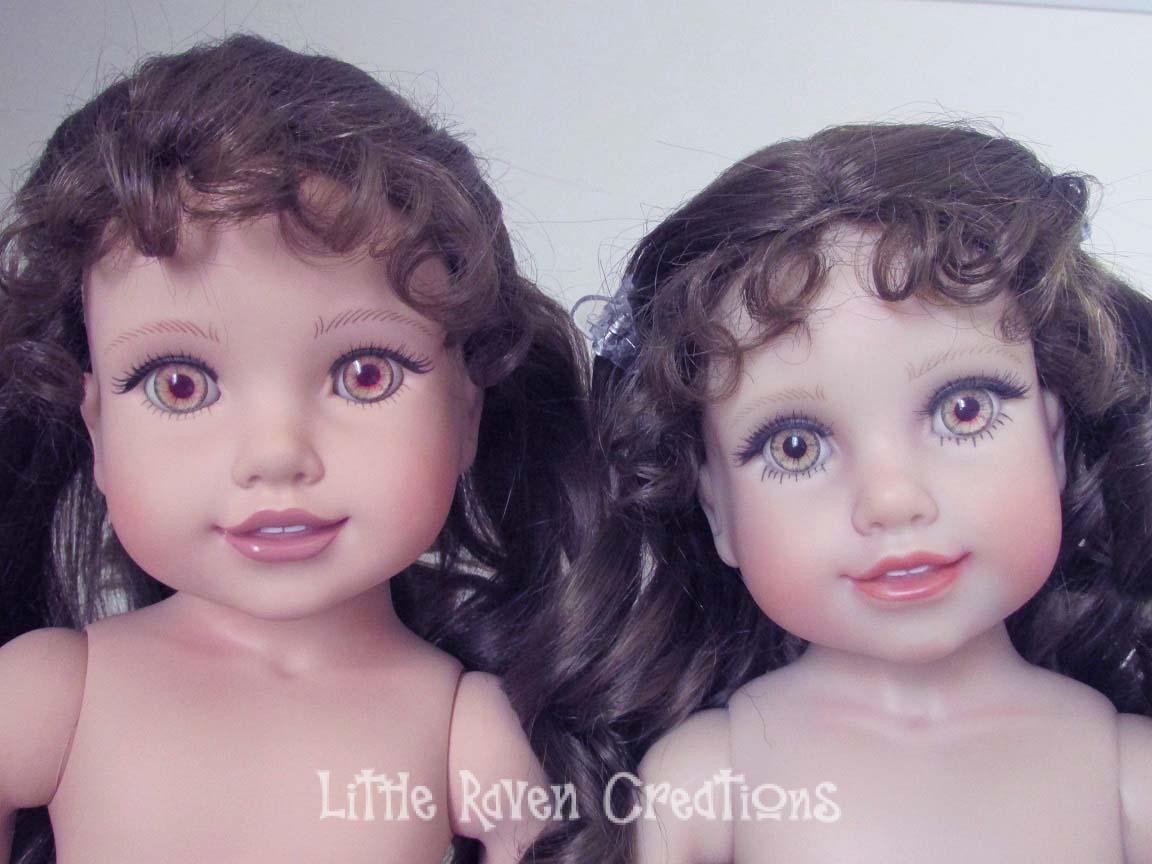 DIFFERENCES IN EARLIER? AND LATER ALOF DOLLS


Some dolls also have
lower quality
wigs which are shorter in length and may or may not have a part in them. It's more than likely these dolls with the poor wigs were one of the less expensive versions before the struggling Mission City Press company ceased production on them.
A Life of Faith dolls use
Kanekalon
wigs, the same as American Girl dolls; nonetheless some of the dolls have been known to develop
significant frizz
and matting over time. Their curls also tend to relax. Yet their unique wigs come the closest to simulating actual human hair among the higher quality dolls.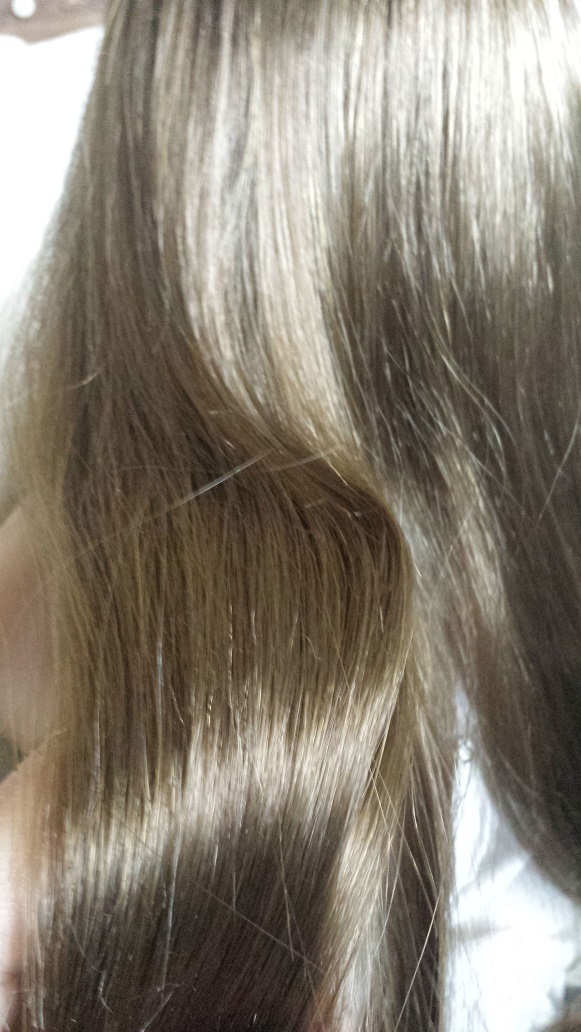 They have stunning, realistic inset eyes: hazel for Elsie, violet blue for Millie, brown for Violet and Laylie, and green for Kathleen. Their vinyl skin can be medium-dark, pale, or very rosy.
They have pretty, childlike faces and exceptionally designed, balanced, and versatile bodies. They are without a doubt some of the most beautiful and high quality 18" play dolls available.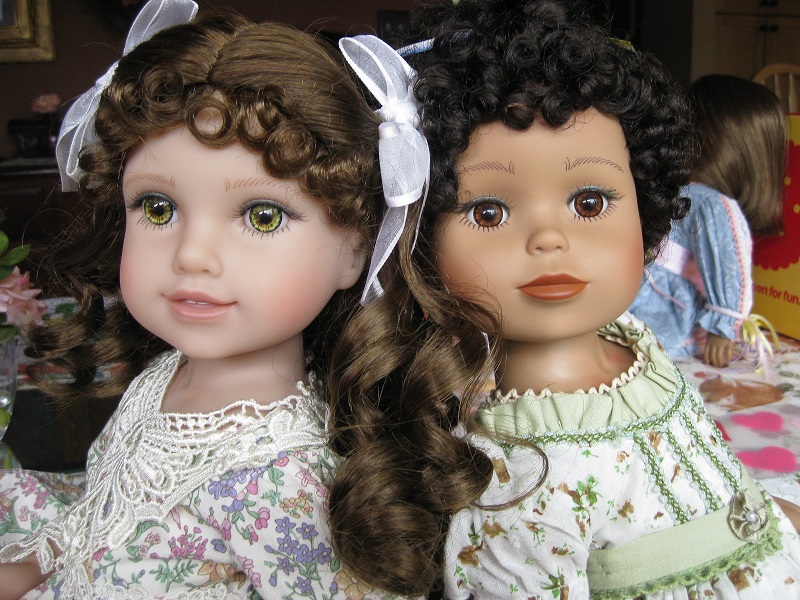 GORGEOUS ELSIE AND LAYLIE DOLLS (from Willow K. Picasa Web)
One of the interesting variations these dolls have is sometimes seen in their eye color. The first Elsie dolls had true, "golden" hazel eyes. Later versions have slightly orange or pink hued eyes, or even greenish eyes. Brown eyed dolls such a Violet can have genuine brown eyes or somewhat reddish-brown eyes. Millie's eyes can be blue or violet. I've even heard it said that no two of these dolls are alike!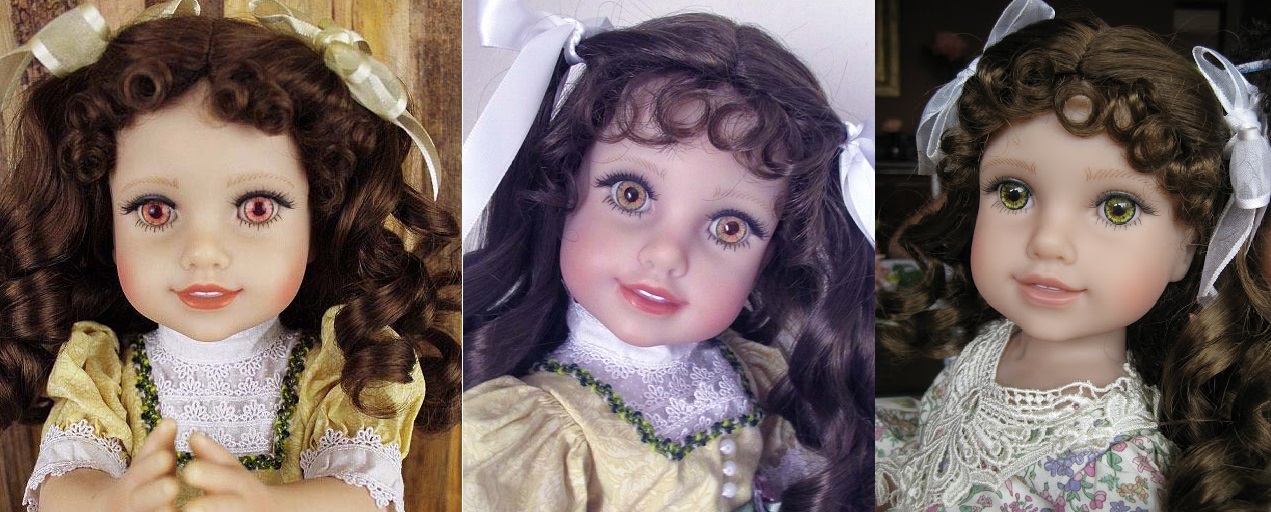 EVEN ADJUSTING FOR THE DIFFERENT LIGHTING, IT'S APPARENT ELSIE CAN HAVE DIFFERENT SHADES OF HAZEL EYES
One of the most distinguishing characteristics of A Life of Faith dolls is their uniquely molded arms that can be brought together in a praying pose.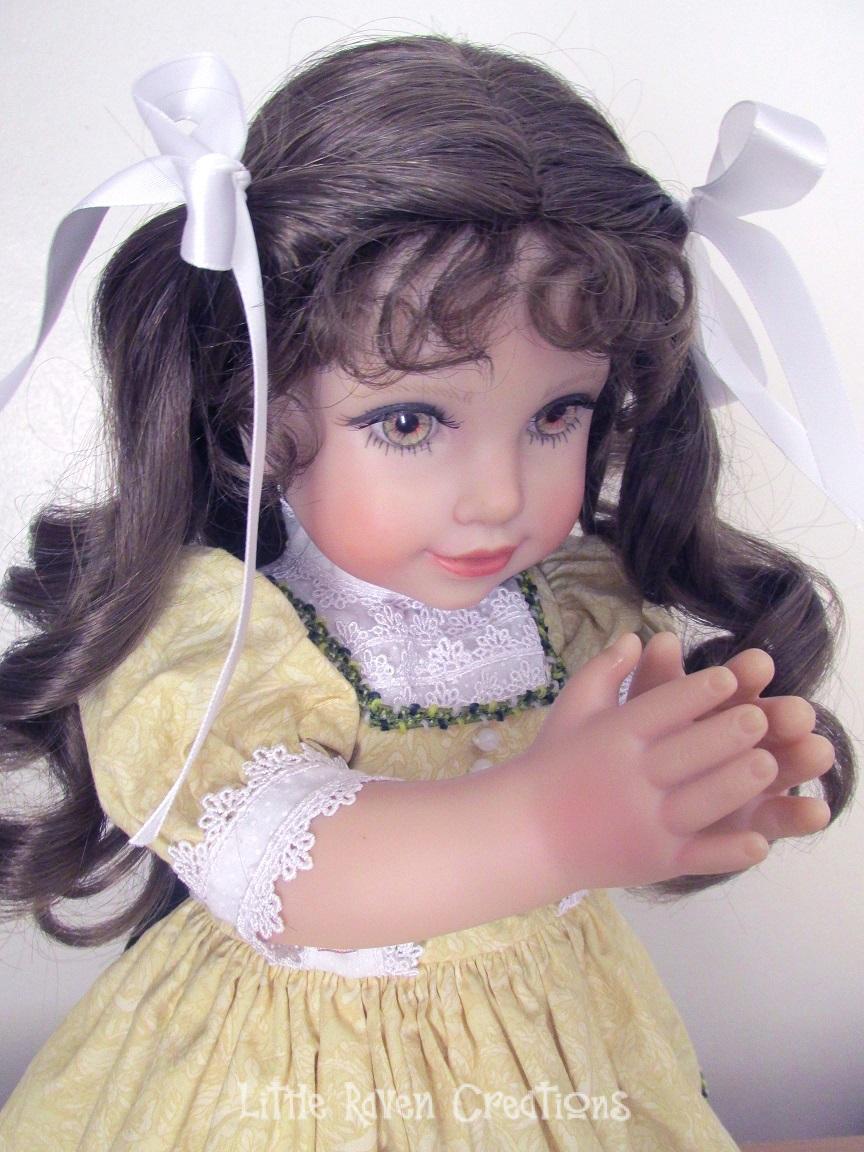 The praying arms don't especially hinder other poses either, as they will lay relatively naturally at their sides when down, and can also be posed in fun and dynamic ways.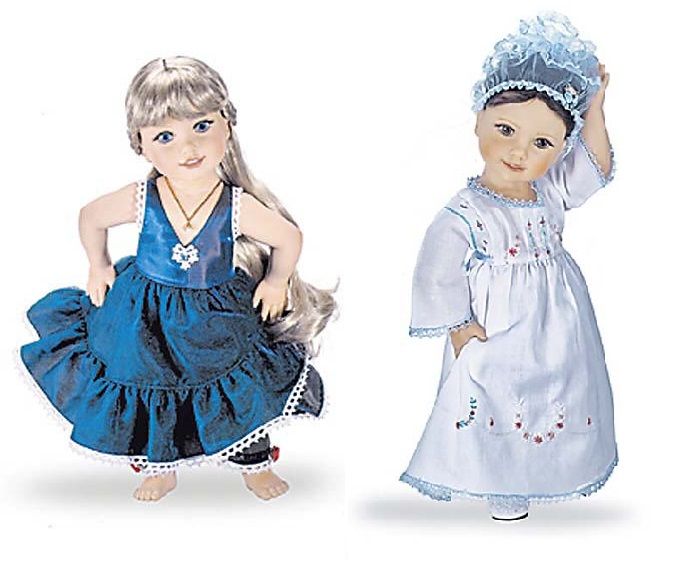 A Life of Faith Dolls are very comparable to American Girl Dolls in height and width. They have
slightly thinner
midsections and somewhat longer arms. Their legs may be a bit chubbier and their feet slightly longer but
still very comparable
. They seem to be able to share clothing with American Girl with little or no issue.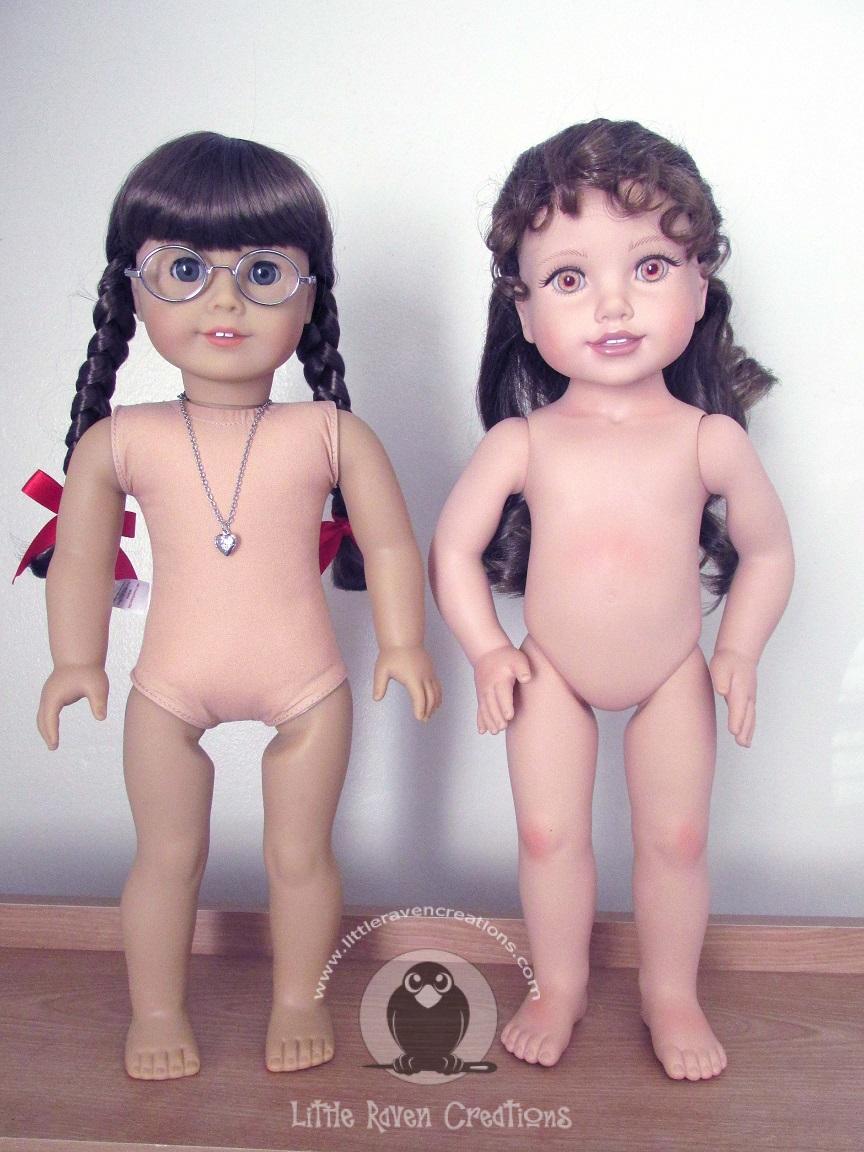 MATTEL AMERICAN GIRL MOLLY McINTYRE and A LIFE OF FAITH ELSIE DINSMORE
| | Pleasant Company AG | Mattel AG | A Life of Faith |
| --- | --- | --- | --- |
| height | 18" / 46cm | 18" / 46cm | 18 1/4" / 46.5cm |
| head | 12 1/4" / 31cm | 12" / 30.5cm | 12 3/4" / 32cm |
| chest | 11 1/2" / 29cm | 11 1/4" /28.5cm | 10 1/4" / 26cm |
| waist | 11 1/4" /28.5cm | 10 1/2" / 27cm | 10" / 25.5cm |
| hips | 12 1/2" / 32cm | 12" / 30.5cm | 10 3/4" / 27cm |
The measurements are approximate. Individual dolls may vary.
A Life of Faith dolls can still be found new or used on the secondary market. Their cost commonly ranges from about $30-$60 for a used doll to upwards of about $200 (sometimes more) for a new-in-box doll.
A Life of Faith dolls have some of the most detailed and elaborate historical doll clothing available. Their individual outfits and ensembles can occasionally be found on the secondary market for about $25 - $30.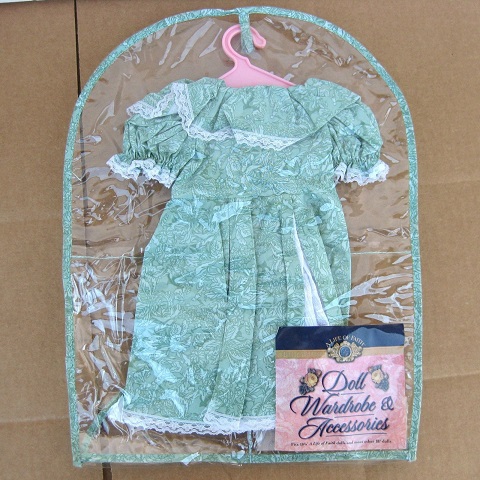 [Prices quoted reflect the market at the time of this post; they may differ from the item's current value.]