Positively Perfect Divahs
Submitted by

Little Raven

on Sun, 2017-09-24 16:29
The Positively Perfect Divah Collection was created by World of EPI CEO Dr. Lisa Williams who wanted to "reflect the beauty and diversity of African American girls" and promote them as Dignified, Intelligent, Vivacious, Attractive and Humanitarian (DIVAH).

The collection launched in 2012, originally with only two dolls in a few hundred Walmart stores, but soon expanded to three, and eventually four dolls in stores all across the country by 2013.
Positively Perfect Divahs have been lauded for their uniquely pretty faces and their tribute to girls of color, as well as their affordable price tag!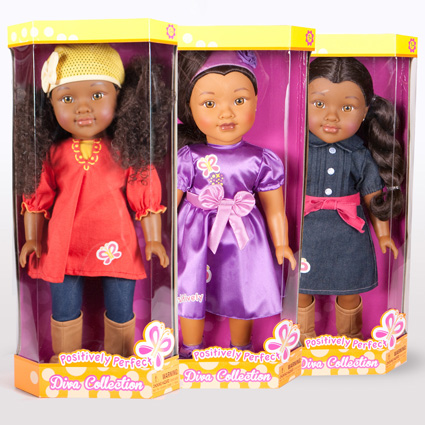 THE ORIGINAL DIVAHs: ZAIR, ABRIELLE, and DIANA DEBUTED in 2012
The first three dolls, Abrielle, Diana, and Zair, were designed with custom skins tones that reflected the varying skin tones of girls of color. Abrielle's designer color was "buttercreme," Diana's was "caramel," and Zair's was "pecan." When Taylor arrived the following year, her skin tone was described as "chocolate."

The designer names and even the tones may be somewhat fluid however. Abrielle has also been referred to as both "vanilla creme" and "mocha," and Diana and Zair have both been referred to as "caramel" at various times.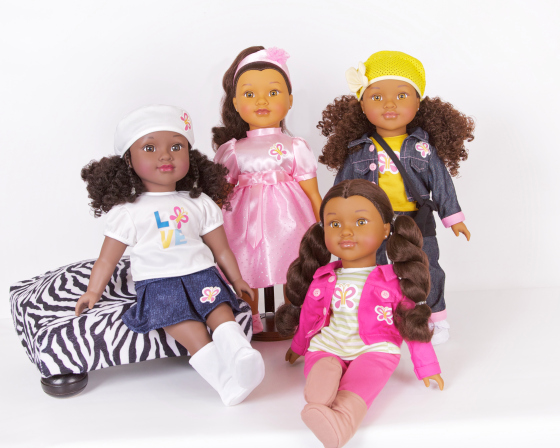 TAYLOR, ABRIELLE, DIANA, and ZAIR in 2013
The Divahs were marketed as both "smart and pretty," all of them straight-A students. Abrielle is a dancer, Diana a storyteller and writer, Zair an artist and aspiring fashion designer, and Taylor an athlete.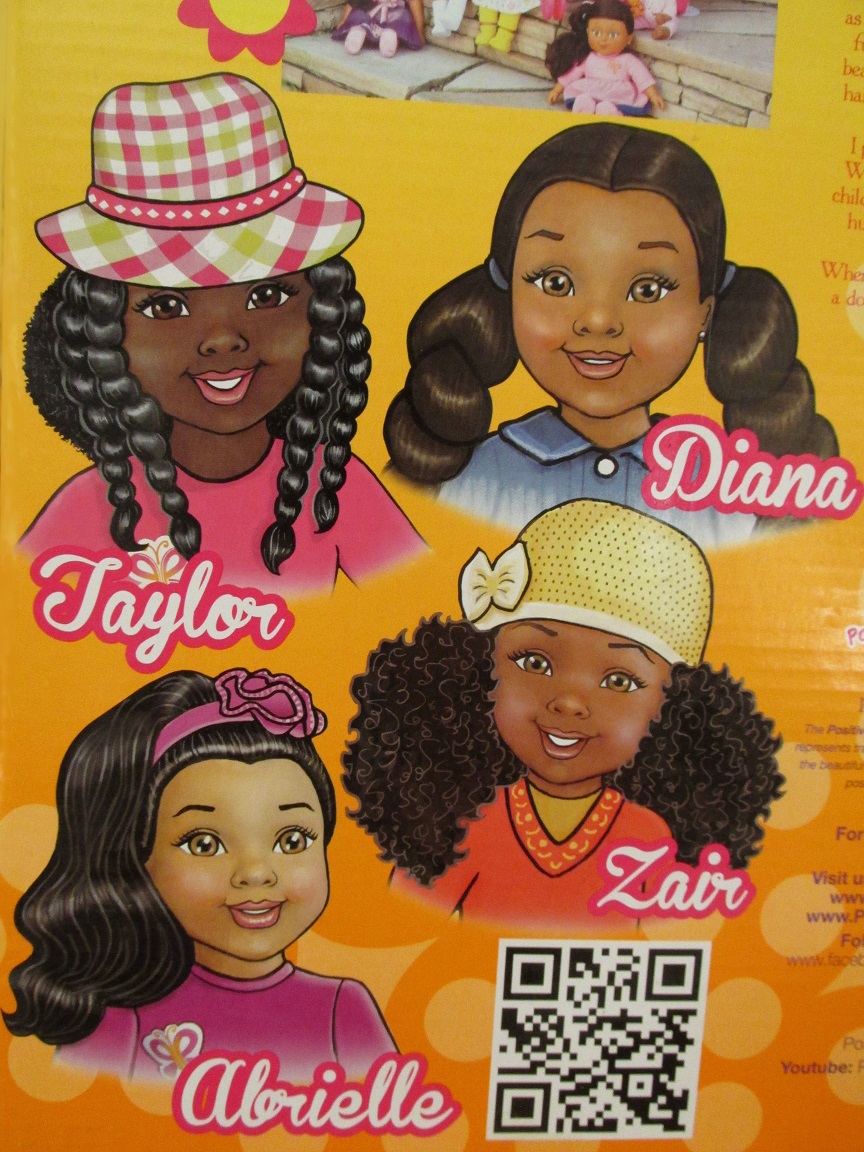 Some early images of the Divahs suggest there were originally more of them, including a mystery "vanilla creme" doll and at least three Latina dolls.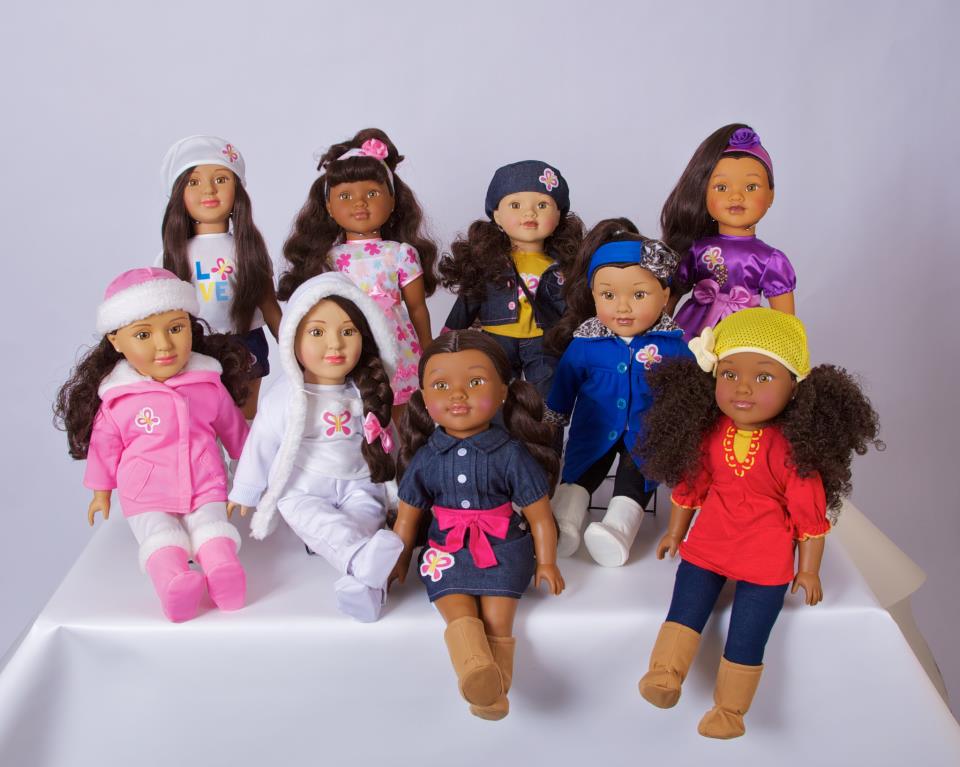 A GATHERING OF DIVAHS (SOME WHICH APPARENTLY DID NOT MAKE IT INTO THE PERMANENT COLLECTION)
In 2014 Positively Perfect Latina Divahs were officially released and included Aleyna and Camila, an animal lover and a song writer.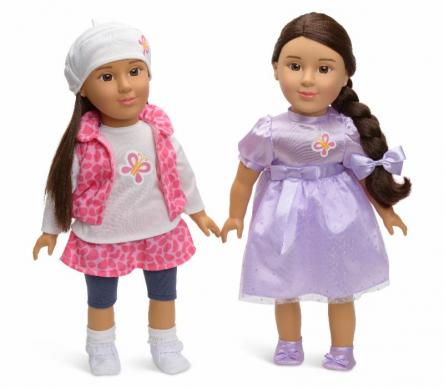 LATINA DIVAHs ALEYNA and CAMILA
The Latina Diva box art shows there was also a third doll, Isabel, a fashionista. Whether or not she was ever made available to the public is unknown to me, but the group photo above shows a doll that resembles the box art doll. (A dark-skinned version of "Isabel" also appears on an early promotional video.)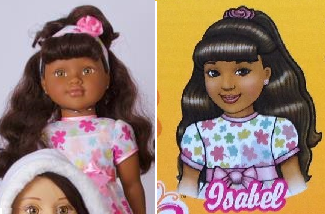 ?
"Isabel" seems to have been different in appearance from lookalike Latina dolls Aleyna and Camila and her cute hairstyle was unique, so it's a shame if World of EPI chose to scrap her. Interestingly, there's also some suggestion that Abrielle was once promoted as an appeal to Latinos (based on an old shine yahoo article).
Latina Divahs Aleyna and Camila have a different face mold from the other dolls, and while they are also very pretty, their features give me the impression of being older. They could almost be part of a different collection. (They have always reminded me a bit of Madame Alexander dolls.)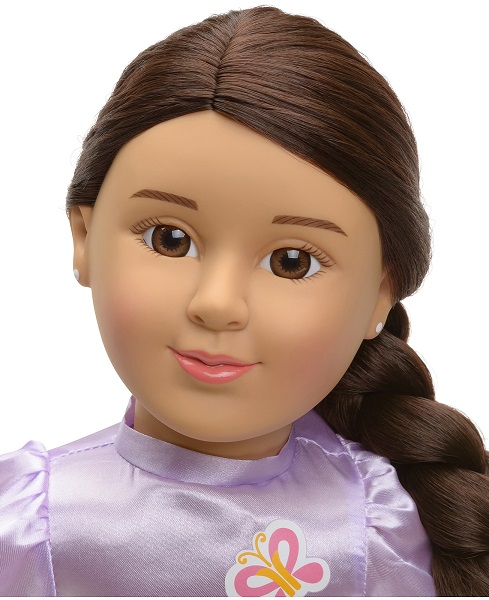 Between 2012 and 2015, there were several noticeable updates to the collection, with each of the dolls getting new or adjusted outfits or hairstyles.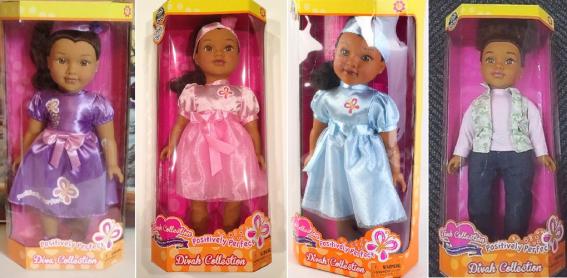 ABRIELLE WENT THOUGH A SPECTRUM OF COLORS FOR HER TUTU, BEFORE DECIDING TO JUST WEAR JEANS.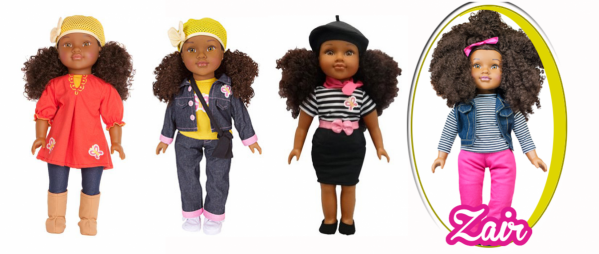 DIVAH ZAIR in her OWN ASSORTMENT of OUTFITS BETWEEN 2012 AND 2015
Positively Perfect Divah dolls are known for their exceptionally pretty faces with large, sparkly, inset eyes and full lips. They have long soft rooted hair in straight, wavy, or curly, and they wear cute ethnic hairstyles.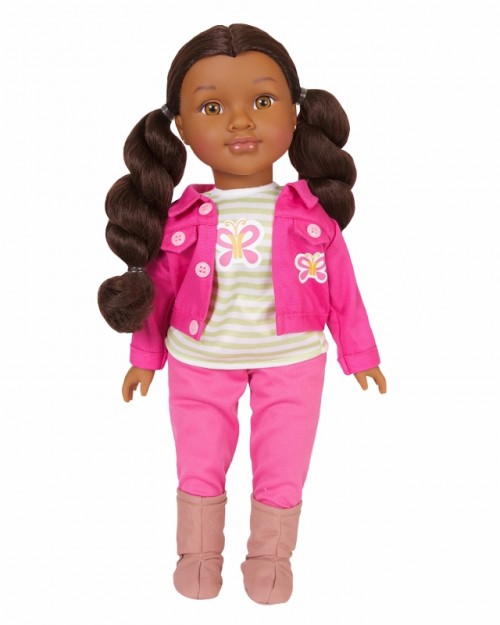 The earlier version of the dolls had a distinctive "widow's peak" at the hair line. (Later dolls do not have this.) According to Positively Perfect creator "Dr. Lisa," their skin tones are custom designed and can't be found on any other dolls.
in 2016/2017, several new "Divahs" appeared without the "Divah" title on random sites like Amazon and Target. The first four that popped up were Brianna and Kennedy (African American) and Emily and Sophia (Latina). The dolls may have been revisions of earlier dolls with new hairstyles, face paint, and swapped eye colors.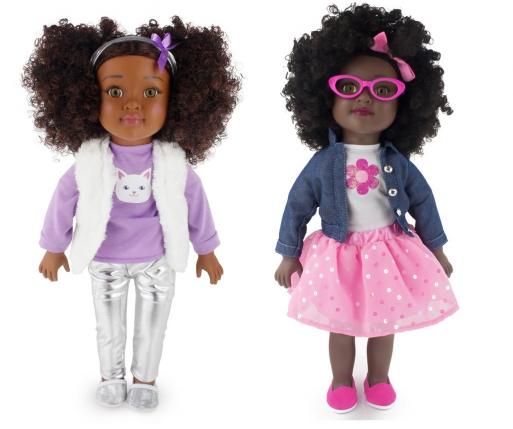 POSITIVELY PERFECT DOLLS BRIANNA and KENNEDY
The newer dolls' themes and interests seem slightly less developed than the earlier version, especially in regards to the Latina dolls. For instance, Brianna likes fashion (like Zair) and Kennedy likes books and writing (like Diana); meanwhile Sofia likes to hang out at the mall, and Emily doesn't quite know what she wants to do yet.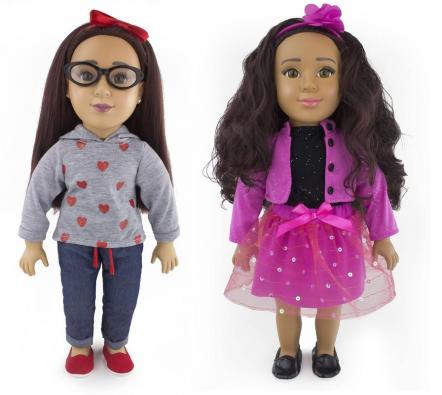 POSITIVELY PERFECT DOLLS EMILY and SOPHIA
During Fall 2017, Positively Perfect Divahs were officially re-launched through Funrise Toys, adding two more dolls to the collection: blonde/ brown-eyed Chloe who likes to read, and blonde/ blue-eyed junior astronomer Taylor (apparently no relation to the previous Taylor).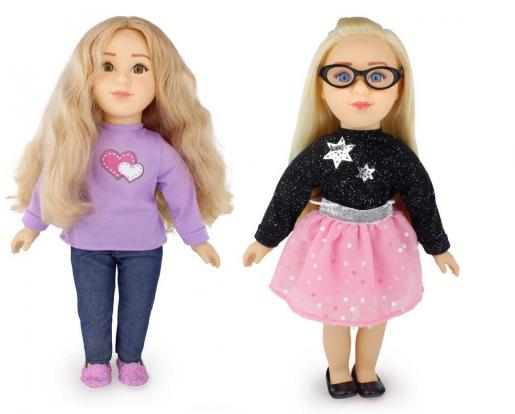 POSITIVELY PERFECT DOLLS CHLOE and TAYLOR
The two new dolls suggest the collection is branching out to appeal to unique little girls of all ethnicities, with the theme of "Standing out is totally in." Each ethnic group includes a girl with curly or wavy hair "(Big Hair. . . Don't Care") and one with glasses ("4 Eyes High Five").



The Positively Perfect Divah Collection has been very popular among doll fans, although the biggest complaint most have about about them are the non-articulated, rag doll-like bodies. They have 3/4 vinyl arms and legs, and at least in the case of the original dolls, can't stand unassisted. Their cloth bodies are also very loosely stuffed. They also can't turn their heads. (The newer divahs may stand and can turn their heads.)
On the brighter side, they can actually sit without doing a major split, which is nice. They do tend to slide forward if not supported however.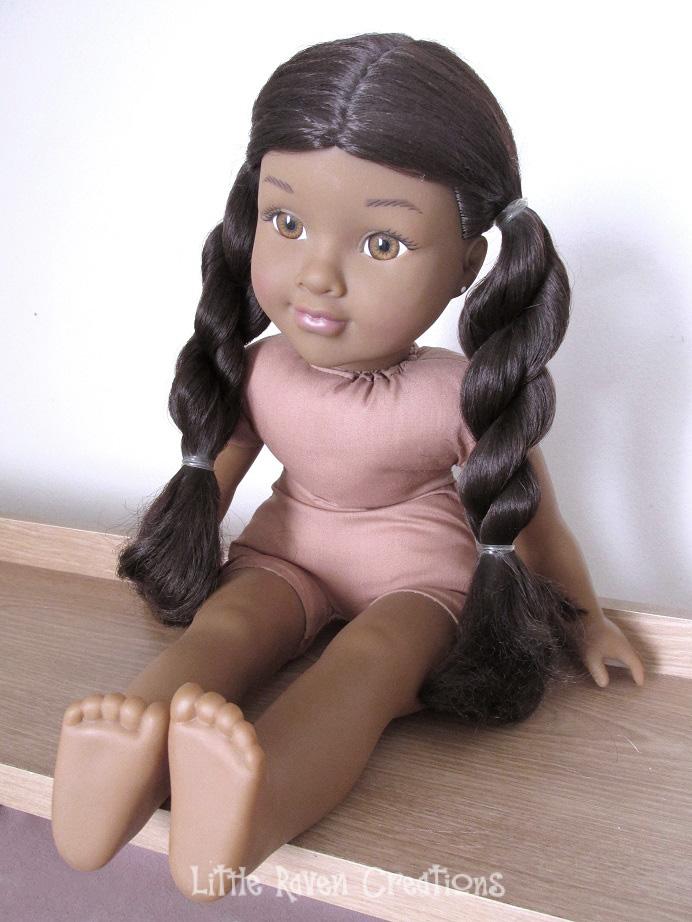 For younger children, the rag doll bodies may be just the kind of soft and cuddly they want, but for older kids and adult collectors, the body style may be limiting.

Yet because these dolls are so pretty and hard to dismiss, some industrious doll people (yours truly, for instance) have figured out that you can remove the neck zip tie, insert a plastic armature (a doll "skeleton") and create a free-standing, poseable Divah!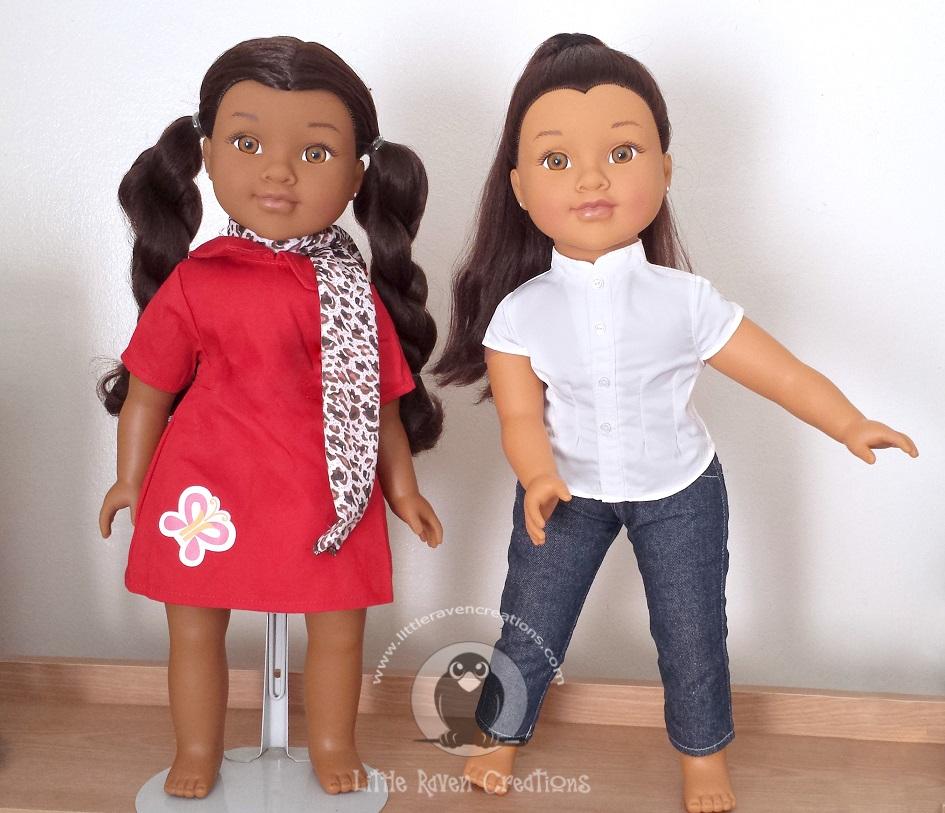 DIANA STANDS WITH SUPPORT MEANWHILE ABRIELLE (WITH A NEW ARMATURE) STANDS AND POSES ALONE
Still others have considered swapping out the body for an articulated "donor body" to give them more stability. Unfortunately, the unique customized tones of the Divahs' vinyl makes matching colors difficult, if not impossible.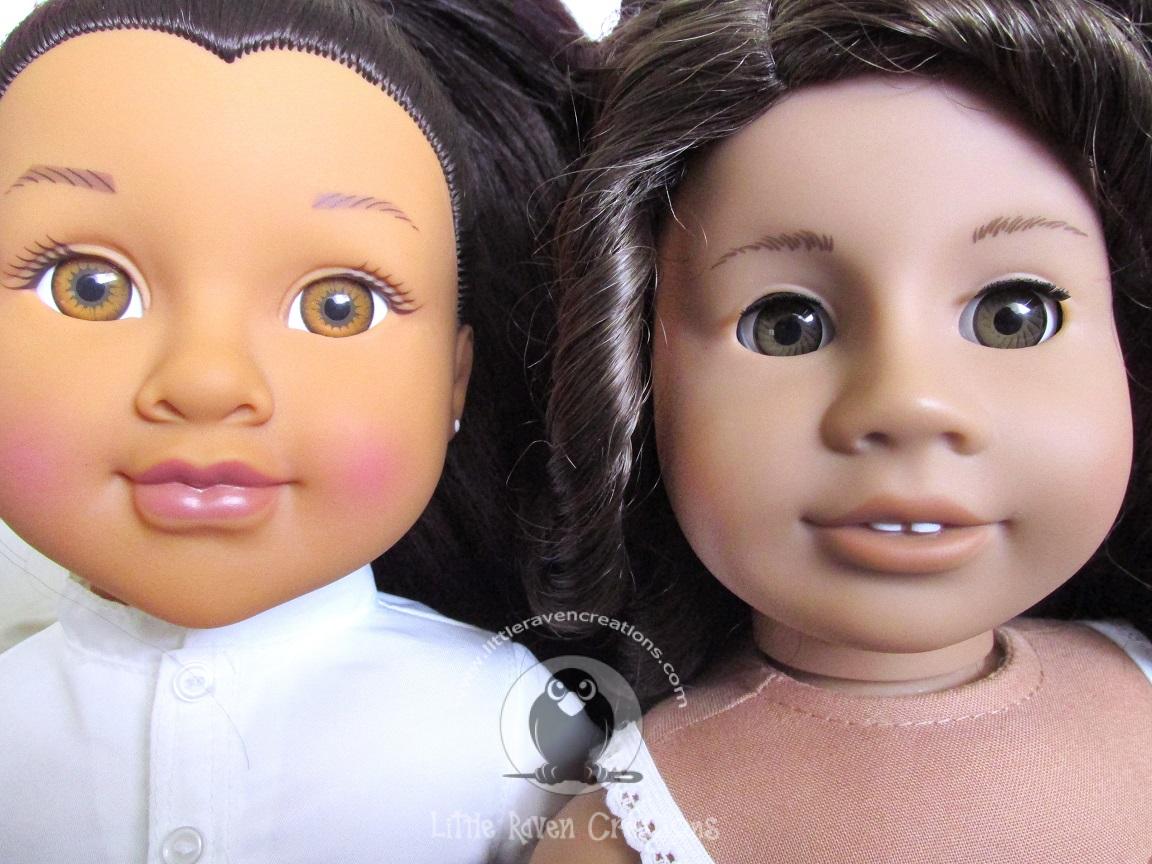 DIVAH ABRIELLE'S PEACHY VINYL COLOR IS MUCH BRIGHTER AND WARMER THAN AMERICAN GIRL VINYL
Barring some inventive intervention, Positively Perfect Divahs require a stand for getting upright and/or steady.

They stand 18 inches tall like their American Girl "friends" and can share most clothes well. Their hips are wider, but their backsides are flatter, so the sizes are comparable to AG and other 18" dolls.
Their feet are a bit smaller so shoes may not fit as well or they might slip off, but this could vary with the shoe style.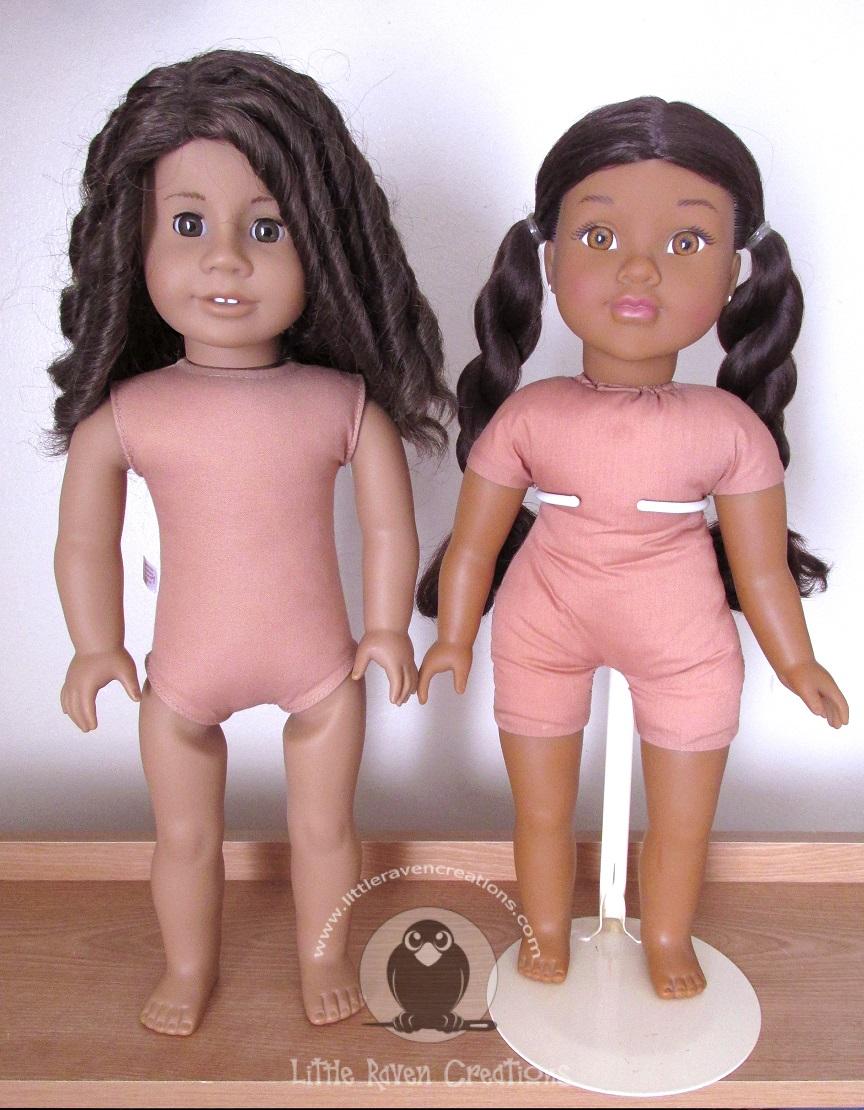 AMERICAN GIRL #26 and POSITIVELY PERFECT DIVAH DIANA

| | Pleasant Company AG | Mattel AG | Positively Perfect Divahs |
| --- | --- | --- | --- |
| height | 18" / 46cm | 18" / 46cm | 18" /46cm |
| head | 12 1/4" / 31cm | 12" / 30.5cm | 12 1/4" / 31cm |
| chest | 11 1/2" / 29cm | 11 1/4" /28.5cm | 9 1/4" / 23.5cm |
| waist | 11 1/4" /28.5cm | 10 1/2" / 27cm | 10 1/2" / 27cm |
| hips | 12 1/2" / 32cm | 12" / 30.5cm | 12 1/2" /32cm |
The measurements are approximate. Individual dolls may vary.
Positively Perfect Divahs' rooted hair is long and surprisingly soft and manageable for a lower-cost doll, and it may have been designed with ambitious little stylists in mind (although the curlier hair can sometimes get a little tangled).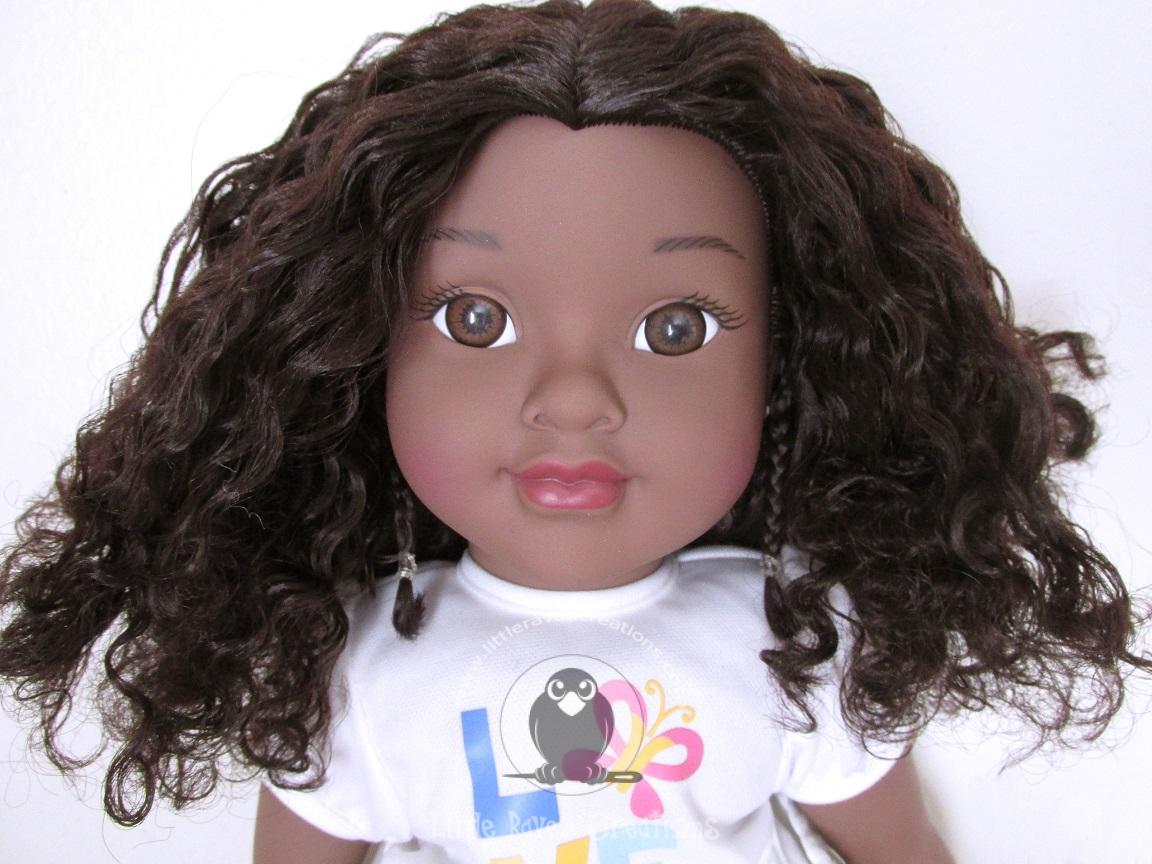 In the case of the original divahs, the hair plugs are not as dense as they could be, but most of their hair is thick and curly and rather forgiving. Keeping it close to the factory hairstyle style will also help hide the sparse plugs. All the original dolls dolls have dark or medium brown hair. (The newer divahs have thicker, fuller, curlier hair in blond, brown, and even two-tone shades.)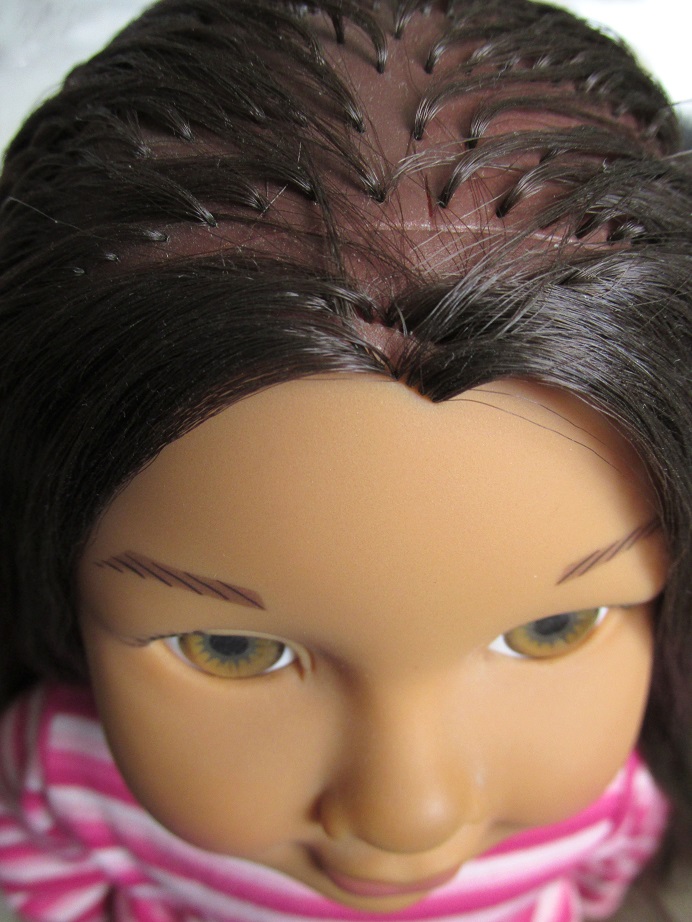 2013 DIVAH ABRIELLE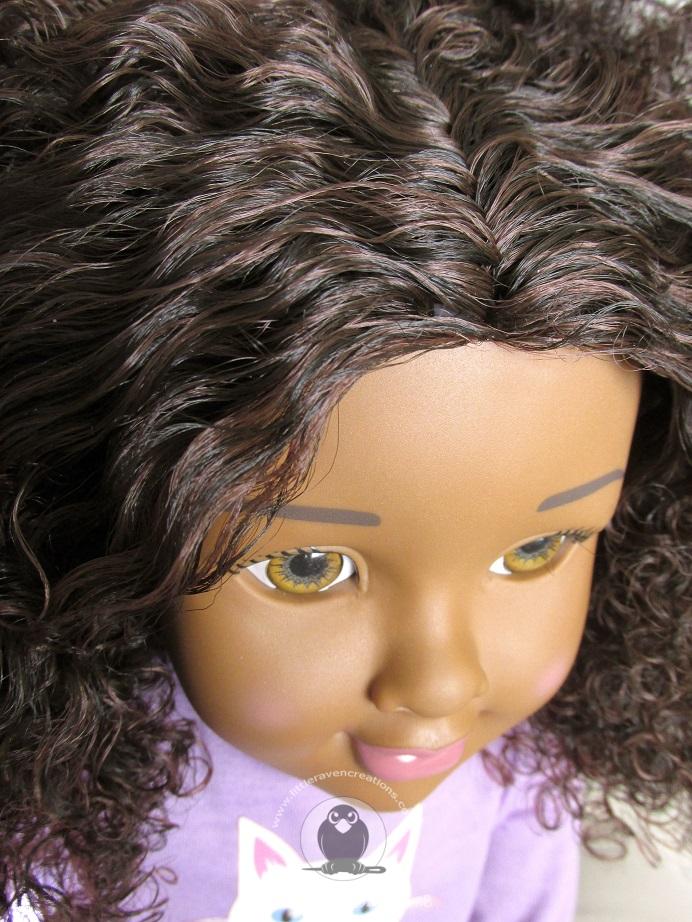 2017 DIVAH BRIANNA
The inset eyes are beautiful. The eye color for the original dolls was described as golden brown, dark brown, or hazel, and may have varied from doll to doll. Their eyelashes are painted on. They also have painted-on earrings.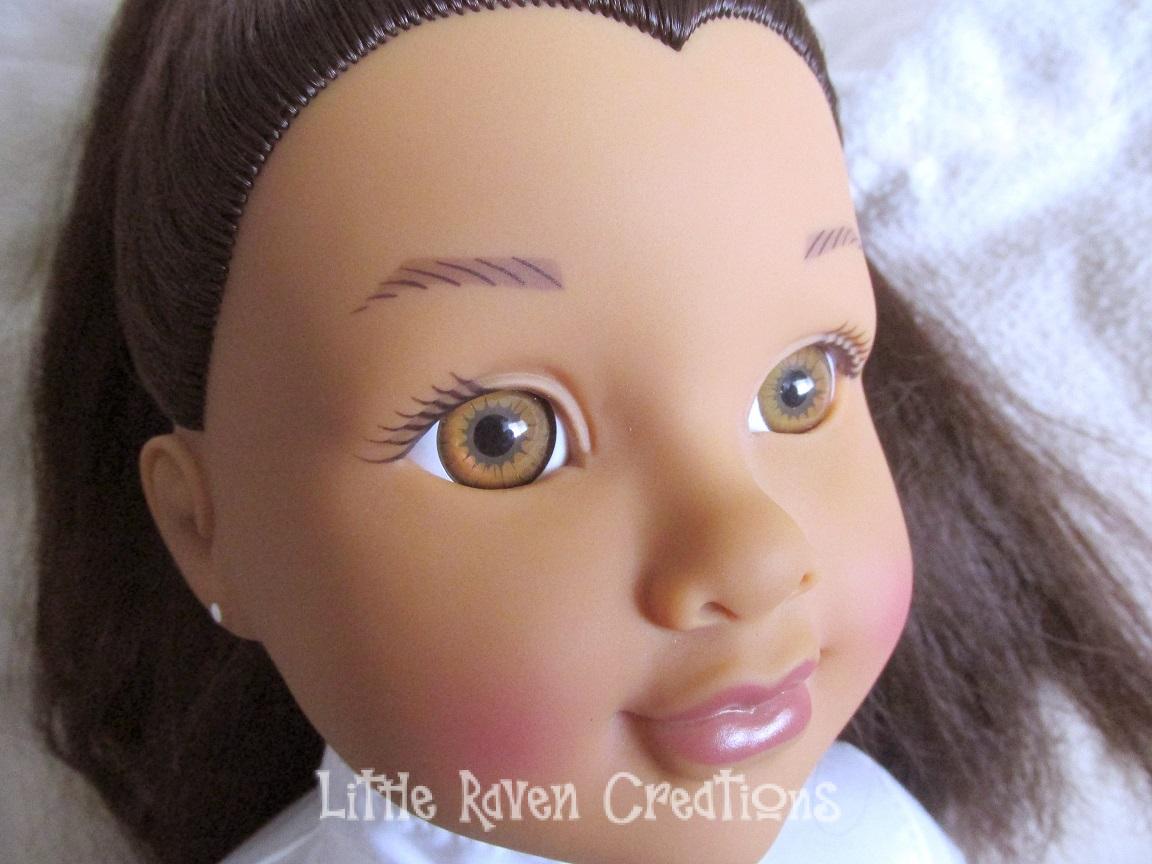 ABRIELLE'S EYES ARE HAZEL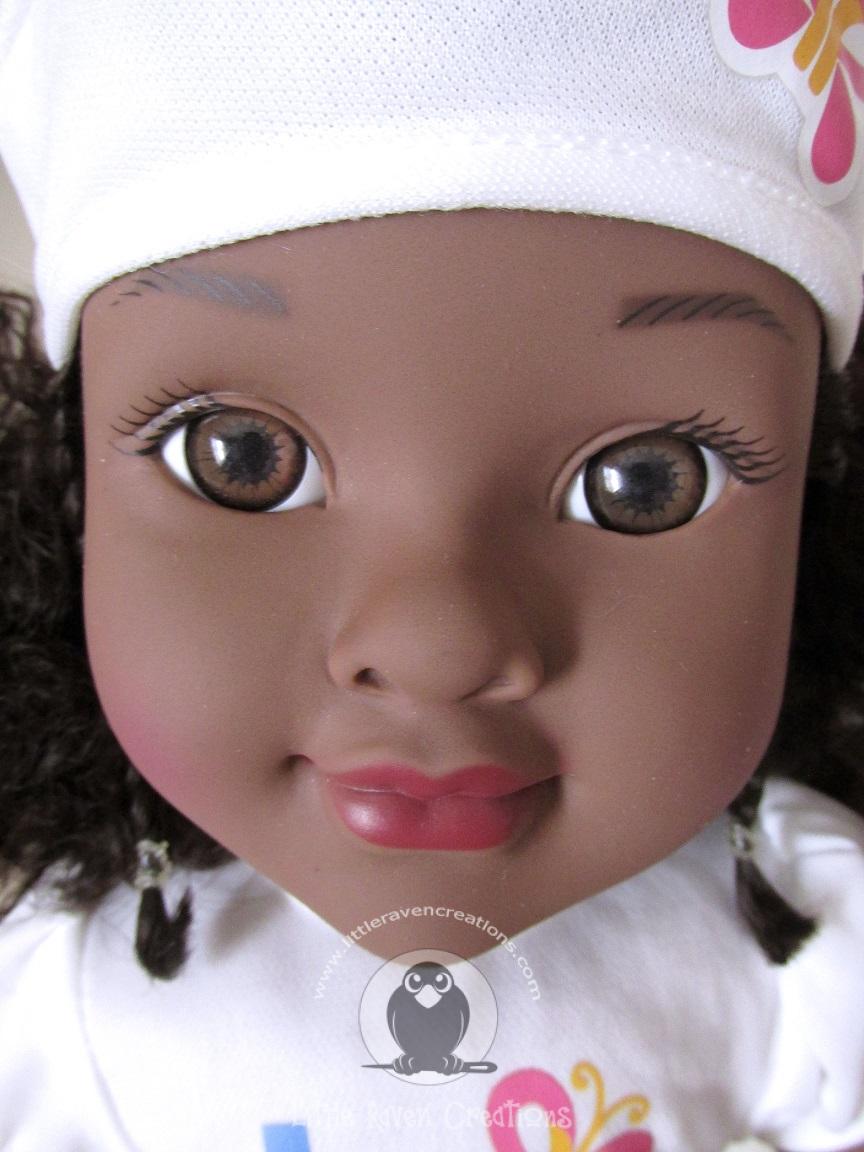 TAYLOR'S EYES ARE DARK BROWN
Originally, Positively Perfect Divahs sold at Walmart for a very reasonable $10-$20. in 2015 they moved to Target and are currently available for about $30.
Over time it has become nearly impossible to find dolls from the original collection, in their original clothing, hair, and aesthetic. Abrielle seems to be the most common at this time, and her long, straight-haired version can be found online at Walmart, Target, Amazon, eBay, and other stores. (Her latest curly-haired version is often mistaken for Zair or Diana.) Aleyna and Camila can also still be tracked down.
Classic Taylor
may occasionally be found on secondary markets like eBay. Currently, Diana and Zair are nearly impossible to find in any version and on any market.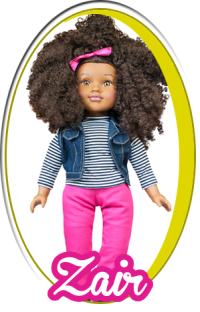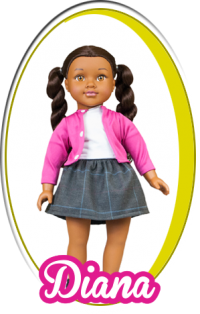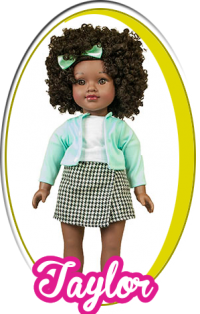 THE 2015/2016 VERSION OF THE DIVAHS
The new, rebooted Positively Perfect dolls are available at Target, although in some locations they may require online ordering. According to Funrise, they can also be found at Meijer and Walgreens. They may also be found on markets like Amazon.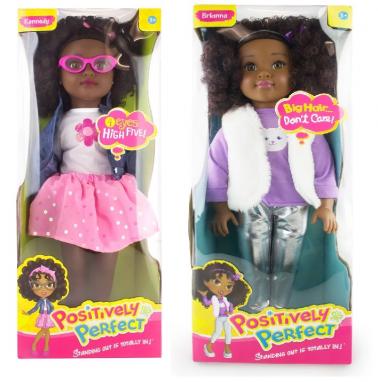 NEW DOLLS KENNEDY and BRIANNA
There are no Divah-specific clothing lines that I'm aware of, but several dolls have been pictured with alternate(?) fashions on the Positively Perfect Facebook site.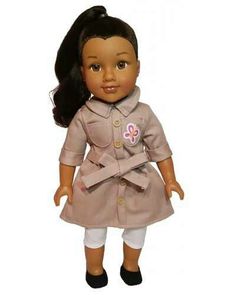 [Prices quoted reflect the market at the time of this post; they may differ from the item's current value.]