Springfield Collection Dolls
Submitted by

Little Raven

on Tue, 2017-08-01 12:03
The Springfield Collection by Fibre Craft describes itself as "a brand of fun, fashionable and affordable 18-inch dolls, clothing, accessories and furniture." Their modestly priced 18" dolls have long been a popular alternative to the costlier American Girl dolls, but the current Springfield Collection dolls are the result of a long evolution, beginning in the mid 1990s.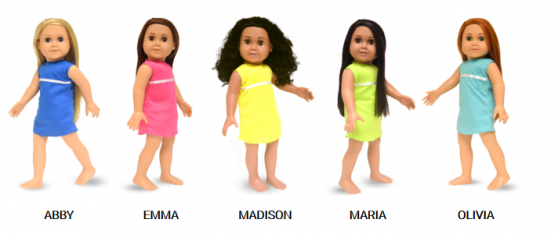 The original Springfield 18 inchers came un-stuffed as part of a kit and were sold at craft stores like Hobby Lobby. They required Poly-fil and some quick stitching to complete (which is why they were sold at craft stores). They had 3/4" vinyl arms and legs without articulated joints, although they could be assembled with an armature to allow them to stand or make them more poseable.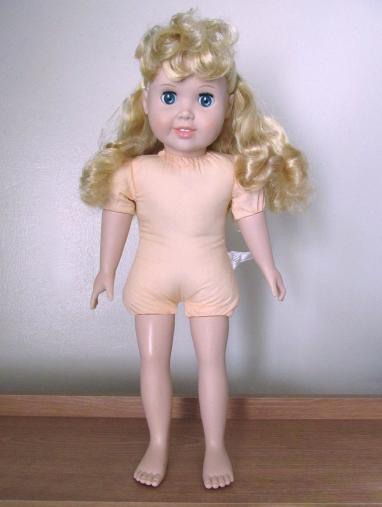 1990s SPRINGFIELD COLLECTION DOLL FROM KIT
These early dolls came in light or dark skin with thick wavy hair, either blonde red or dark brown/ black hair, and they had blue, green, or brown eyes. Unfortunately, their hair could be unmanageable and hard to comb.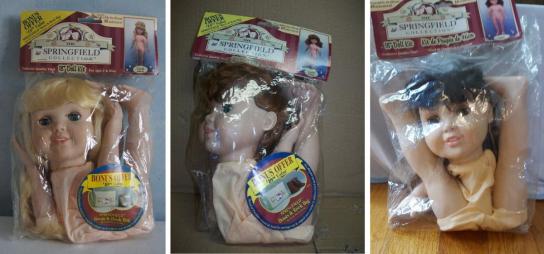 EARLY FIBRE CRAFT/SPRINGFIELD DOLL KITS for SARAH, KATIE, and LAURA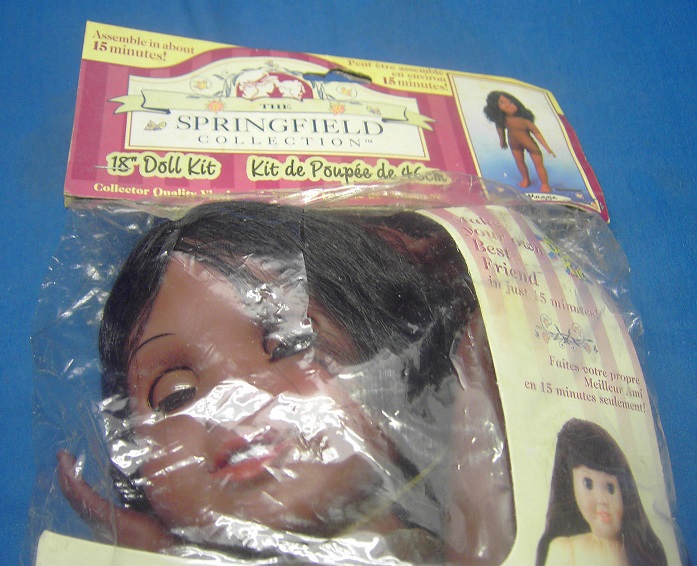 SPRINGFIELD COLLECTION KIT MAGGIE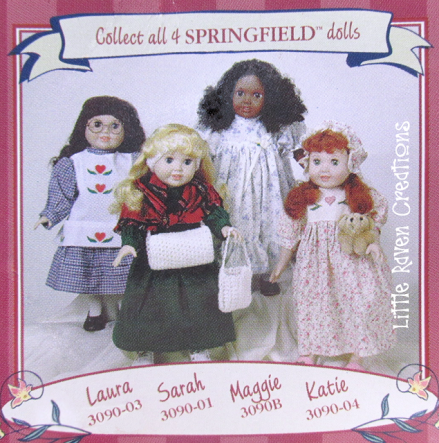 1st GENERATION SPRINGFIELD COLLECTION DOLLS

Like the early Pleasant Company American Girl dolls, they came with an early American or Frontier theme.

A second version of the Springfield collection dolls soon followed, and these came pre-stuffed, and included both straight and curly hair, as well as a new medium skin doll.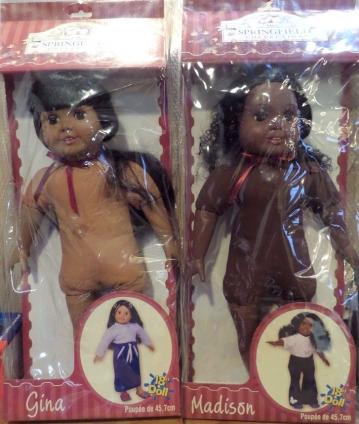 However, the hair on Generation 2 still frizzed easily after a few comb-throughs, and the body still lacked full vinyl, articulated joints. Their theme was also updated to a contemporary one, with modern day outfits.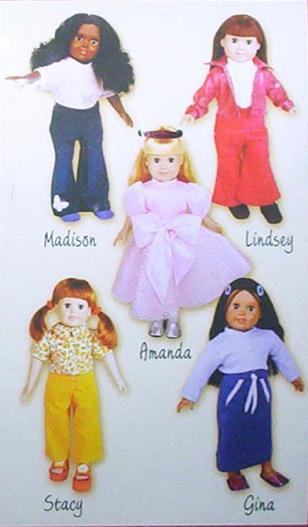 2nd GENERATION SPRINGFIELD COLLECTION DOLLS
Eventually, Springfield Collection dolls were given jointed bodies (they were advertised as "she can pose & sit") and after another round or two of name changes, they got better quality hair.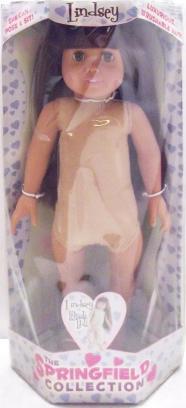 GENERATION 2.2 ADDED ARTICULATED JOINTS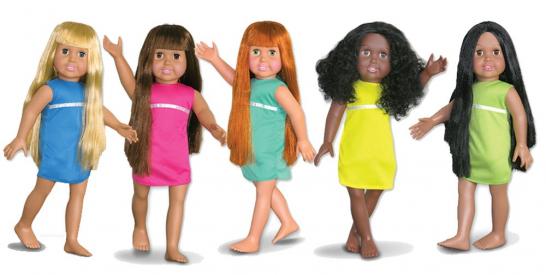 3rd GENERATION SPRINGFIELD COLLECTION ABBY, EMMA, OLIVIA, MADISON, and MARIA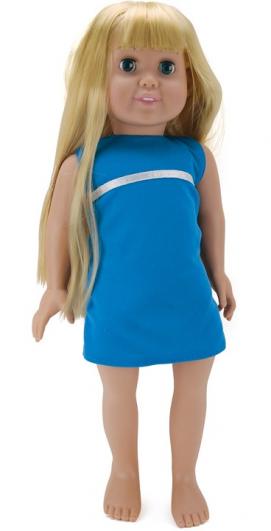 SPRINGFIELD COLLECTION ABBY
Somewhere in the mix, Fibre Craft also added Native American doll Niya. She may have been their answer to AG's Kaya.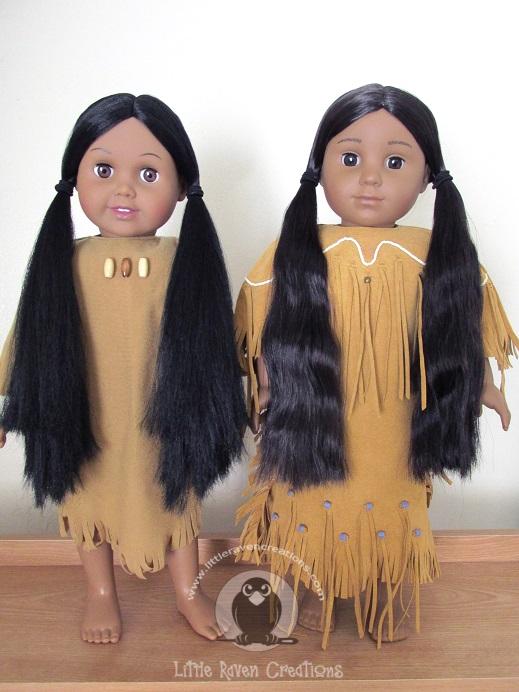 SPRINGFIELD COLLECTION NIYA and AMERICAN GIRL KAYA
Niya was unusual in that her hair was rooted into a permanent center part all the way around the back and sides of her head that was intended to stay in the two-braid hairstyle she was sold in.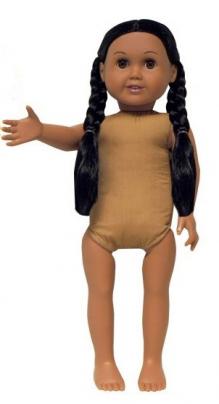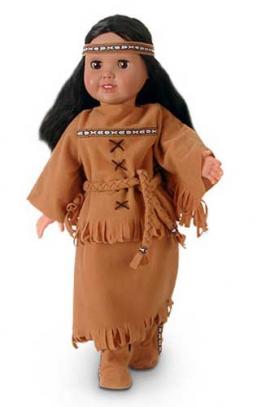 Taking the braids down without some other method of holding the hair in place revealed an essentially bald head. But for a unique kind of collector doll, and a nod to the NA community, Niya was an interesting addition to the Springfield Collection. Unfortunately, she was discontinued a short time later.
GENERATION 2.2 with NIYA

Nevertheless, Springfield Collection doll fans have noticed that 3rd Generation Maria is pretty much a replica of 2nd Generation Niya but with better hair, and she can easily fill in as a Native American or other ethnic doll if she needs to!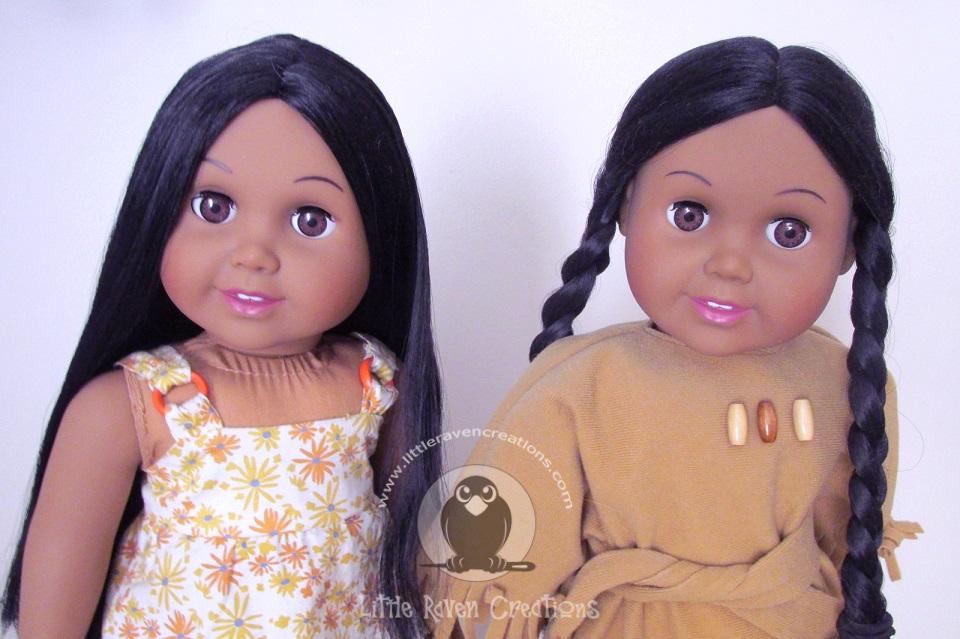 MARIA and NIYA
In terms of diversity, Fibre Craft has made an effort to be inclusive with their dolls, extending all the way back with the AA Maggie kit in the 1990s. With the advent of the pre-stuffed dolls a short time later, Hispanic/ ethnic Gina was added. Gina eventually developed into Sophia, and then finally Maria, meanwhile Maggie had become Madison.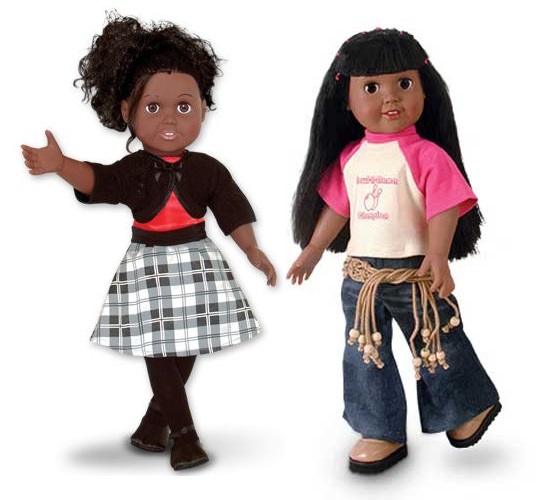 MADISON and GINA
There are unfortunately no Asian Springfield dolls, and developing one would likely require a unique face mold. There are currently no boy Springfield Collection dolls.

There was also a special Springfield Boutique collection that sold exclusively at JoAnn Fabrics during late 2015. The dolls were fairly identical to the regular Springfield Collection, although they had been given different names (with the exception of Madison).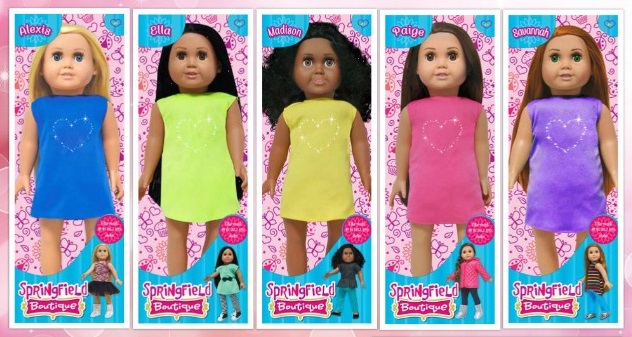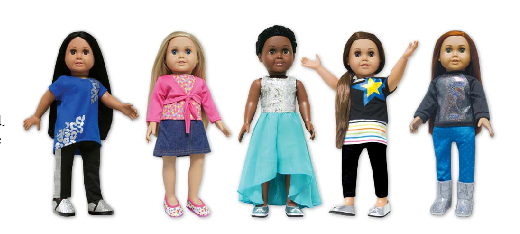 SPRINGFIELD BOUTIQUE ELLA, ALEXIS, MADISON, PAIGE and SAVANNAH
For those interested in the individual dolls' evolution into later dolls and their name changes, the suggested order looks something like this.
Springfield Collection
Springfield Boutique

1st Gen

2nd Gen

3rd Gen

4th Gen

Gina-->

Sophia/ Maria-->

Maria

Ella

Sarah-->

Amanda-->

Abby-->

Abby

Alexis

Laura-->

Lindsey-->

Emma-->

Emma

Paige

Maggie-->

Madison-->

Madison-->

Madison

Madison

Katie-->

Stacy-->

Olivia-->

Olivia

Savannah

Niya
A MORE COMPLETE TABLE HERE

Springfield Collection dolls have cute, round faces in sculpts definitely meant to emulate American Girl doll faces, although their cheeks are noticeably chubbier and their eyes rounder.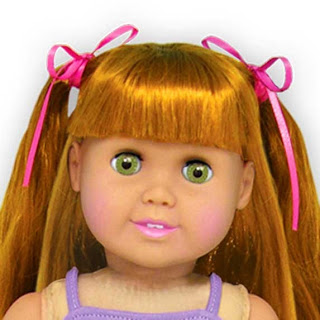 At times during the various renaming and reshuffling of the collections, their face paint has occasionally suffered from overly bright lips or overly surprised eyebrows. But their general aesthetic has been decent for their affordable price, and the look has steadily improved over the years in terms of hair quality and "makeup."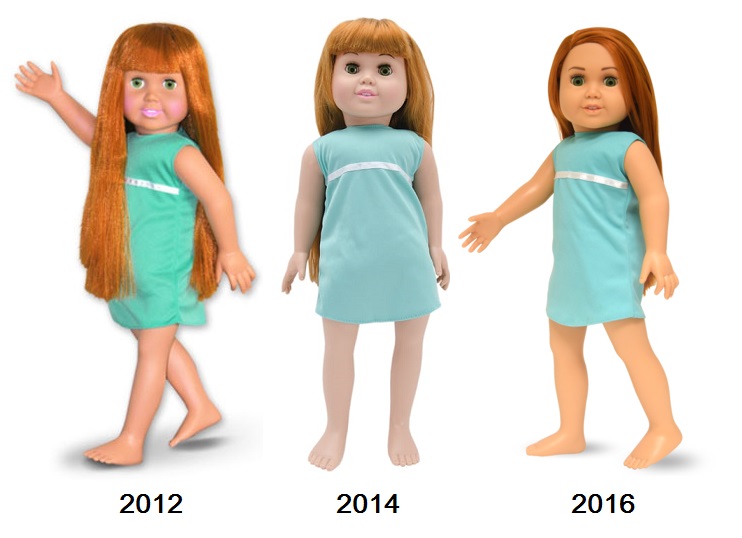 SPRINGFIELD COLLECTION OLIVIA'S EVOLUTION

In late 2015, Springfield Collection dolls got a makeover and now have longer (or curlier) eyelashes, and more realistic eyebrows. They've also traded in their bangs/fringe for a side part on their long hair.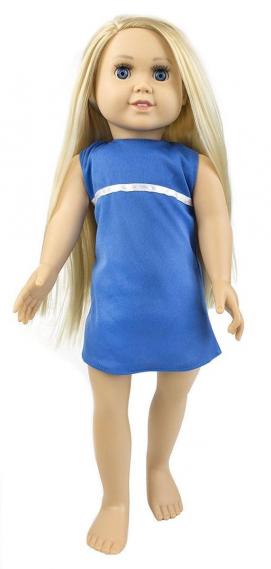 4th GENERATION SPRINGFIELD COLLECTION ABBY
The altered design was likely carried over from Fibre Craft's BUtiful doll line by Rachel Gutierrez, who updated the Springfield girls' face paint to produce a trendier, more upscale version of the dolls for BUtiful.
The BU-tiful dolls used essentially the same or similar models as the Springfield Collection, with the exception of new vinyl chest plates that allowed them to make the most of their trendy image and "upscale" look. Currently they may be difficult to find, although Amazon may offer them in limited quantities.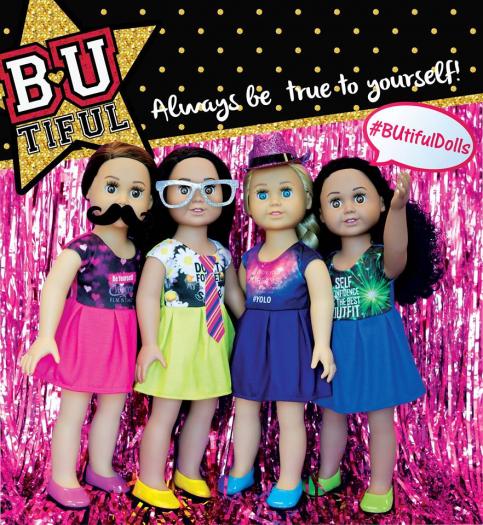 FIBRE CRAFT BUtiful COLLECTION: ALYSSA, GABRIELLA, HAILEY and MAYA. A 5th DOLL "CLAIRE" IS NOT PICTURED.
In regards to the latest Springfield Collections, it's worth a mention that Madison's vinyl seems to have progressively lightened; she nearly looks medium skinned now. Some may see this move as disappointing or unnecessary (myself included) but in either case, Madison now has a lighter vinyl color than before.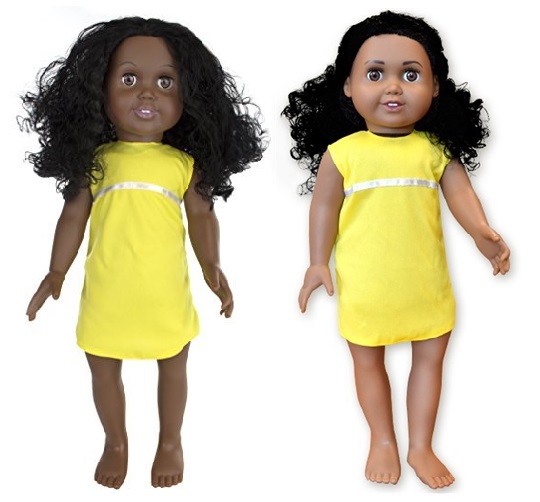 MADISON THEN and NOW
Springfield Collection dolls compare fairly well with American Girl dolls in overall size, although their cloth bodies and vinyl limbs are thinner. Their hands and feet are thinner, and the feet slightly longer. Still, most clothing and shoes can be shared with little issue, especially when comparing them with the newer, thinner American Girl dolls.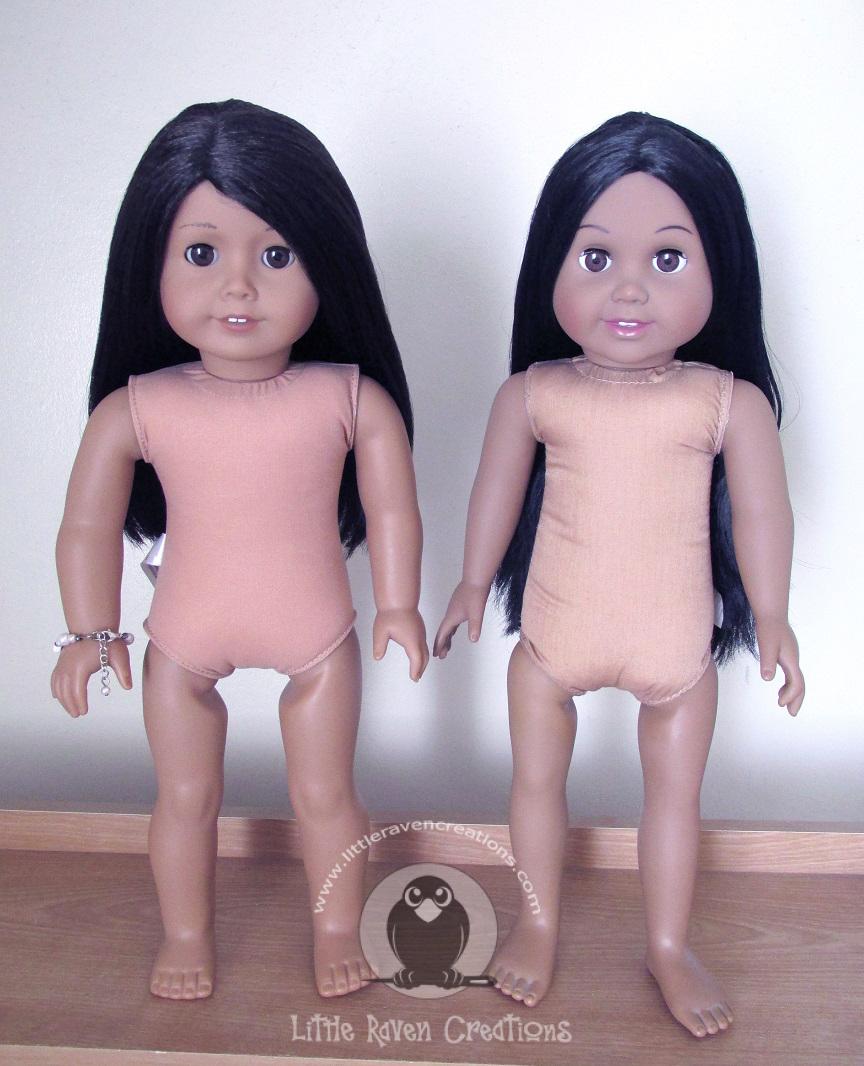 MATTEL AMERICAN GIRL #42 and FIBRE CRAFT SPRINGFIELD COLLECTION MARIA
| | Pleasant Company AG | Mattel AG | Springfield Collection |
| --- | --- | --- | --- |
| height | 18" / 46cm | 18" / 46cm | 18" / 46cm |
| head | 12 1/4" / 32cm | 12" / 30.5cm | 11 1/4" / 28.5cm |
| chest | 11 1/2" / 29cm | 11 1/4" /28.5cm | 10 1/4" / 25cm |
| waist | 11 1/4" /28.5cm | 10 1/2" / 27cm | 10 1/4" / 25cm |
| hips | 12 1/2" / 32cm | 12" / 30.5cm | 11 3/4" / 30cm |
The measurements are approximate. Individual dolls may vary.
Their vinyl comes in light, medium, and dark, as is slightly sallow like American Girl dolls. They have blonde, brown, red, or black rooted hair, and blue, green, or brown sleep eyes. Their hair is long and straight, or wavy/curly (in Madison's case). Their cloth body color matches the vinyl color fairly well, at least those I have seen.
They stand fairly well on their own (most of them) but they don't quite have the the stability of AG dolls, and are also more loosely stuffed. Yet for their affordable price tag, Springfield Collection dolls will probably make most doll fans or collectors happy.
They have a variety of cute clothing and accessories which will fit most other 18" dolls as well.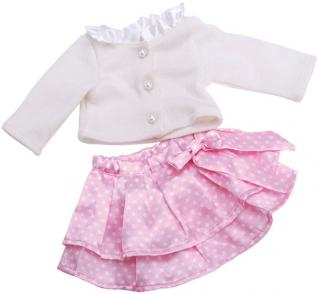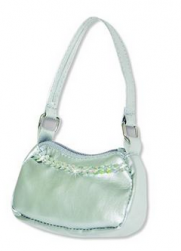 Springfield Collection dolls by Fibre Craft retail for about$20 - $25 at craft outlets like Joanne's or Michael's or stores like Walmart. Their accessories go for about $9-$13. Both the dolls and their accessories are also commonly available on the secondary market for varying prices; $10 - $30 for the dolls and about $5-$10 for the outfits.
[Prices quoted reflect the market at the time of this post; they may differ from the item's current value.]