Style Dreamers 14 Inch Dolls: The Quest for Charlie!
Submitted by

Little Raven

on Sun, 2017-12-31 18:36
Last New Year's Eve I managed to squeeze in a year-end post about Play Zone Style Girls dolls from Big Lots. This year I'm going to do a repeat performance by doing a year-end preparation for a review and comparison of the 14" Style Girls from both Big Lots and Tuesday Morning.

When I first saw the new 14" Style Girls at Big Lots earlier this year, I was really impressed by how cute they were for a lower-priced doll. They were definitely an homage to American Girl's Wellie Wishers but at only a quarter of the price! Granted, they aren't quite the same level of quality as WW dolls, but for $15 they're an easy way to get a super cute 14" on a budget.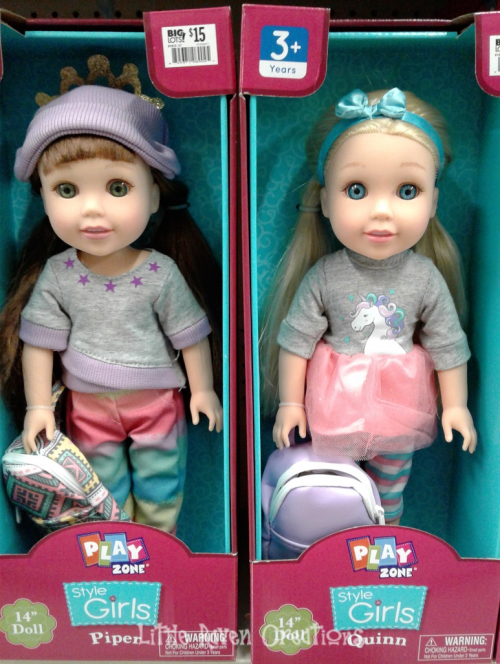 14 Inch Style Girls Piper and Quinn from Big Lots

So just previous to Christmas, I grabbed Skylar from Big Lots. Skylar seems to be one of the most popular of these dolls, and it's easy to see why. She's adorable!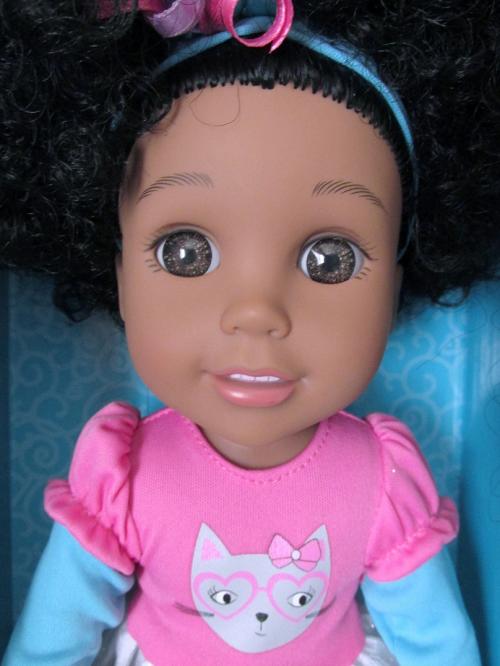 Unfortunately the original Skylar I bought had a small bit of paint chipped off her lips that I hadn't noticed when I purchased her, so I took her back to exchange her for another. And while I was there, I couldn't help myself and grabbed Piper too. That wasn't my original intention, don't judge. :)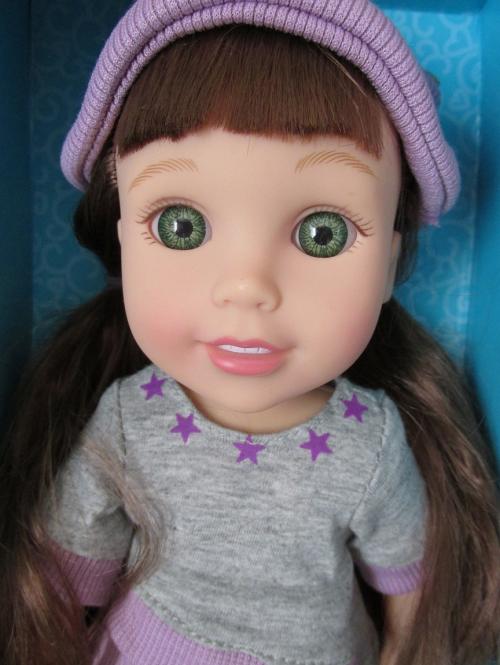 Her eyebrows were a bit off kilter, which I thought gave her personality. ;)

I'd also been hearing about the 14" Style Girls called "Style Dreamers" from Tuesday Morning, which seemed similar to the Big Lots dolls but supposedly had different names. I thought that was interesting and worth looking into.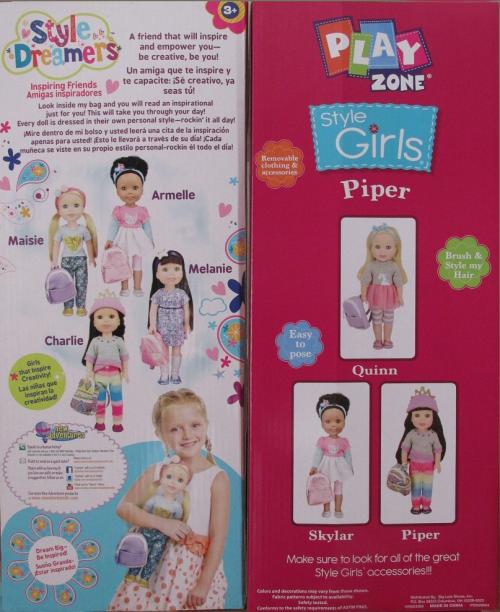 Style Dreamers from Tuesday Morning (left) and Style Girls from Big Lots (right).
In particular I noticed there was a fourth doll that was exclusively part of the Tuesday Morning collection, and wasn't found at Big Lots (although she was dressed the same as Big Lots' Piper).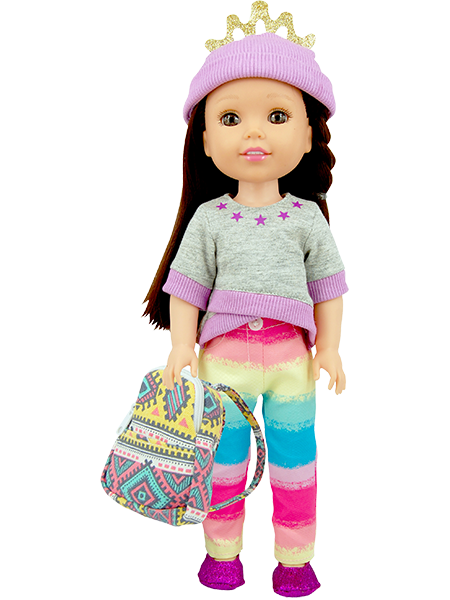 This doll had medium skin, dark hair, and brown eyes, which made her unique from the others, in addition to belonging to only one collection. Her name was Charlie.
The other Style Girls had a corresponding "twin" at Big Lots: for Maisie there was Quinn; for Armelle there was Skylar; and for Melanie there was Piper. But Charlie stood alone. That made her seem special so I decided to see if I could track her down.
Originally, I didn't even know if there was a Tuesday Morning near me, so I had to do some research. . . Great news! Google told me there was a Tuesday Morning not far from my home, and interestingly not far from the Big Lots store I regularly haunted. Imagine that.

But when I got there, this is what I found: an empty building. Sad face. :(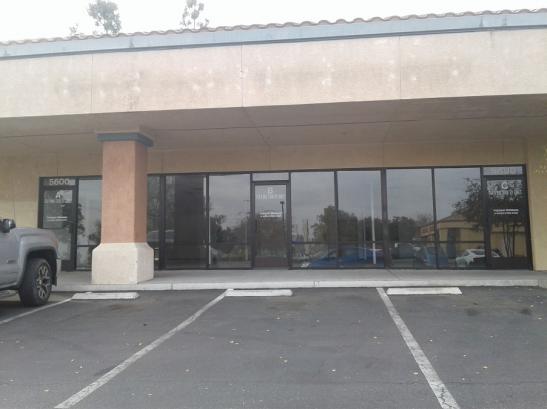 So I was not happy to see Tuesday Morning had moved, but I was relieved the new address was listed as only a few miles away. So off I set across town to the new Tuesday Morning on my quest to find Charlie!
When I got there at last (a long drive through heavy Christmas traffic) I happily found they were having a two-day 20% off all toys sale. Excellent! But did they have Charlie?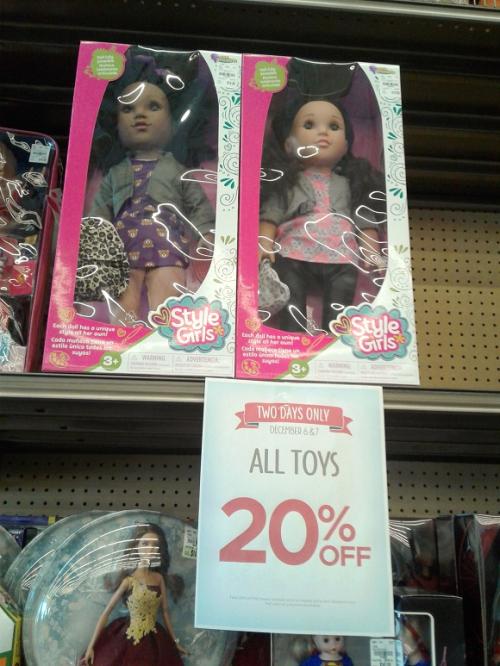 At first glance, I found only two Style Girls dolls there, and they were the 18" kind. Things didn't look encouraging; the toy shelves looked well-picked over.
But after digging around behind boxes myself, lo and behold, I found Maisie and, wait for it. . . Charlie!!

Maisie and Charlie from Tuesday Morning
They were the only two Style Dreamers dolls there, so I feel pretty fortunate one of them was Charlie. It made it all worth the extra effort.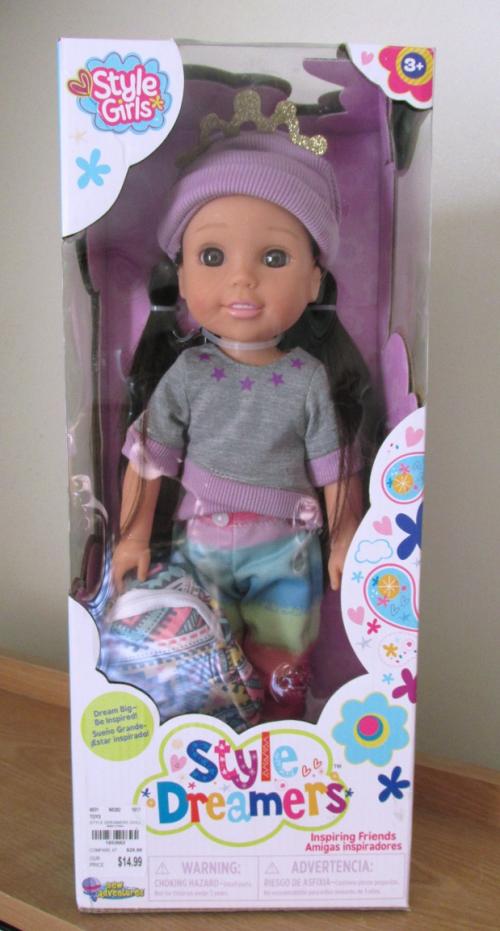 Charlie is very cute and unique; I'm so glad to have found her. I'll have a closer look at her in the next few days. I have to wonder why she was left out of the Big Lots collection.  It's possible Style Dreamers is the latest version of the 14" "Style" dolls, with Charlie having been added, not taken away.
Either way stay tuned for my upcoming review and comparison of Tuesday Morning Style Dreamers and 14" Style Girls from Big Lots.
Happy New Year all!