Emma's New Hair
Submitted by

Little Raven

on Thu, 2015-09-17 17:03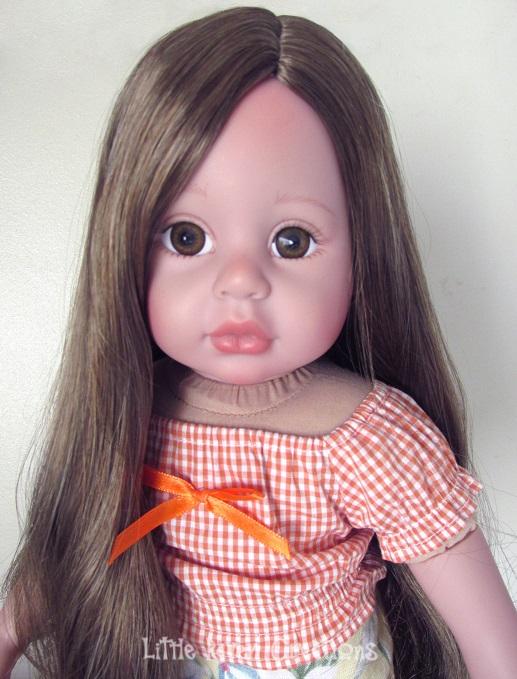 I didn't know anything about Emma when I first saw her on eBay, other than she had the sweetest little face. I didn't even know her name at the time. I had bid on a doll just like her some months before, but lost the auction. So when she came around again, I had another go and won. So who was this little cutie with the bendable body and irresistible pout?

When she finally arrived, I saw she was missing her eyelashes and her hair was as frizzy as carpet nap! No surprise though; it was apparent from her pictures that it was frizzy. However, it was tied up so I could only guess how bad. When I took it down, it was downright scary!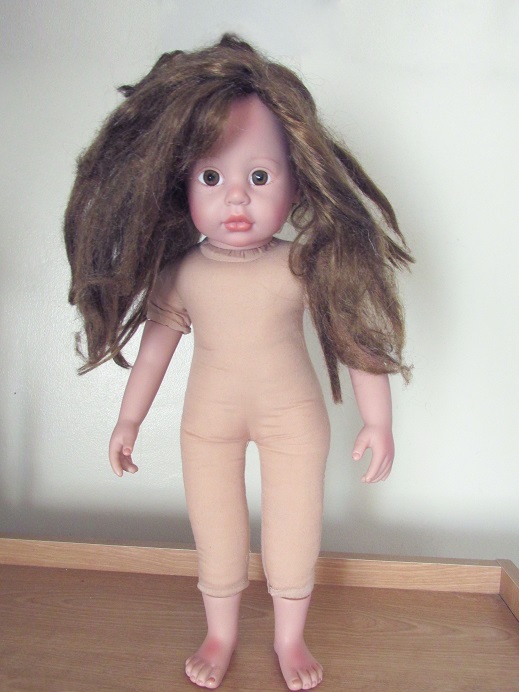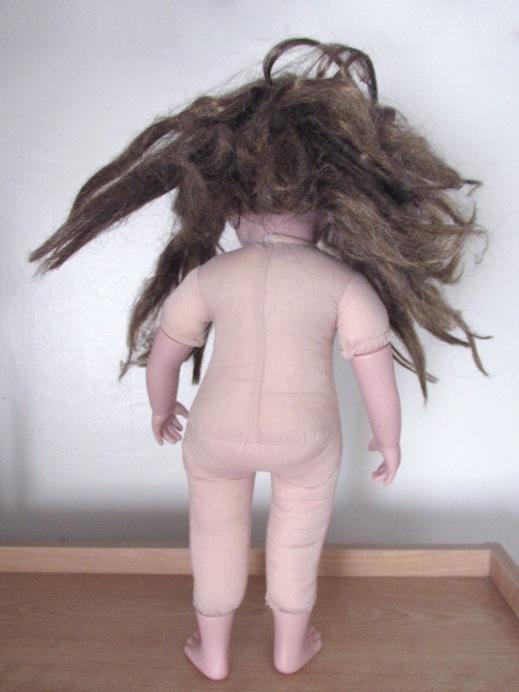 Although I had worked through some pretty bad hair in the past, I knew there was no way I was going to get a comb through that pile! Come to think of it, the original doll I had bid on and lost also had frizzy hair--obviously a defect in an otherwise cute doll. Well, I didn't give it much thought. I just ripped the wig right off. Better bald than that terrifying mess!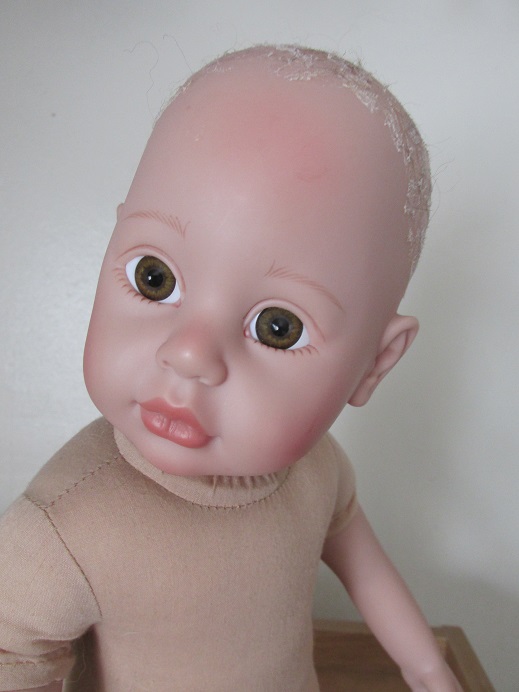 And then Emma sat for for a while in the corner of my closet. I did some work during that time to try to find out who she was, and eventually learned she was a Tenderhearts Girl doll, one of five original dolls sold by Paradise Galleries. Once I learned Emma's name and what she had originally looked like, I set out to find a replacement wig for her, but I had some issues finding a good match.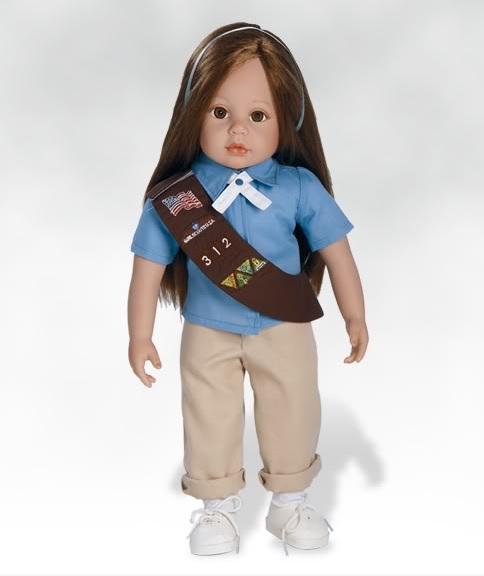 PARADISE GALLERIES EMMA
It was probably six months before I happened to stumble across a really good candidate when I took notice of the "Marie-Grace" lookalike wig that had been circulating around eBay for while. It wasn't an exact match, but I thought with a little modification I could make it work.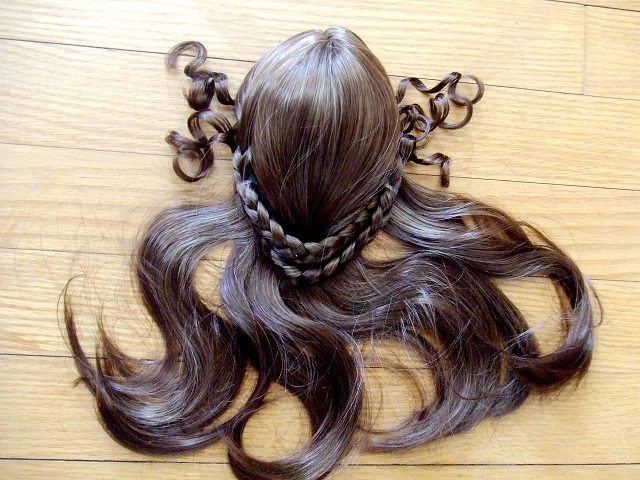 The length and color seemed right anyway, and huzzah! when it arrived later I was surprised by how close the color came to matching the original. (I kept it to be sure.)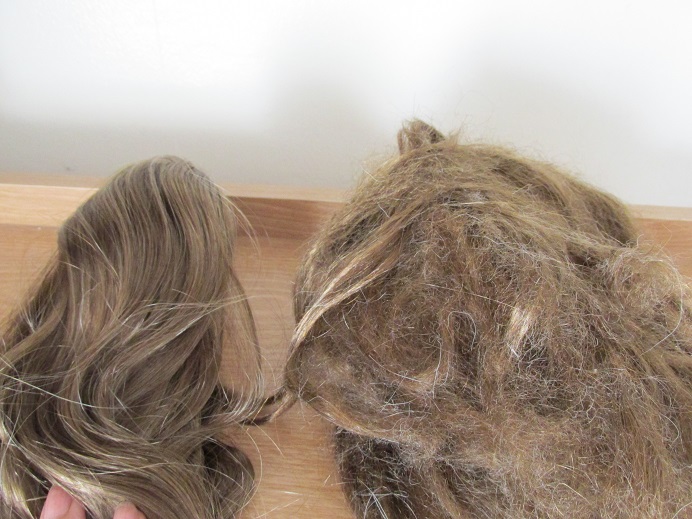 NEW AND OLD WIG: NEARLY PERFECT COLOR MATCH
But to really make the wig work I had to unravel the braids and remove the side curls. Fortunately the curls were just extra bits of hair added to the wig cap, so removing them did not affect the main wig hair at all. This was the easy part!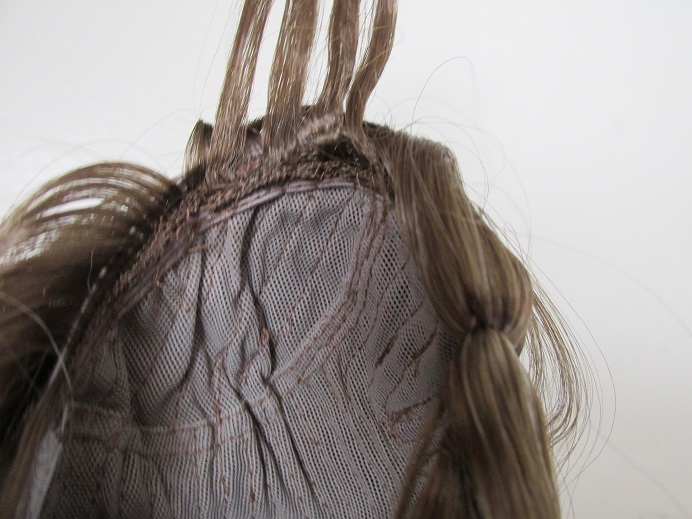 This is what I had so far. Wavy crimps in front, smooth waves in back.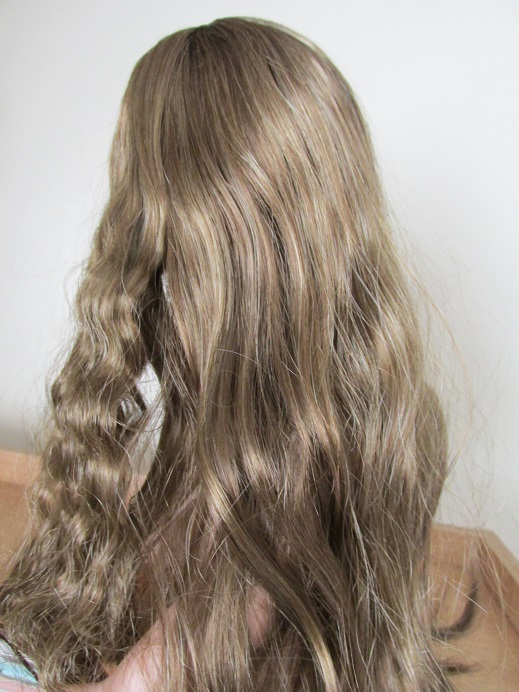 Next I tested the wig on Emma's head. Actually I was afraid it wouldn't fit, as her head is a bit taller than most 18" dolls that use a 11-12 wig. I had to pull and tug a bit to get it on right. Finally I managed to make it fit. Although the hairstyle wasn't where I planned to go with it, I was still pretty pleased with how it looked.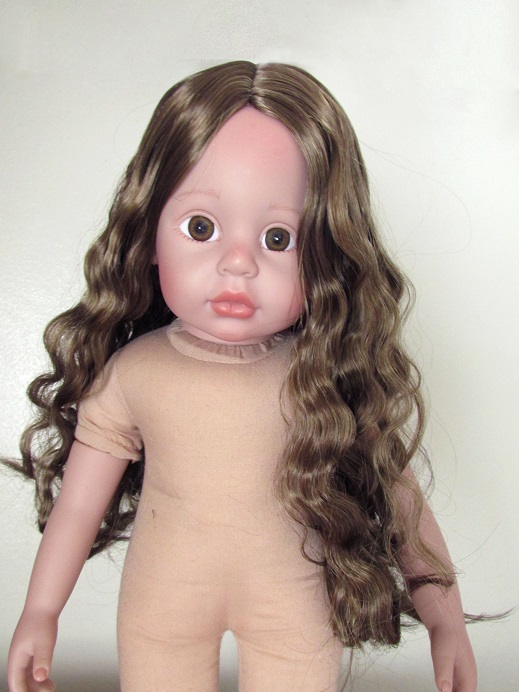 Then I adjusted it for an off-center part, just like in Emma's pictures, marked the placement, and reapplied the wig with glue to make it permanent. Not bad! Even cute. But still not exact.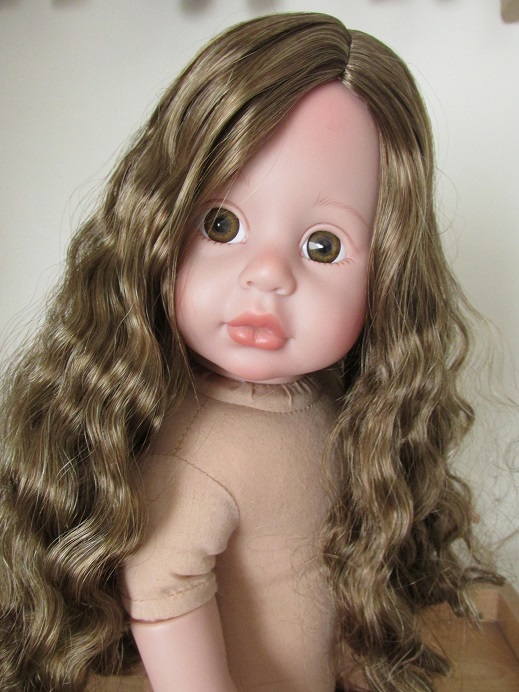 To make it look exactly like the original, I had to wet down the braid crimps and flat iron the sides to smooth the hair out. Awesome, the crimps came out, but so did all the wave and body! The front was now straighter than the back.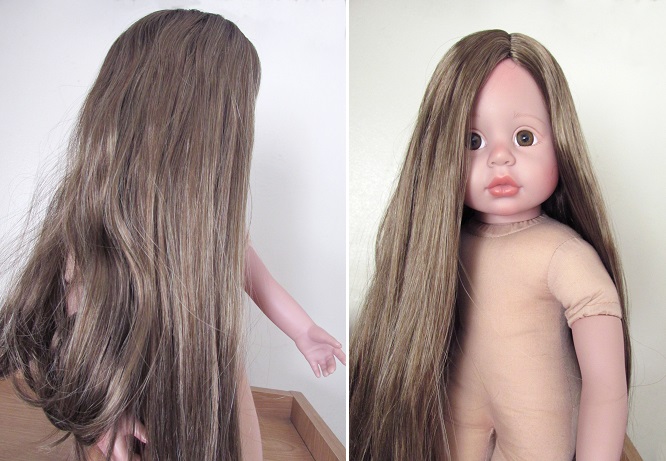 Emma's hair might actually have been that straight originally, but I decided at that point I liked the light waves and body of the wig. So I lightly re-curled the front to match the back. Perfect!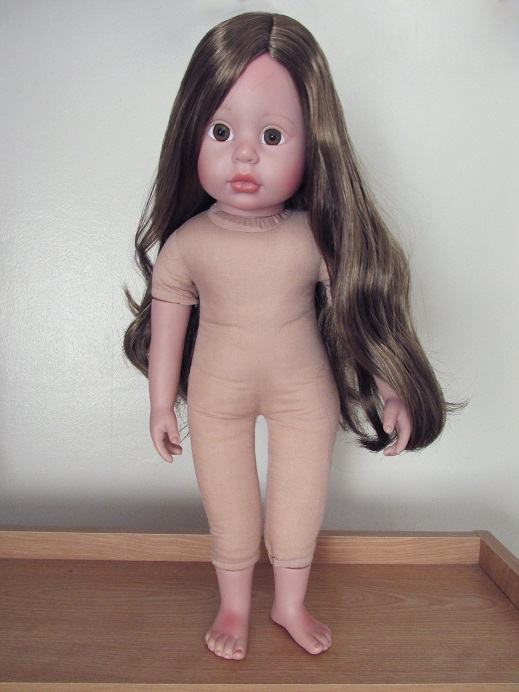 Then I gave her a new set of eyelashes. This doll has very pretty eyes!
Finally I dressed Emma in a cute, sunny gingham top with matching flowery pants. And last, I added a matching hair clip for her lovely new hair. I'm pretty pleased with how Emma turned out!