Madison and DeeDee
Submitted by

Little Raven

on Wed, 2015-06-17 17:46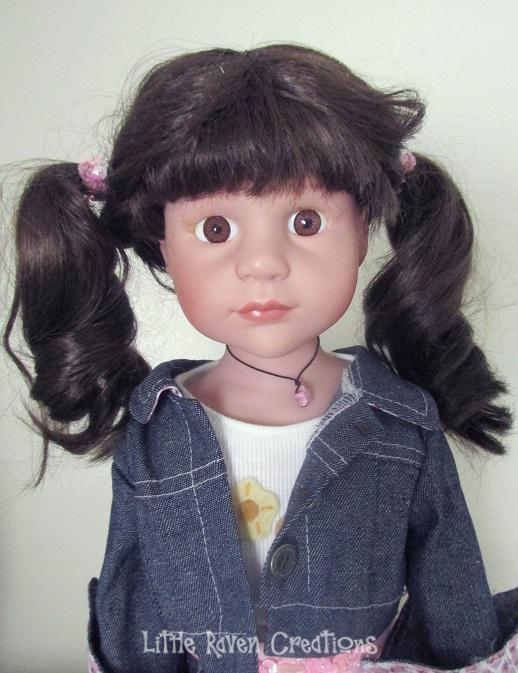 I was pretty happy to find this pretty Kinnex doll named Madison on eBay for a steal. The thing that really struck me about her auction photograph was her resemblance to Gotz Hannah! I did a double take when I saw her, looked again at her price (under $20) and thought something must definitely be up. She was a Buy It Now, so getting her was easy. And when she arrived a few days later and I removed her from her box, I sort of understood the mystery.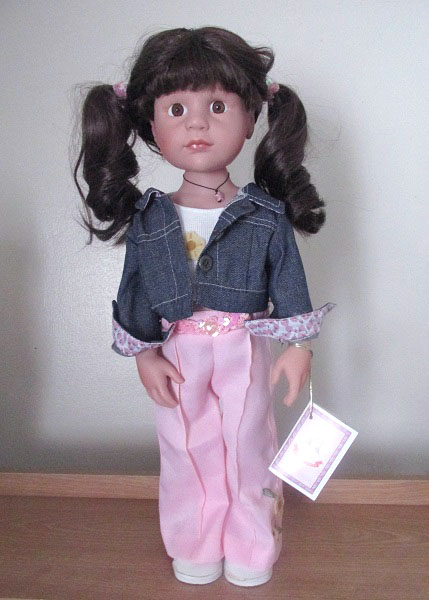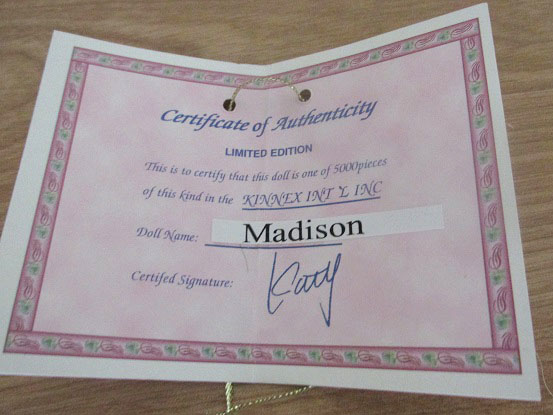 Kinnex doesn't necessarily produce Gotz quality dolls. But it seems someone must have either gotten hold of a Hannah mold and used it to produce a lower quality doll, or some brilliant artist simply copied it from scratch! The dolls aren't exact matches, which leads me to think the later. But whatever the case, the Kinnex doll is fairly inferior. In fact, when I lifted her from her box, her eyelashes instantly fell off! What?! I didn't even touch them. Her wig almost toppled off too! It was only partially glued on and not very neatly either.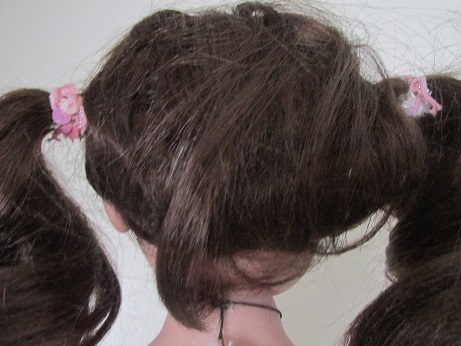 I immediately had to do a side by side with my Gotz Anna who uses the Hannah mold, to see their likes and differences. It was fairly clear Madison's eyes were slightly off, even compensation for the missing eyelashes (and the sloppy glue remains on her eyelids). And her body was not only smaller and thinner, it was made of a cheaper type plastic instead of a quality vinyl.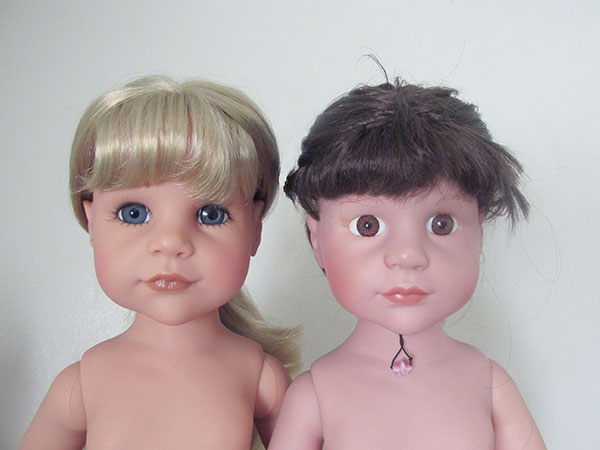 GOTZ ANNA and KINNEX MADISON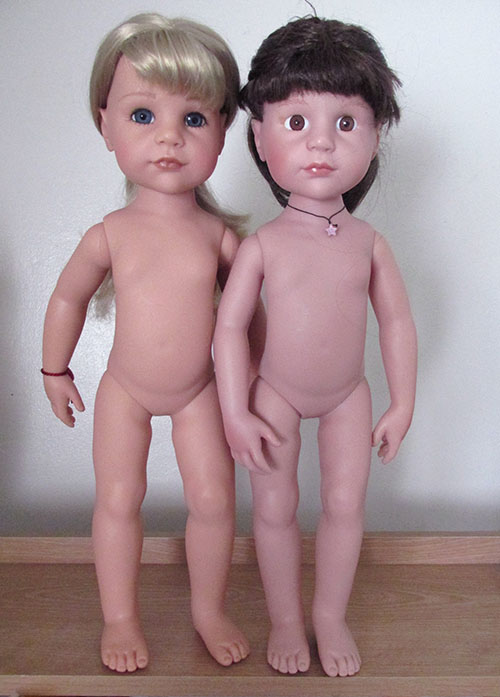 Even so, I thought she had a lot of potential. She had a beautiful little face that was being overpowered by the clunky brown wig, and the poor doll's fashion sense was not helping matters.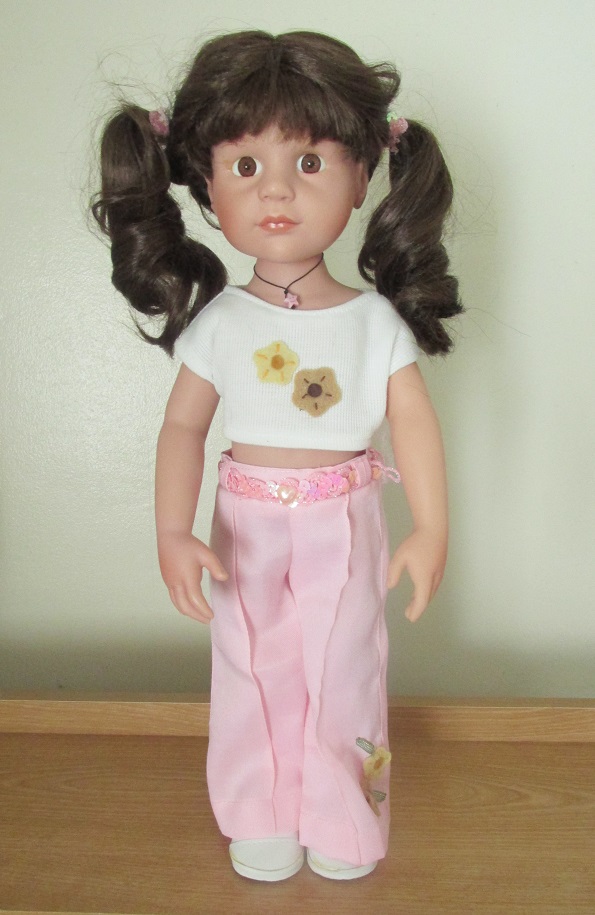 So I decided Madison needed a makeover of the most serious kind.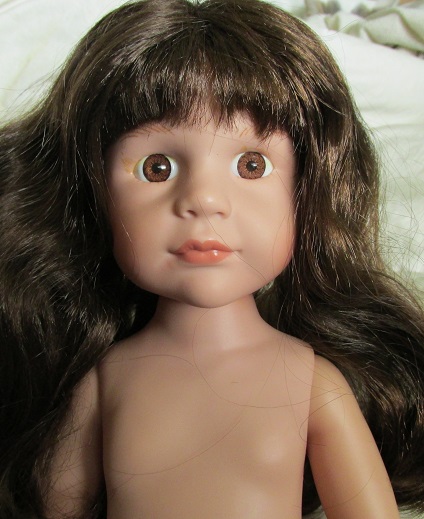 I felt the wig for certain had to go. It was cheap and badly styled, and the dull, heavy, ash brown color didn't do much for Mad's rosy vinyl color.
I tried a number of styles and colors on her, and although I kind of liked the style of some and the color of others, nothing really clicked for me.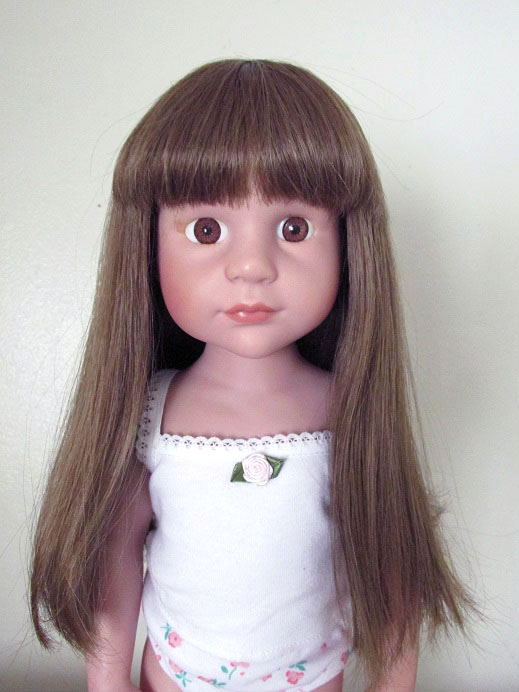 I LIKED THE STYLE, NOT THE COLOR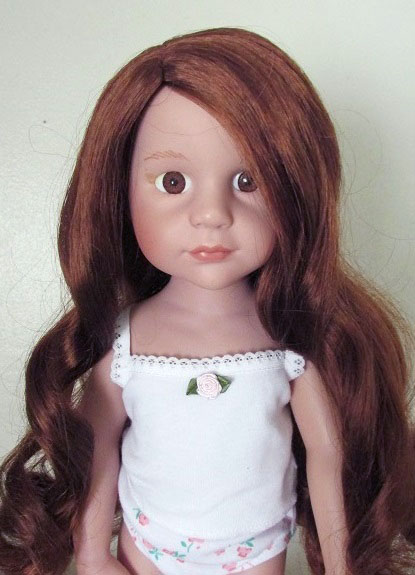 I LIKED THE COLOR, NOT THE STYLE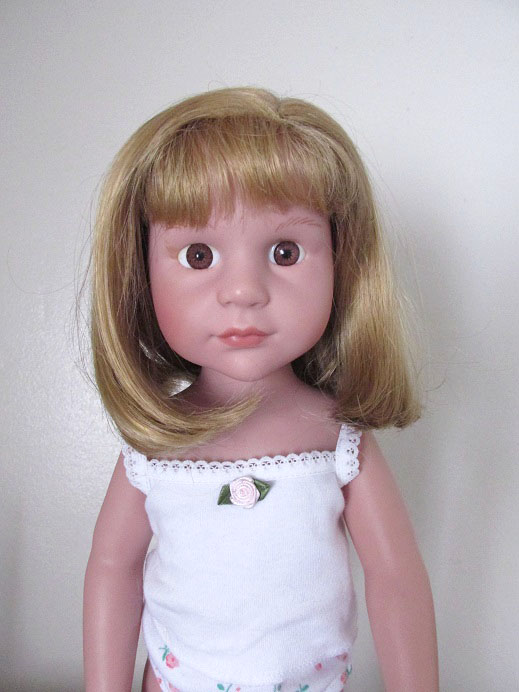 THIS ONE DID NOTHING FOR ME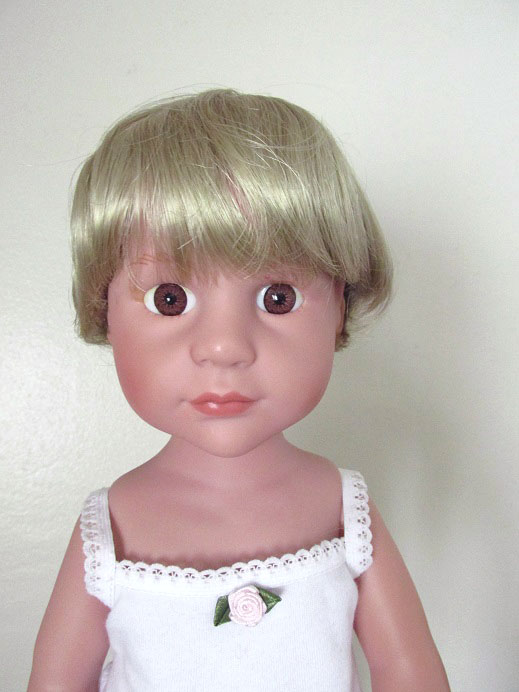 SHE LOOKED CUTE AS A BOY BUT I ALREADY HAD ENOUGH "HANNAH BOYS"

Until. . .
I pulled a long, carrot red wig off a Lotus doll I had been trying to remake. The wig didn't work too well for her anyway. In fact that flaming red wig didn't look particularly good on any doll I had tried it on. But as last resort, I pulled it over Mad's bald head and wow, it was perfect! The color melded with her rosy skin unusually well. And the style looked so cute on her! These two were meant for each other!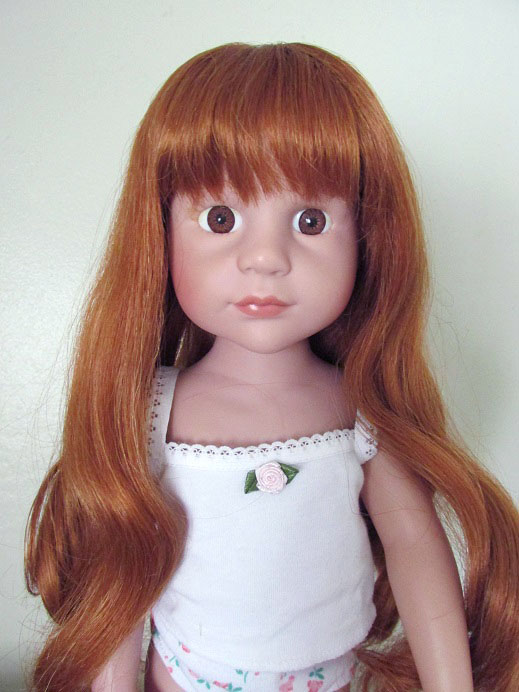 Next, and probably most importantly, I had to liven up her facial features. First I removed the old glue around her eyelids and then glued on new eyelashes. Pretty good. But then I decided to remove her cheap factory eyebrows for something a little more artful. I had actually been practicing repainting lashes and brows on a cheap Kemper doll and decided to give it a go on Madison. If I really messed her up, oh well I figured, she didn't cost much. So I gave my fledgling eyelash and brow skill a go!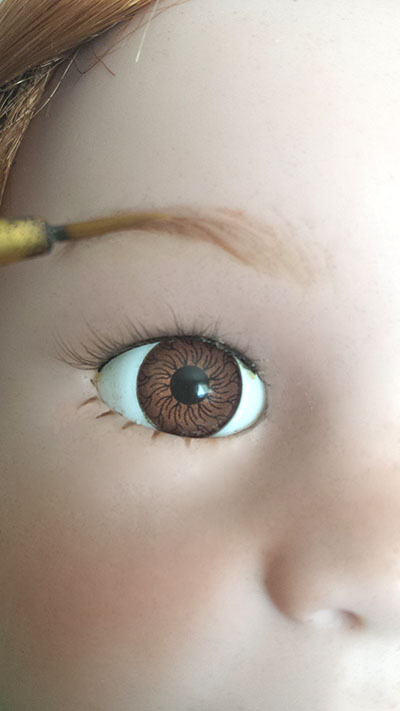 And in fact, her new custom eyebrows and lashes looked fantastic. They gave her "personality."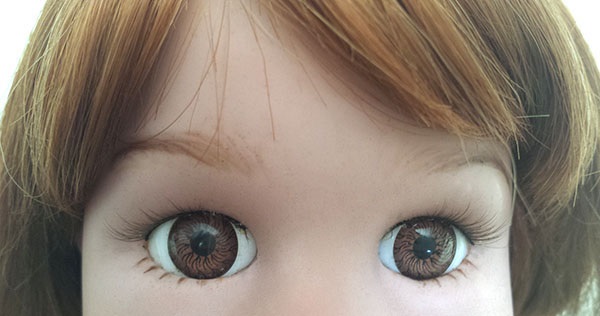 But I also wanted to try out the rest of my face paint techniques, so I gave her extra rosy cheeks, and then a whole sprinkling of freckles to go with her gorgeous red hair.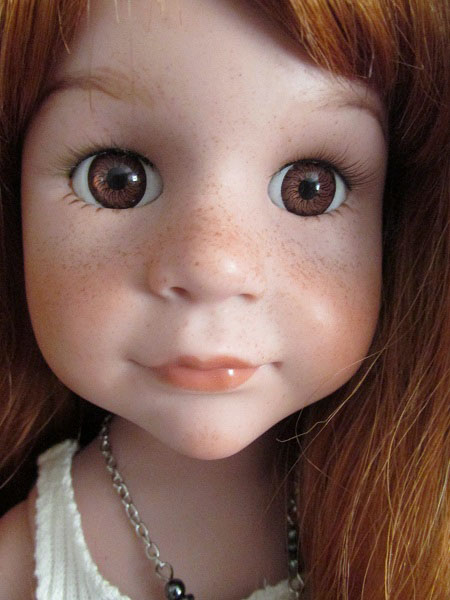 What a perfect little ginger beauty!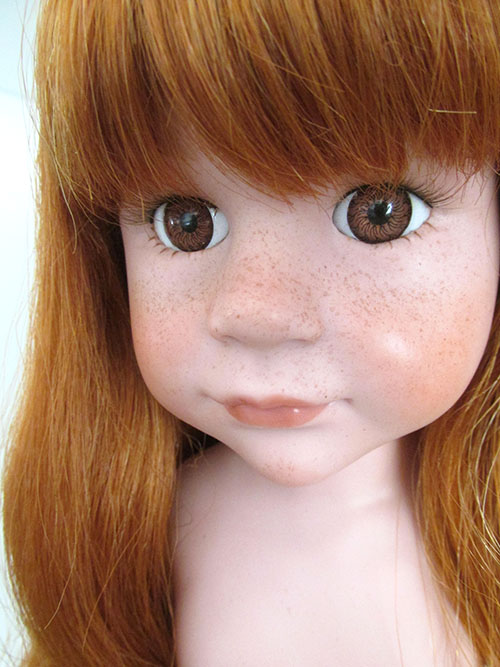 Lastly I dressed her in my
Vintage School Girl
design, gave her some 70's knee socks and a pair of clunky 70s style shoes to go with it, and her new look was complete.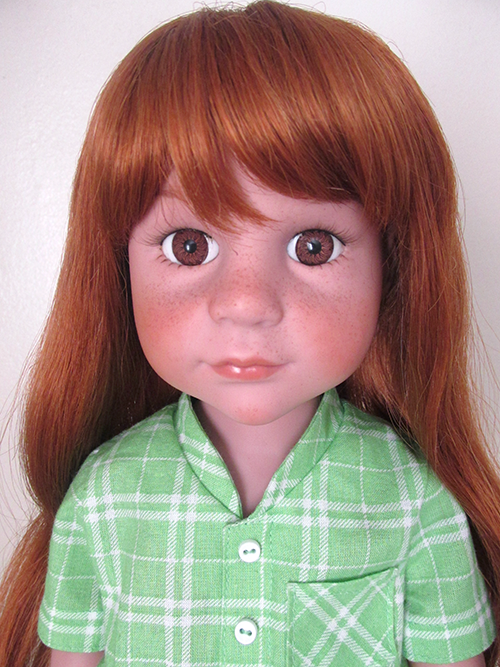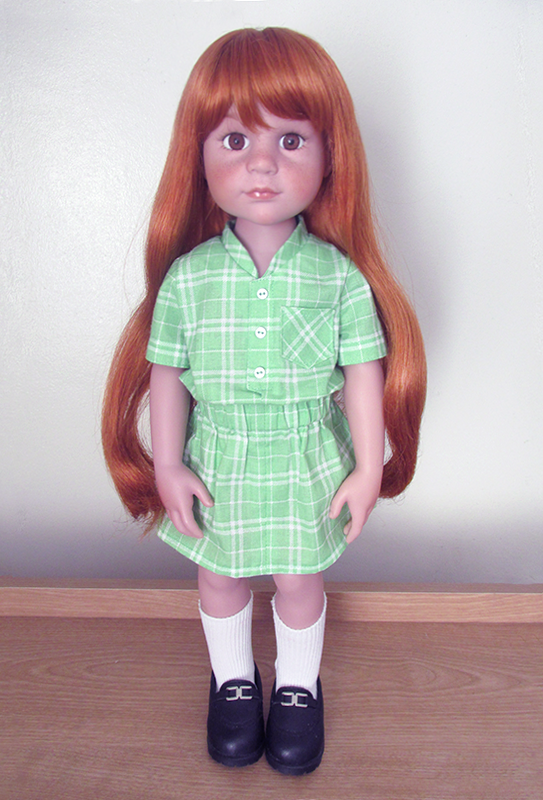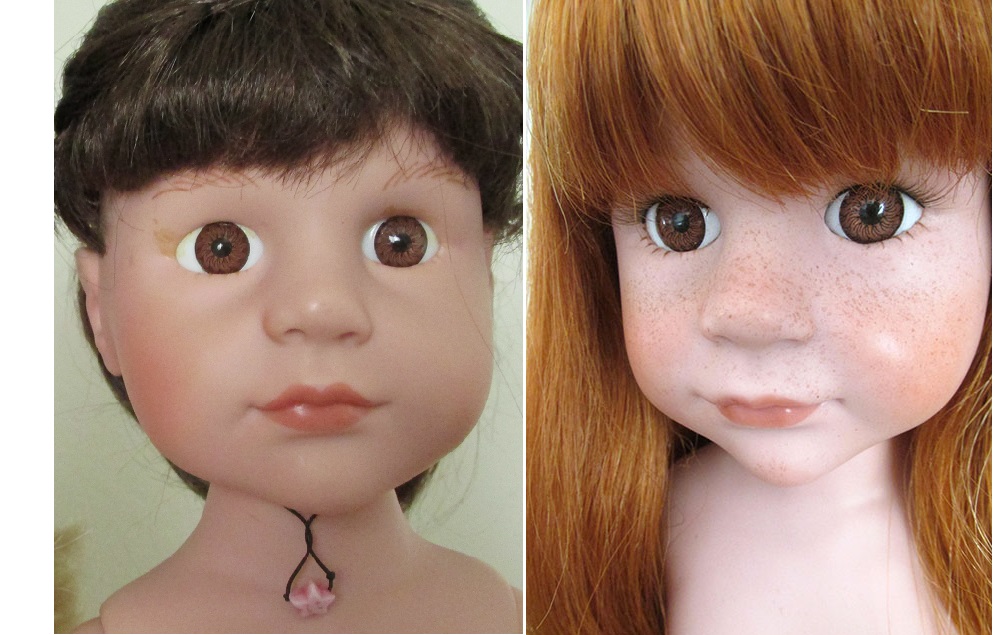 Madison was a totally different girl now, so she needed a new name--or at least a new nickname. I considered a few common nicknames for "Madison." But I didn't want to use Maddy, that was already way over-used, or Addy or Madz or anything like that. So I had to really think on this one!
And that was when it occurred to me, instead of Ma-dee, how about DeeDee? So DeeDee was born. From a cheap Hannah knock-off with bad wig and glumpy eyelids, to a unique and pretty ginger girl with freckles who is entirely her own person!
And this was how Kinnex Madison became Ravenhome DeeDee. :)