Revisiting China
Submitted by

Little Raven

on Wed, 2015-02-18 09:42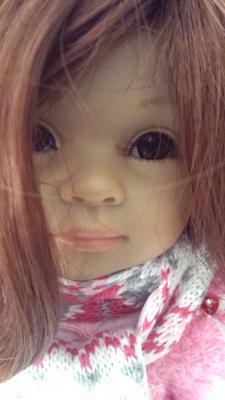 And by revisiting China, I mean having a new look at this little darling who up to now had no name I could decide on. But having ordered her directly from China, I decided the name China would suit her, and I think I pretty much like it that way. Isn't she a beauty? She's so unique!
Unfortunately, China as she came to me needed a little help in the wig department and with her winter wardrobe dispersed a while back among the Raven Clan, she's been wearing this shapeless frock by Marvel Education that came with one or another of my dolls, can't recall which now.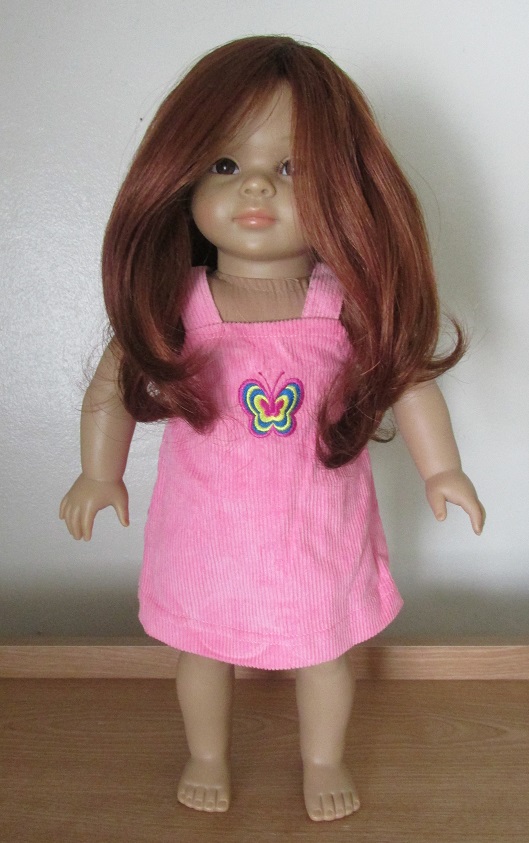 What better used of it than to make it into a cute summer top? Done!
Calling that a success, I also made some short shorts to pair it with, using Liberty Jane's cut-off "Daisy Dukes" jeans pattern, giving them a narrow hem for a cleaner look, and now she's ready for the warm California weather that's been
plaguing
making the rounds across the state this winter.
And like I said, her wig was a mess since day one; I pointed it out when I first unboxed her. It was cheap-looking and fell over her face, with too many short layers showing underneath if I tried to pull it back. Not to mention the goopy glue it was slapped on her head with, of which so many glops remained.
So today I'm trying out a different wig for her. Originally I tested out a Kemper "Lori" wig on her, but it was close to the same color as her original, and I didn't like the way the red/ auburn hues clashed with China's gold-toned skin. Next I tried both a brunette and blonde version of the Bavas International "Bombshell" wig, and decided I liked the pale blonde better; it seemed to go well with her "tan." Now, I may go darker shade in the future, but for now, with her summer midriff and short shorts, she's rocking the California girl look lol.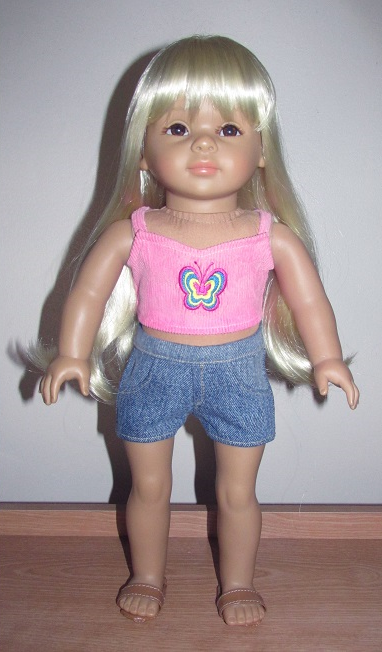 UPDATE:
I finally decided on this wavy, medium blonde "Denise" wig from Monique for China (in 12-13 for her larger head). The fuller waves work better with her super round face and the color blends in so well with her skin tone, better than the platinum blonde. I love the final result! These adorable little dolls rock. I see that Harmony Club Dolls is currently using this model (which can easily be gotten directly from China for a lower price and free shipping, just saying) for their dolls and several others and they seem to be very popular. I knew when I stumbled on her last year I had a winner.