Global Friends Aziza
Submitted by

Little Raven

on Sat, 2015-07-11 17:17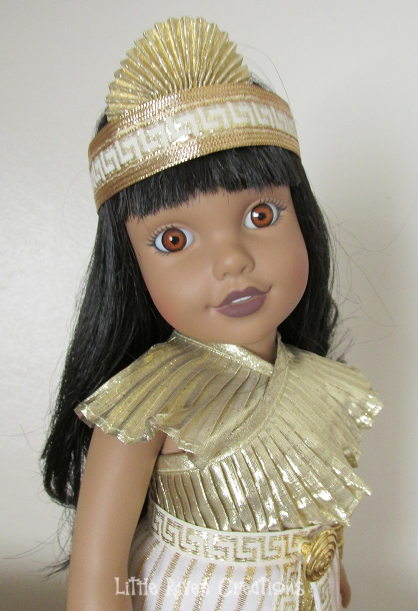 I had seen images of Global Friends dolls for a while, mostly on
this
McCall's Crafts pattern for 14" and 18" dolls. I didn't know which dolls these were at first, but I began running into them on the web during my doll journeys last year. I thought they had the cutest little faces, and I eventually learned they were Global Friends, 14" dolls which were produced in the late 90s and were now retired. Being that they were vintage and a bit rare, trying to find one on the secondary market (for an affordable price) wasn't an easy thing, and it wasn't until last week that I was able to grab one on eBay for a nice and easy price ($20).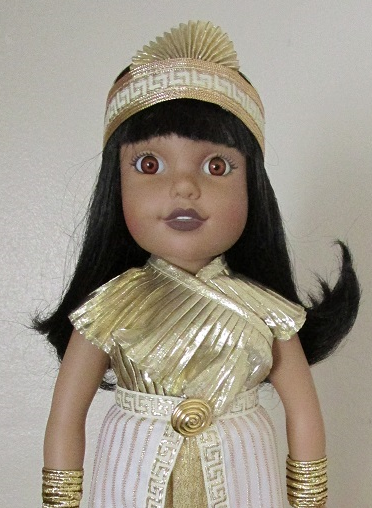 Global Friends, very much like the more recent 14" Hearts 4 Hearts collection, are dolls who represent various countries around the world, as well as several regions and cultures from the US. This little beauty is named Aziza, and she's the Global gal pal from Egypt. She comes dressed in a traditional ancient Egyptian noble gown and headdress, including golden wrist bands and sandals.
When Aziza arrived, I was really impressed by the Global Friends box quality and art. While it was an older box, it was in good condition and I could see it had been made with a lot of care and attention by the manufacturer. This isn't just a simple 2-color doll box like most doll packaging; the box has bright, detailed art and graphics printed on the front, interweaving the various Global girls' cultural symbols. The sides of the box have six panels illustrating several of the dolls' different environments. (There were originally thirteen dolls, so these panels may vary from box to box). Aziza's panel shows a colorful street scene of an Egyptian market. The other panels are just as colorful and detailed. I wonder how many doll manufacturers put as much thought into their packaging?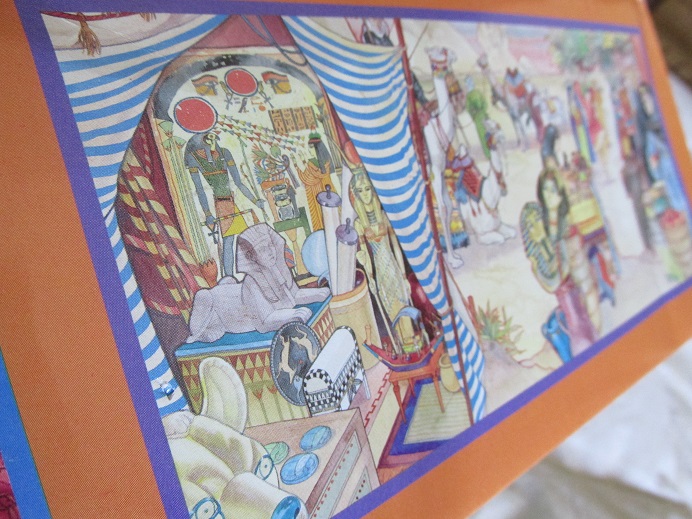 Now for the doll: This was my first view of Aziza. She was in very good condition for an older doll. I believe Global Friends dolls may have originally come with their own story books and accessories similar to American Girl, though my doll did not come with any of those things. Even so, she had her original clothing, all of it in good condition as well.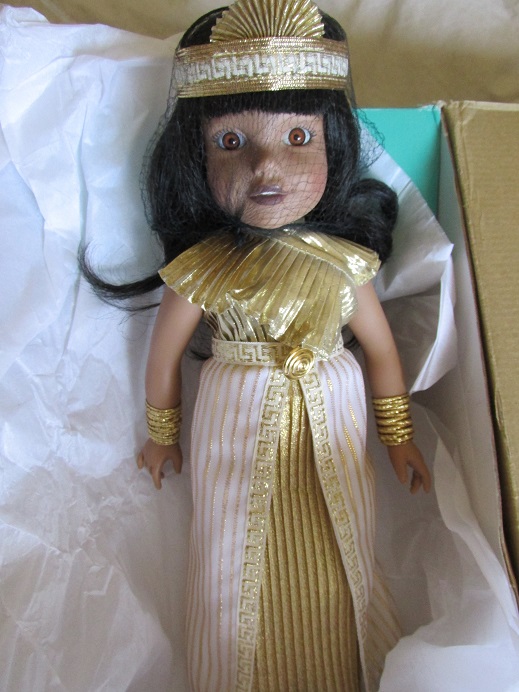 Once I got her out of her hair/face net, I was able to get a better look at her. Adorable Aziza has clear brown eyes with painted lashes, feathered brows, tan skin, and long black or dark brown hair that flips outward in the back. She has painted lips with a sweet smile showing two front teeth. For a 14" doll (with a smallish head) that's a very nice amount of detail!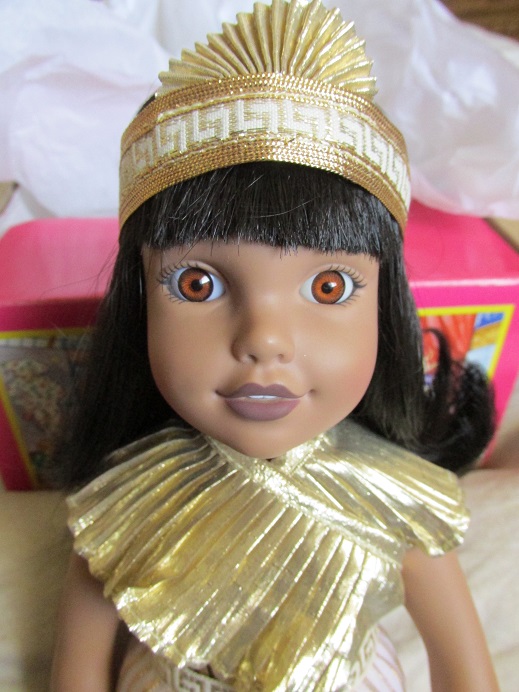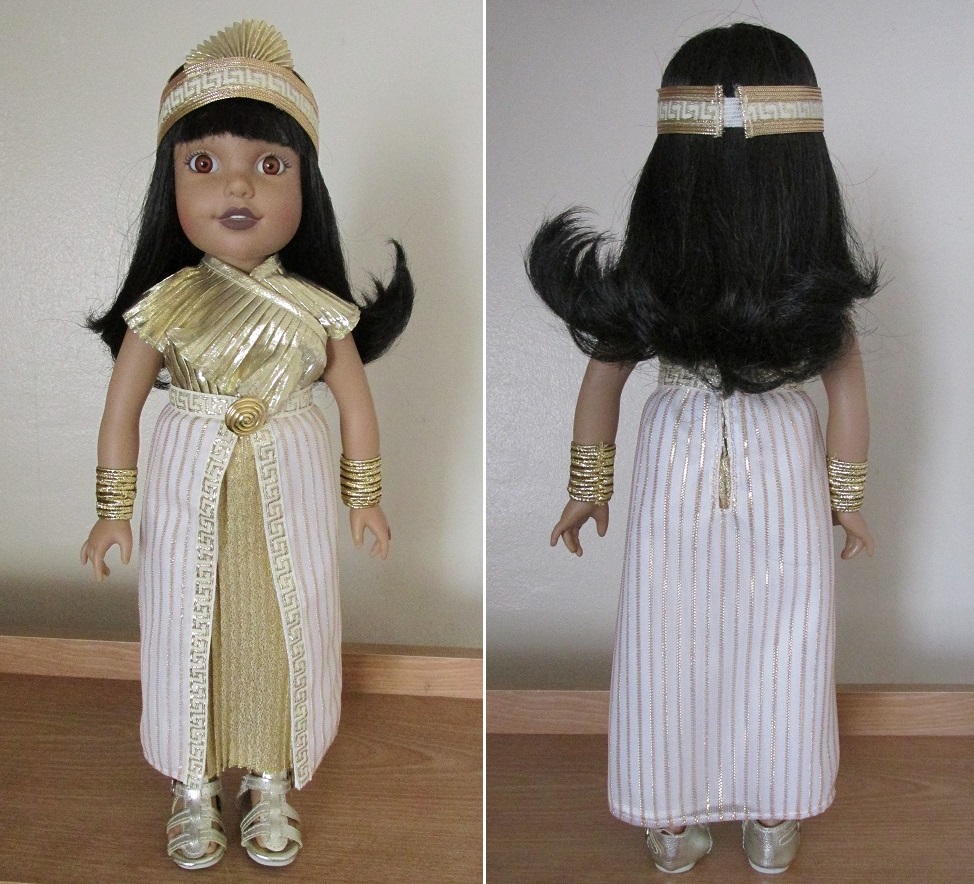 I was surprised by the level of quality in Aziza's clothing. There is no velcro anywhere; instead, the pleated skirt and shirt fasten with transparent snaps that are fairly invisible against the fabric. The wrist bands are made of colored, shiny elastic and slide off and on easily. The golden sandals have actual working buckles!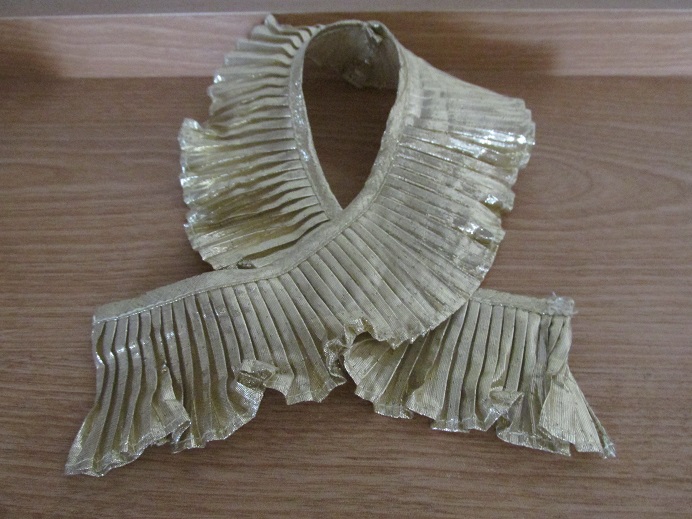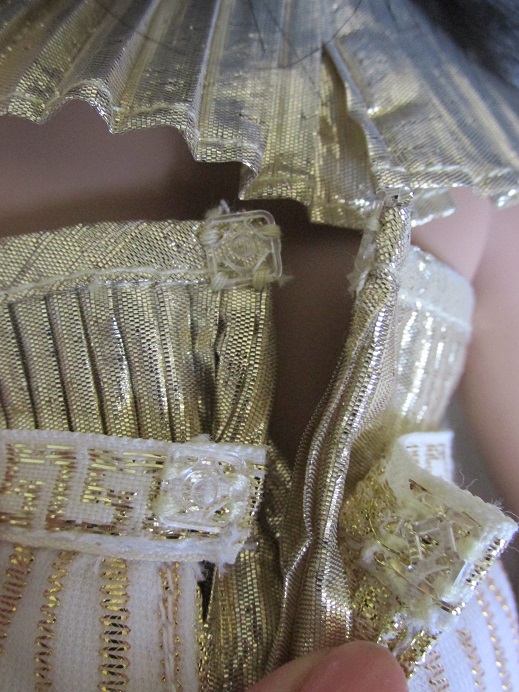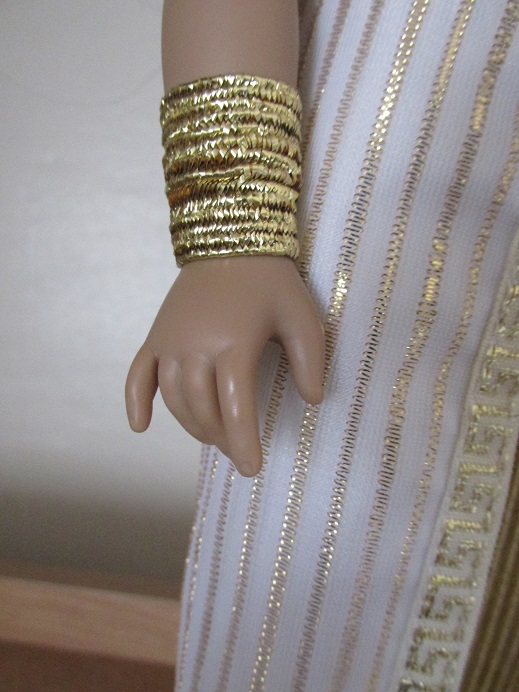 After examining the clothing, I was curious how Global Friends compared with Hearts 4 Hearts Girls dolls, the more recent, 14" "global" doll. So I lined up Aziza with H4H's Native American doll, Mosi. I quickly noticed they are similar in pose-ability, including both having a pivoting neck. And while they are also very close in overall height, you can see that they are proportioned very differently. Mosi has a much larger head and slightly thinner body, while Aziza was designed with more realistic proportions.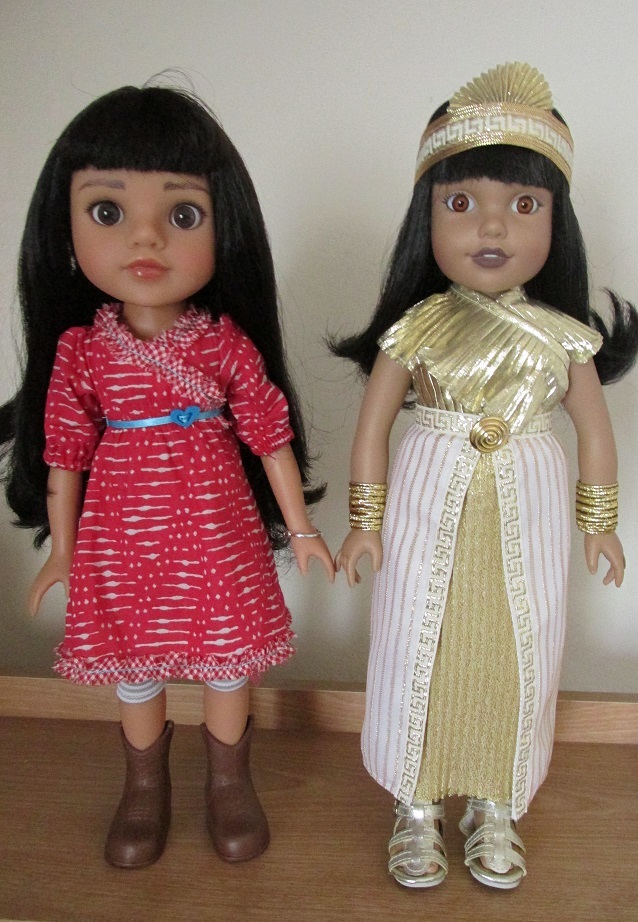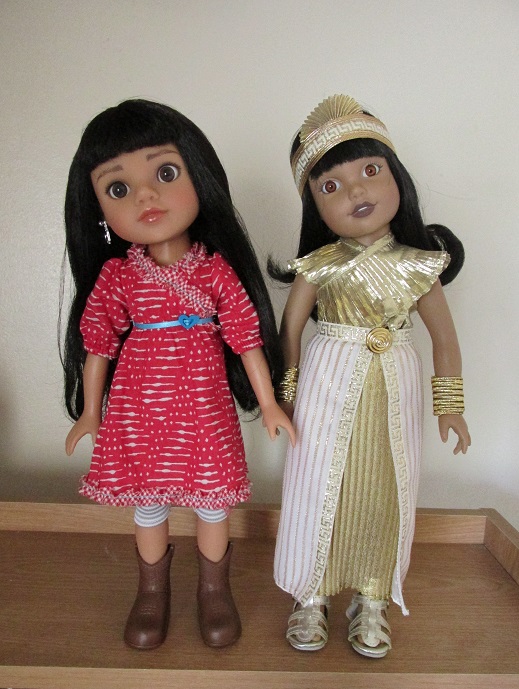 Another difference between Hearts 4 Hearts and Global Friends lies in the quality of their hair. Mosi's hair has a surprising level of natural flow and movement for such a small doll. Aziza's hair is coarser and a bit stiffer. It has less of a natural feel and flow to it.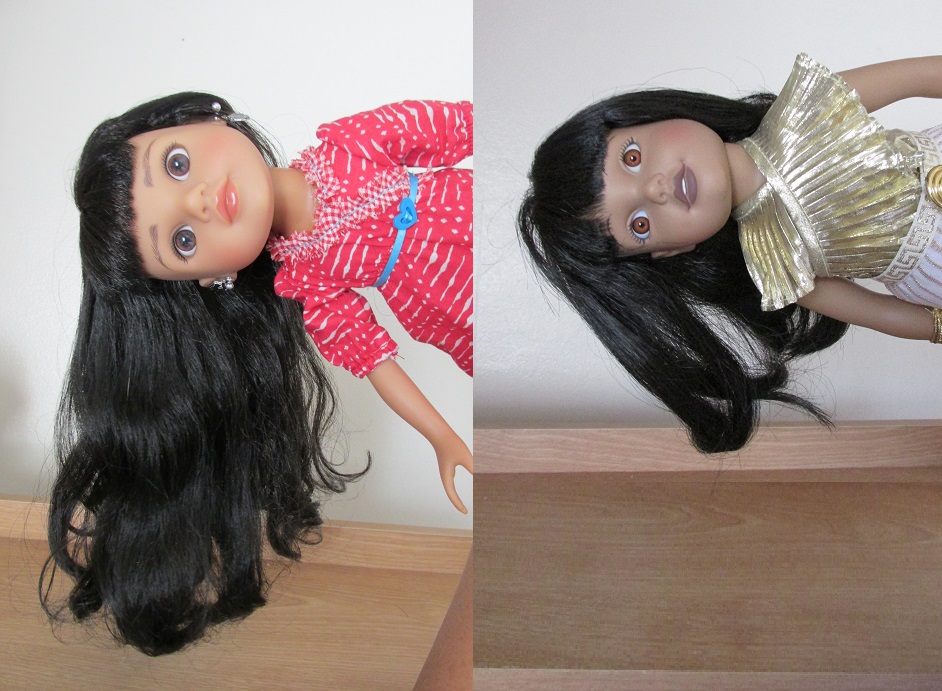 Outside of her head band, Aziza's hair sits slightly "poofy" on her head, especially her bangs/ fringe, though it's not by any means a deal breaker. Aziza is cute enough to rise above any minor minor hair issues. ;)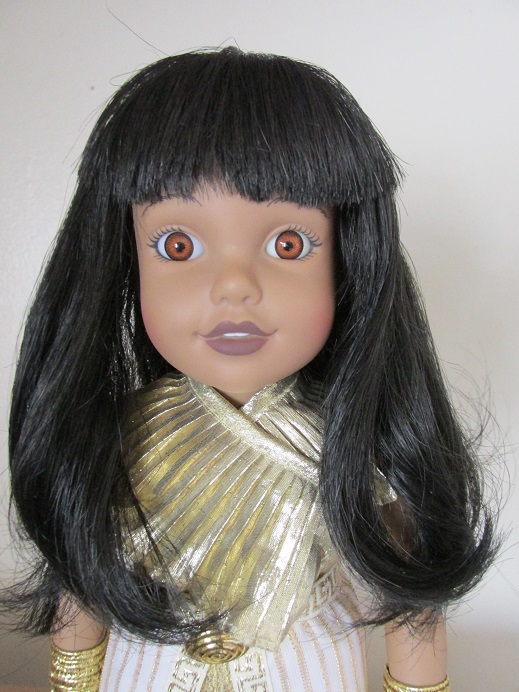 Global Friends' facial features may be a bit cookie-cutter. While these dolls have the prettiest little faces, they don't have much variety among them, other than the obvious, varying skin and eye colors. Unlike Hearts 4 Hearts dolls, who can have one of several face sculpts and very unique, subtle face painting, Global Friends seem to be fairly simple and similar in that regard--as far as I can tell anyway, only owning one. One might even have trouble telling
Aziza from her Native American Global Friend Jody
, outside the darker lips color and slightly longer hair.
Also, while H4H Mosi's and Global Aziza's vinyl bodies are fairly similar, there are differences that might make it difficult for them to share clothing. Aziza's wider, more natural proportions, especially around the torso, stands in contrast to Mosi's slimmer midsection.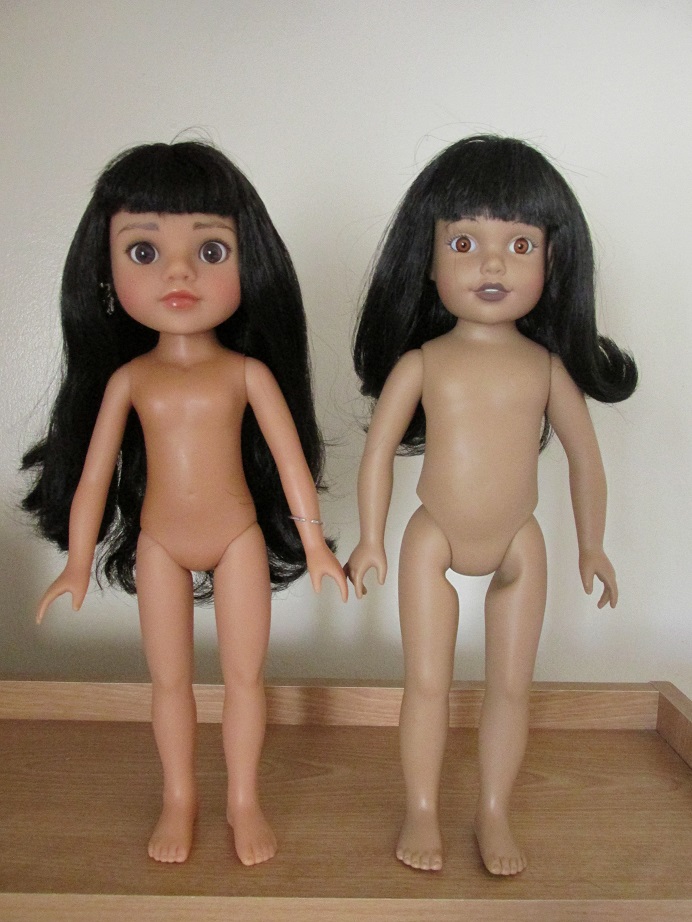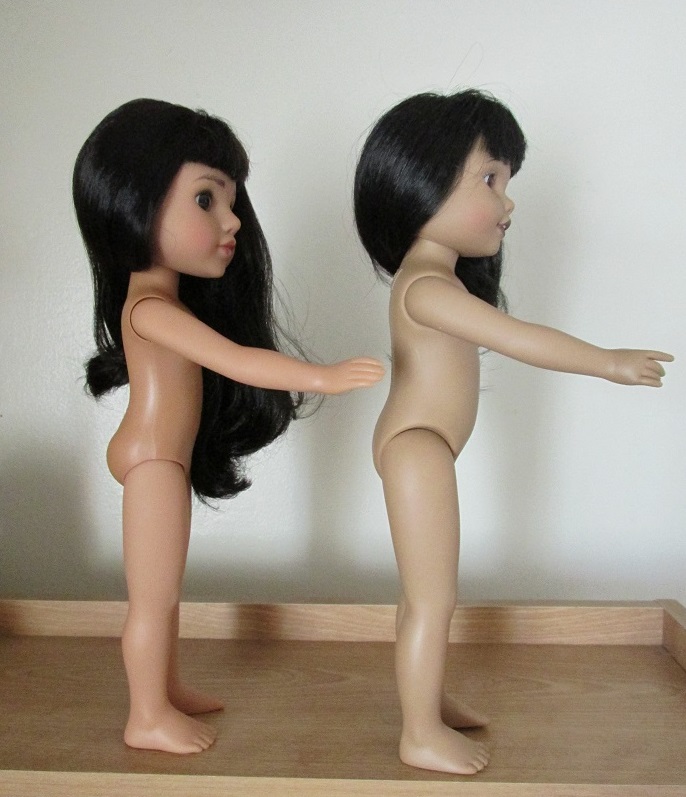 The ultimate test of this, of course, is a clothes switch, just in case there is any lingering doubt of their size difference. On first first glance, the clothing swap doesn't look so bad. In fact, the dolls look kind of cute sporting each other's signature look.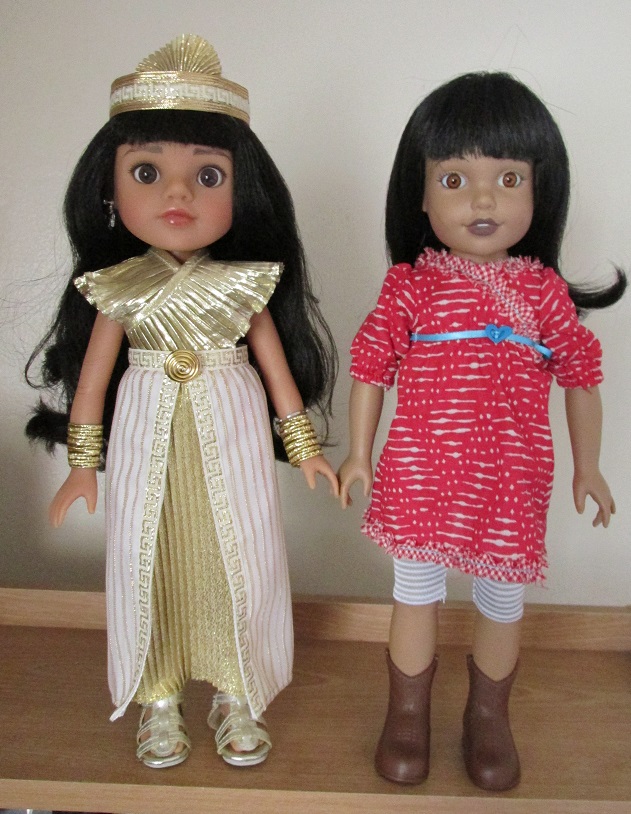 That is until you check out at the flip side! Aziza can't even begin to squeeze into Mosi's dress, even when I tried to bring the elastic gathered ends together, she was still about 1/2" too wide to fasten it. Meanwhile Aziza's roomy skirt simply floats around Mosi's tiny waist.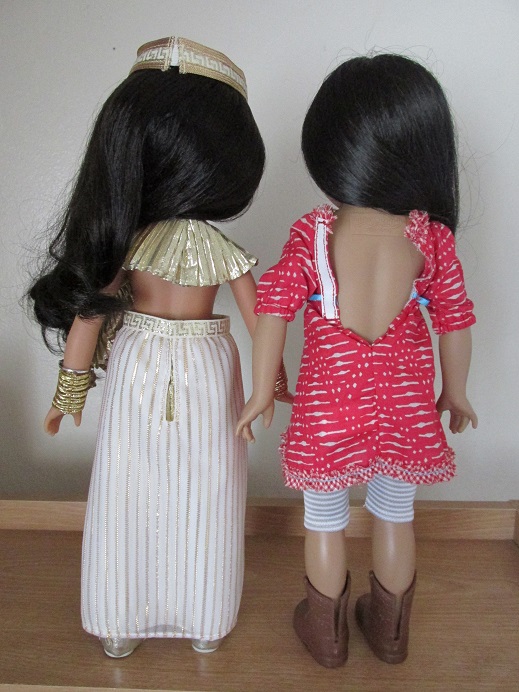 But some items did more or less work, namely the things made of stretch fabric like the underwear and leggings. However even those were a bit loose or tight (not to mention Aziza's headband would not fully go around Mosi's larger head). Yet the shoes fit surprisingly well and were 100% interchangeable. Hearts 4 Hearts' and Global Friends' hands and feet are apparently much closer in size than the rest of their bodies.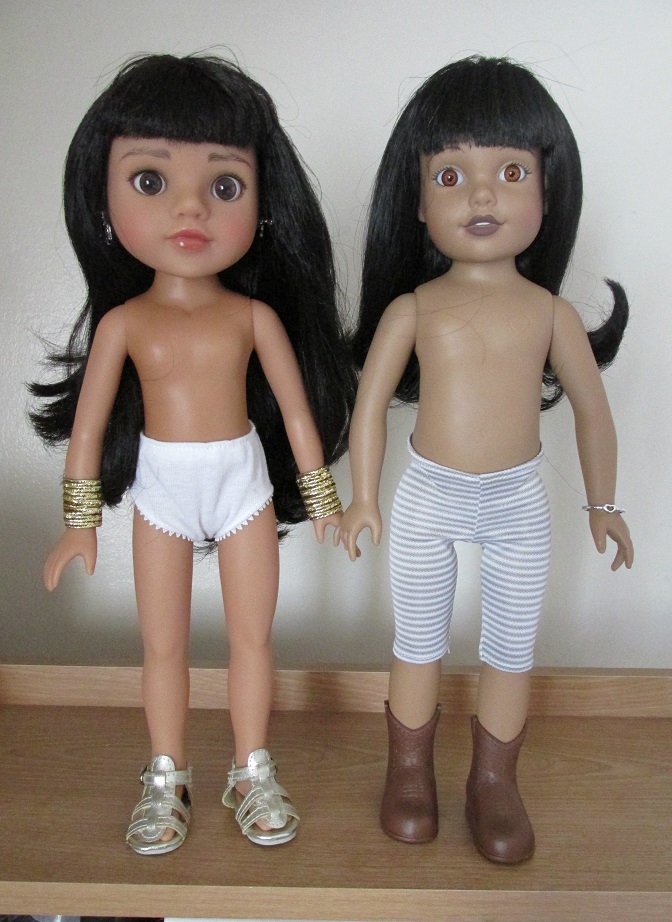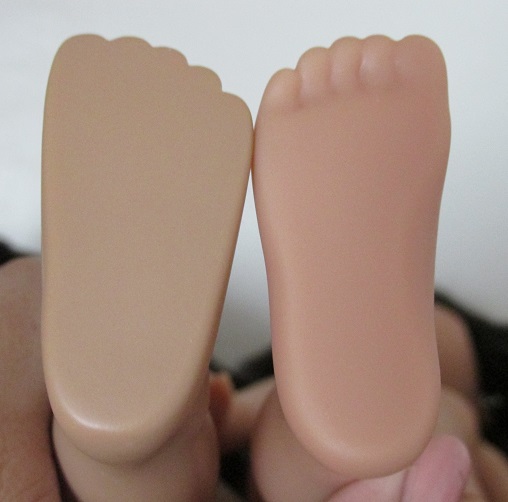 It is not a huge surprise that Global Friends do not have completely interchangeable sizes with 14" dolls such as Hearts 4 Hearts, though it makes me wonder how McCall's Crafts did in marketing their Global Friends' patterns. The back of the pattern states "Clothes for your 14 and 18 inch dolls." I wonder if this means any 14" dolls?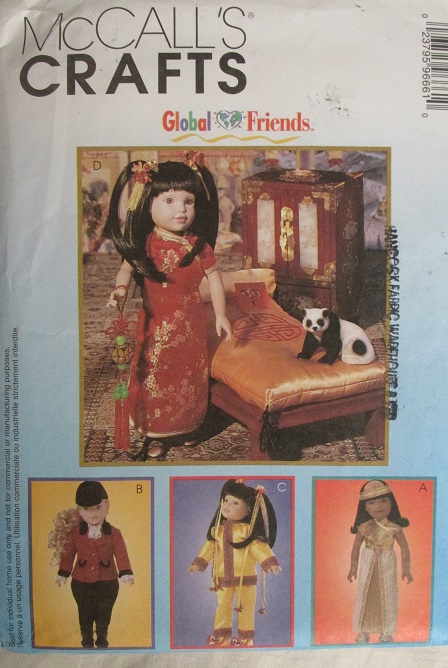 McCall's Crafts pattern designs seem identical to the starter clothing that the Global girls wear, so I can't help but wonder how would these translate to to other 14" dolls. Aziza's outfit at the least did not fit Mosi. I have no idea if they would fit other 13"-14" dolls, such as Corolle Les Cheries, Paola Reina's Las Amigas, or Diana Effner's Little Darlings. I don't own any of these brands, but was under the impression they were all close enough to the same size to share clothing. I'm starting to think I was wrong. Perhaps I'll have to get a
Les Cheries/ Las Amigas/ Little Darlings
and test it out myself to know for sure!
And by the bye, I noticed that there is a definite difference in the look of the dolls' vinyl, as seen in the above photographs, which suggests a more solid craftsmanship for Global Friends. Hearts 4 Hearts dolls' vinyl is a little rubberier than Global Friends' and the color of the different parts don't match H4H as well as they do for Globals. Don't get me wrong; I love H4H dolls, but I have to admit that in
some
ways, their quality may be just under that of Global Friends.
In conclusion, Global Friends dolls are without a doubt high quality dolls and very beautiful, if Aziza is any indication. She has a wonderful, classic, "collector" quality that stands out from my other (H4H) 14" dolls. Little things like the heart stamp on her chest or the intricate brand label on her back suggest "something extra" about these dolls. They may not have as individualized features as Hearts 4 Hearts dolls, or lack in hair "play" quality compared to H4H, but they are by no means lacking in general.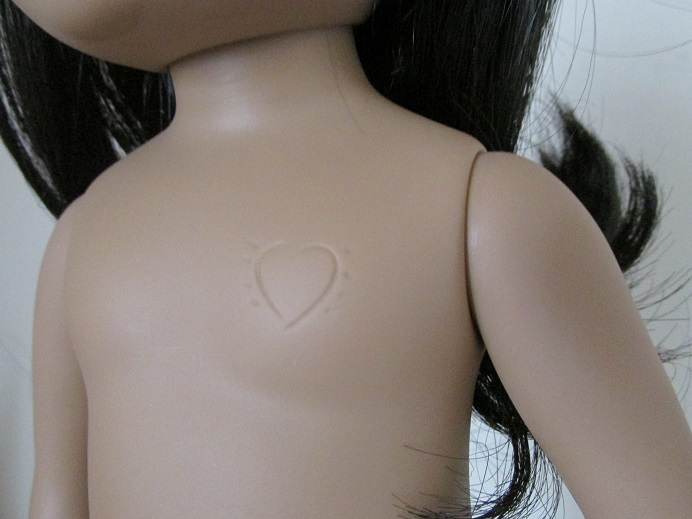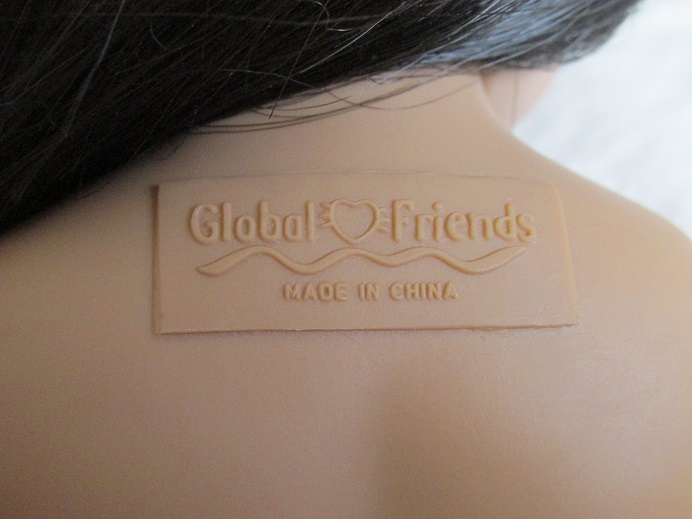 I think Global Friends make lovely additions to anyone's collection, and I'd easily recommend adding one or two of them. That is, of you can find one! These dolls are rare. Or expensive. Or both.
I feel I was very fortunate to pick up Aziza in such good condition for such an affordable price; I don't know when or if it will happen again, but either way and I am eagerly looking forward to collecting more Global friends dolls when the opportunity arises. :)