Review: Our Generation Rafael
Submitted by

Little Raven

on Sat, 2017-10-14 17:00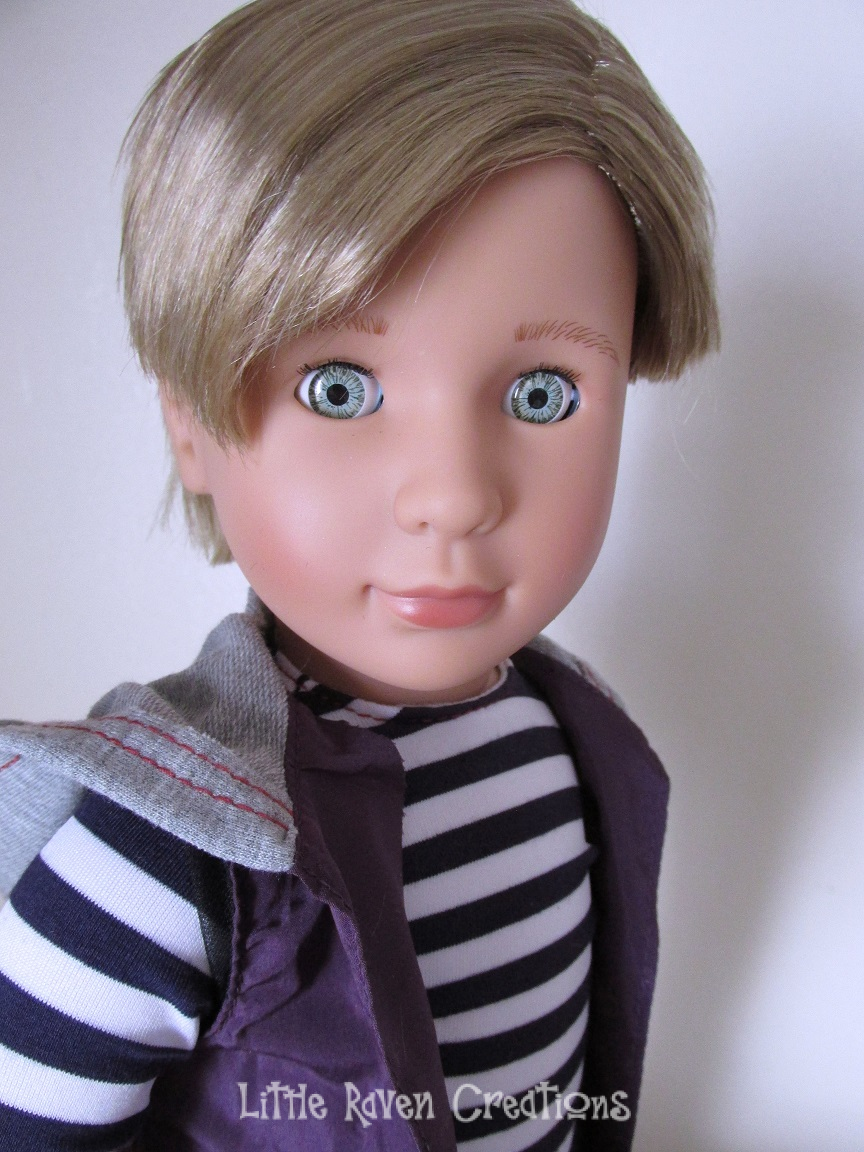 This week I'm really happy to be reviewing Target's Our Generation new boy doll Rafael!

Rafael is pretty special because he's the first ever Our Generation boy doll. He's not, however, the first boy from Battat, the company who makes Our Generation dolls. In the 1990s, Battat had another 18" doll collection called Collector's Lane Kids, which included one boy doll and four girl dolls.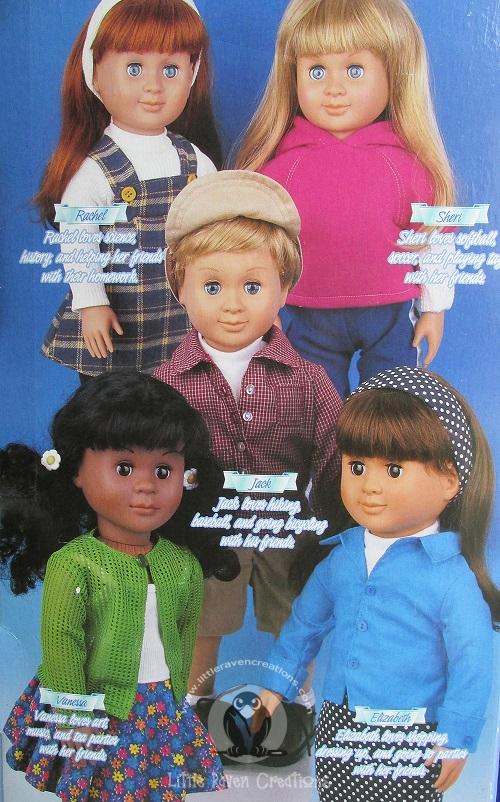 Collectors Lane Kids Rachel, Sheri, Vanessa, Elizabeth, and Jack.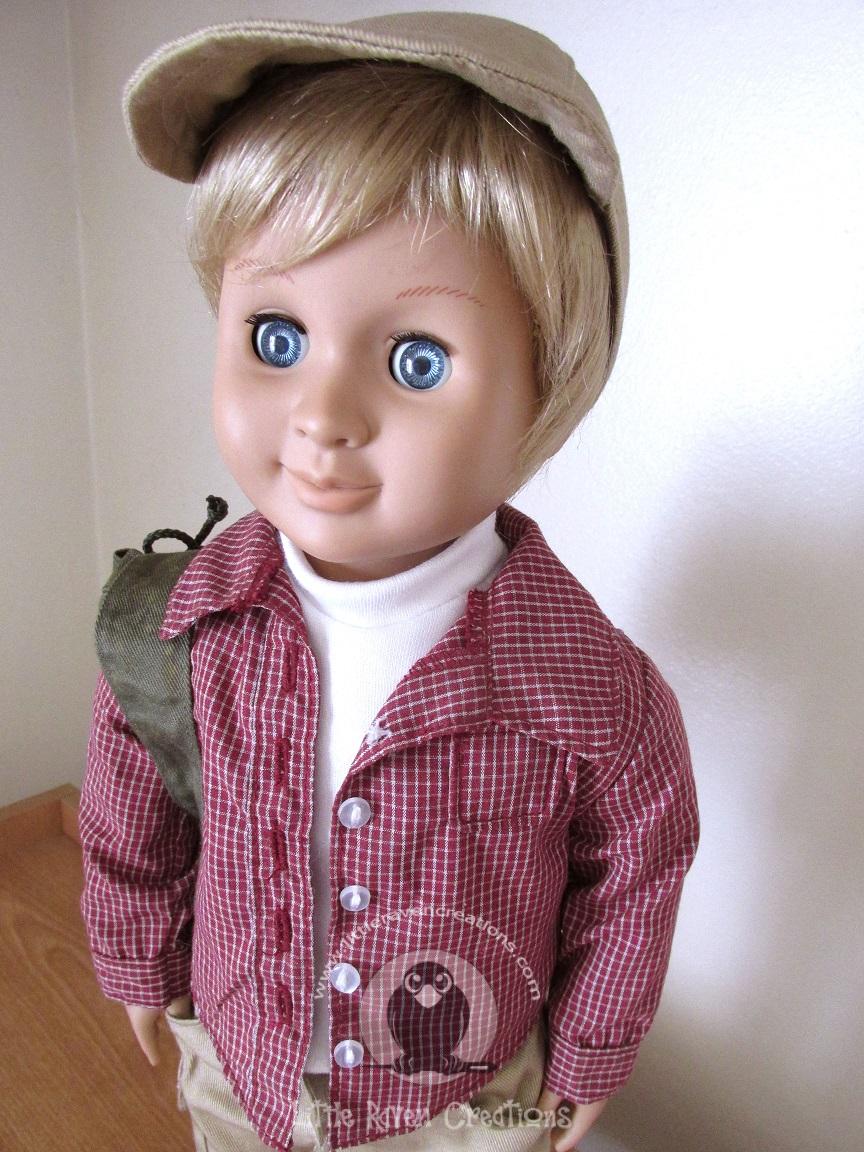 Battat's First Boy Doll: Jack
Collector's Lane Kids boy doll "Jack" still holds the honor as the first true Battat boy. But as far as the Our Generation collection goes, Rafael is the first boy doll to join up! And I'm doing a little celebration dance to welcome him!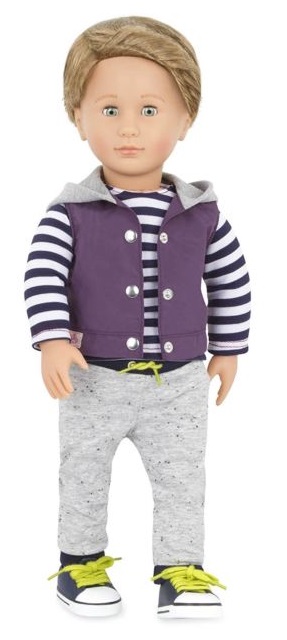 I had to do a double take a couple of months ago when I first spotted this guy online and saw the Our Generation logo. An OG boy?! Cool! I definitely planned to review him as soon as I could manage to get him. I couldn't find him in the stores, so I ended up having to order him from the Target website.


As you can see, Rafael's box was pretty dinged up when it arrived. I think he had a rough journey! He was glad to be home, and thankfully he arrived without a scratch himself.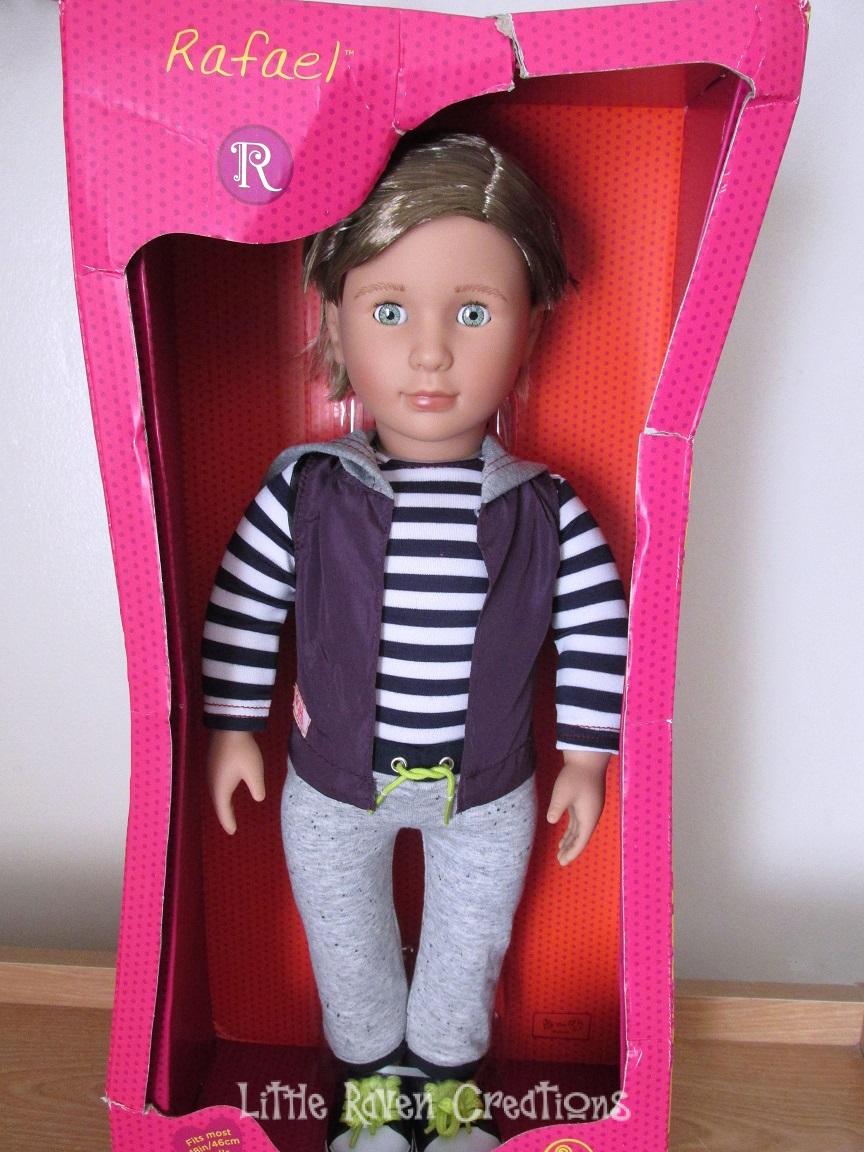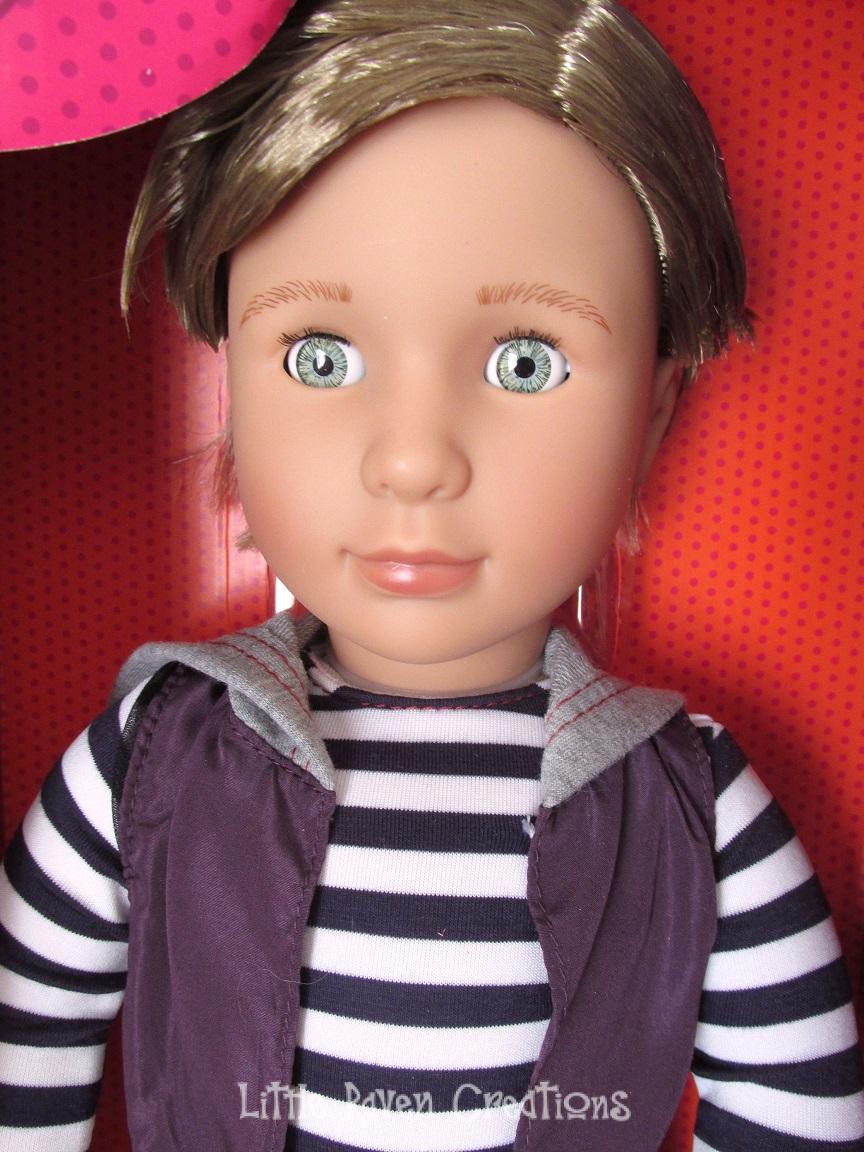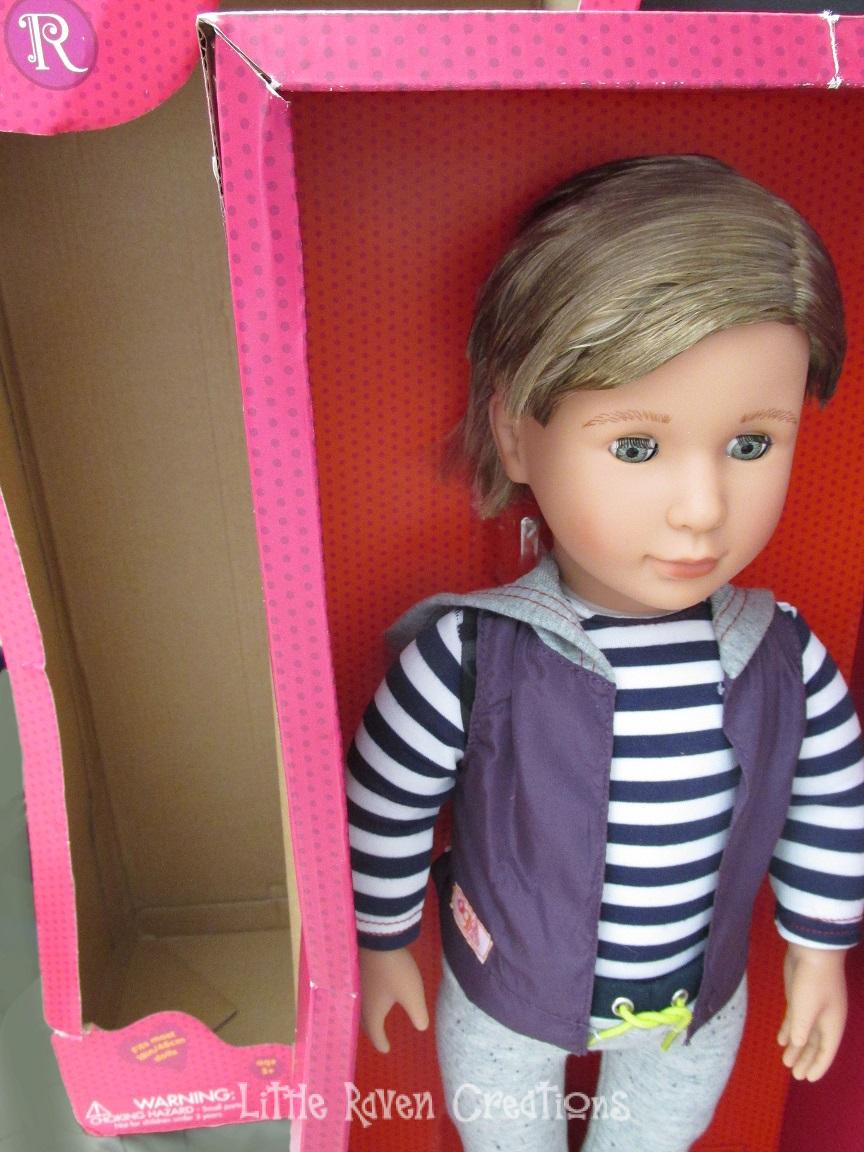 He was zip-tied to his box in the usual manner. I'm not too in love with this method of securing dolls to their packing. It's a pain to get them out!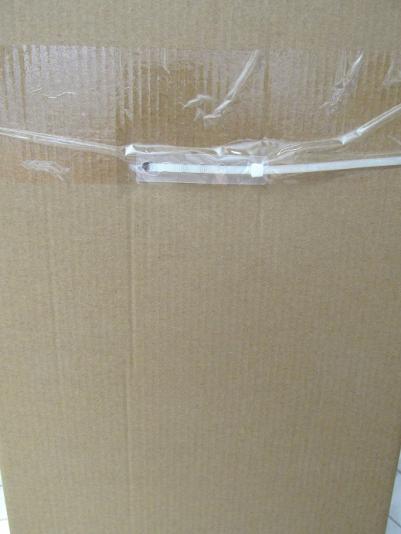 But once he was free I could get a better assessment of him.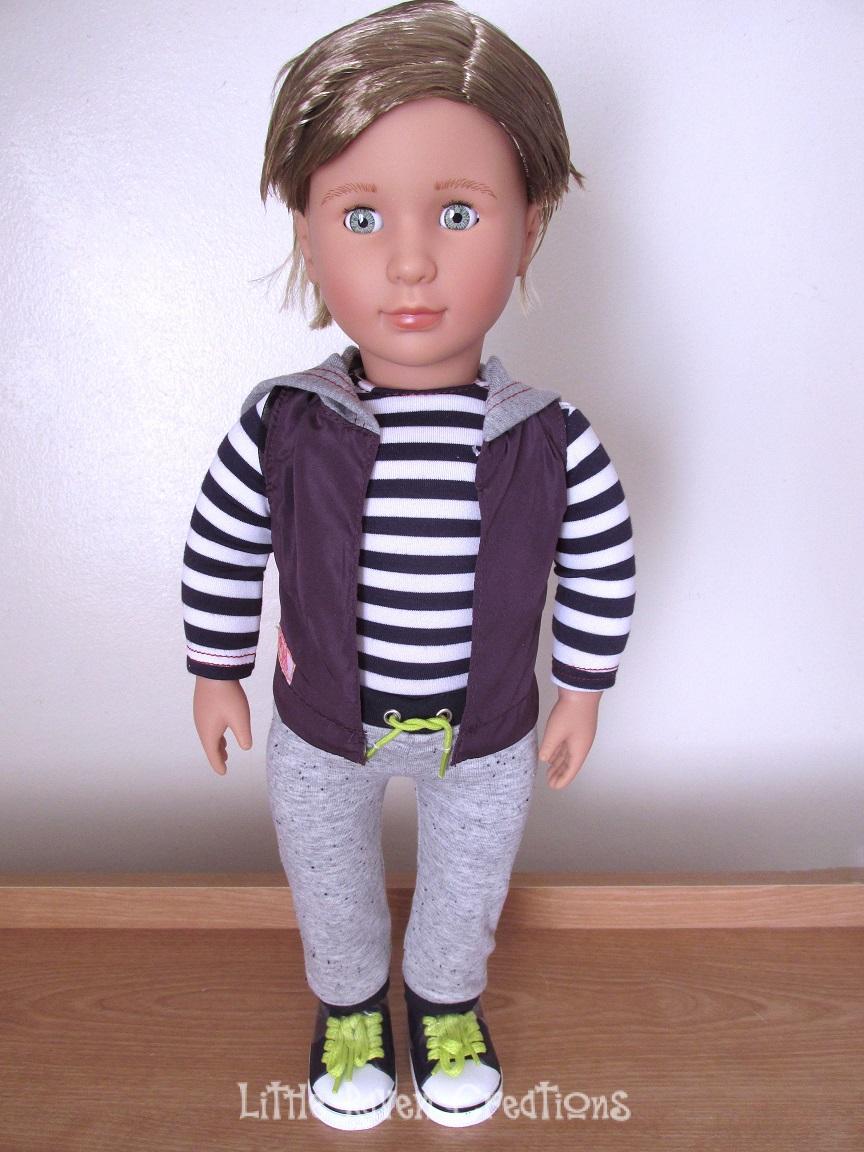 Dang, he's cute! I love his expression.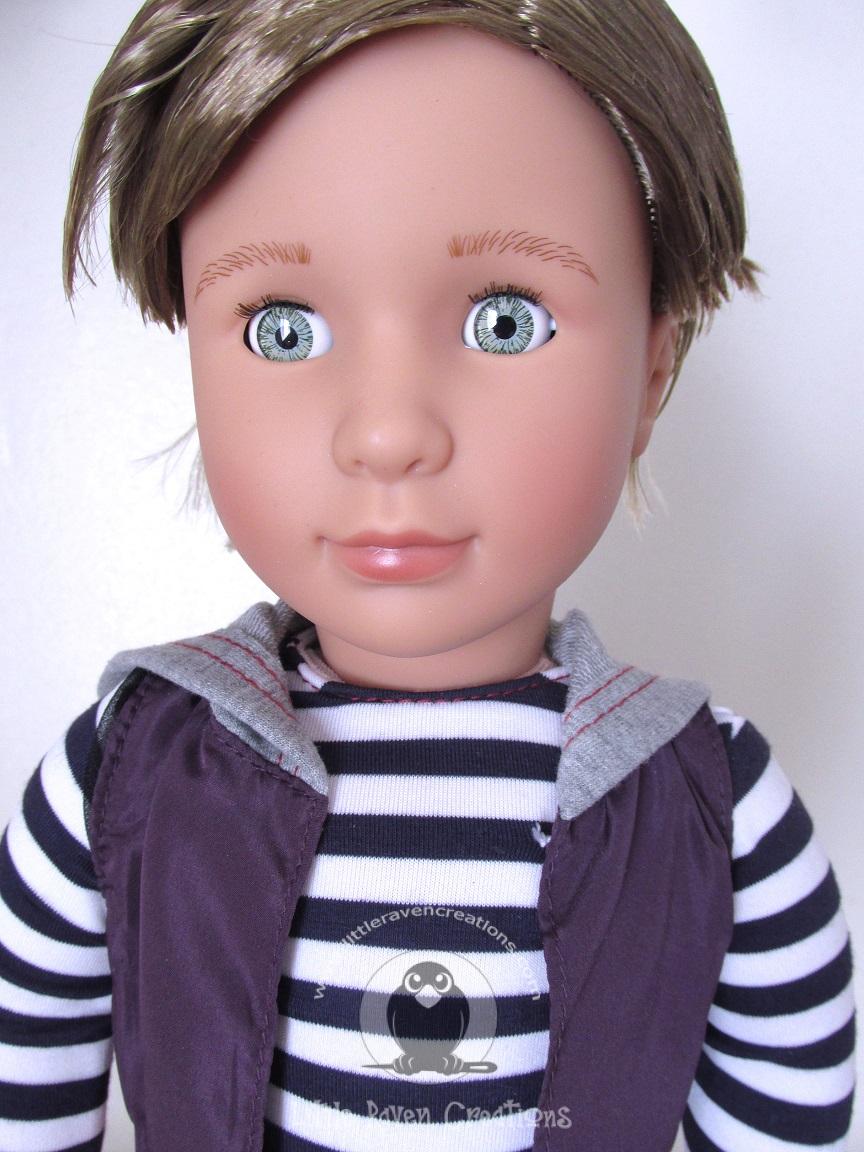 He has the most beautiful pale aqua-green eyes! And that face! What a cutie. Although he definitely looks boyish, Rafael has a kind of "pretty" boy look with his wide eyes and calm, sweet face. He has a neutral, but friendly close-mouthed expression that is natural and appealing.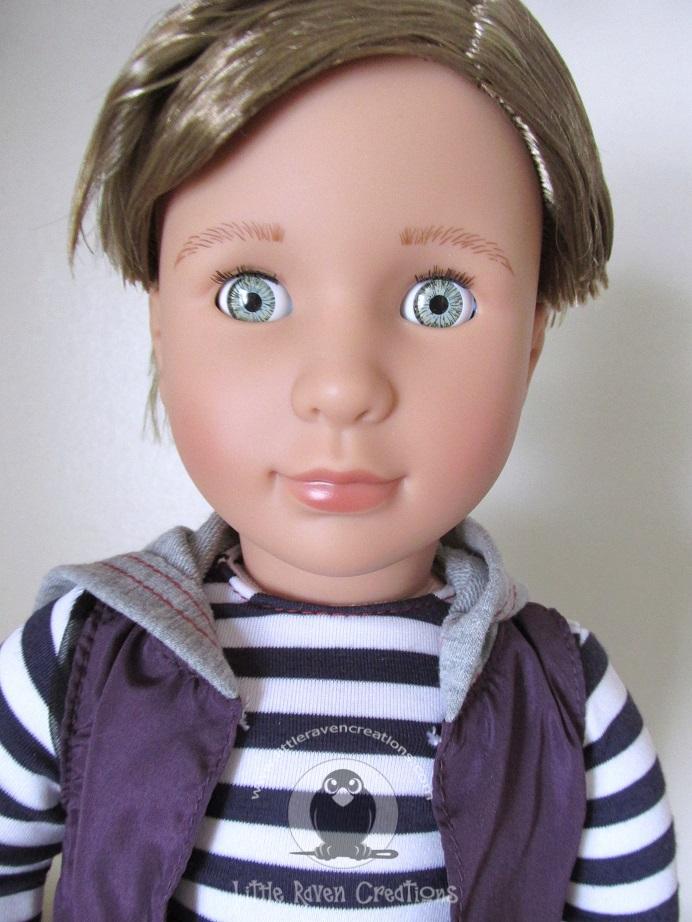 One unusual thing I discovered about Rafael is his "crunchy" hair. He was apparently given a generous amount of styling gel to "shellac" the hair in place. It literally crackles when you touch it! And as you can see, the gel wasn't too successful at holding the hair in place--at least in my doll's case. Hair was sticking out here and there and everywhere. I kept wondering if I could just comb it out, or if I was going to have to actually wash it.

The hair was also cut unusually. It reminds me of a union between an 80s mullet and a 90s surfer cut. But I still think it looks really cute on him. :)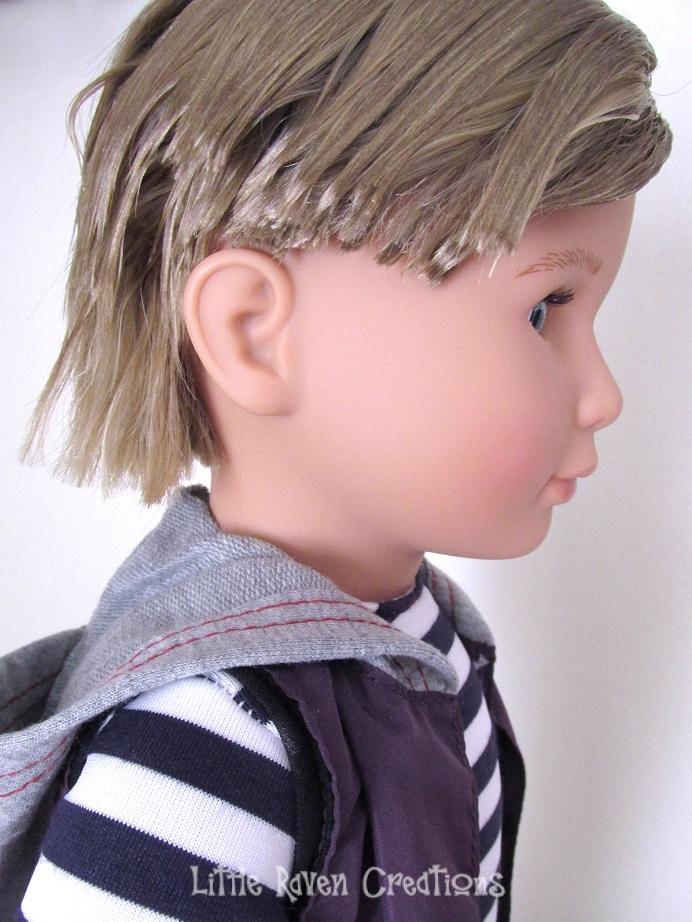 The hair in the back did not have any gel I noticed. It was kind of messy, but super soft and silky. Again, a little spritzing should take care of that "box hair" business!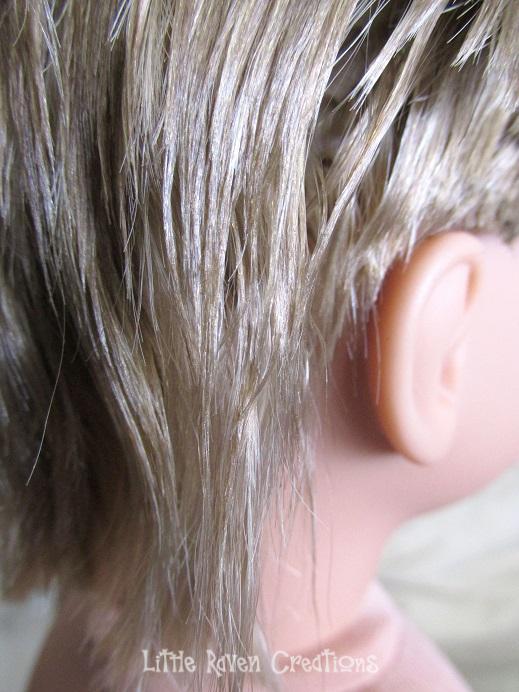 To be fair, I think the unruly hair was just a problem with my particular Rafael. I have seen other Rafael dolls with less messy hair right out of the box.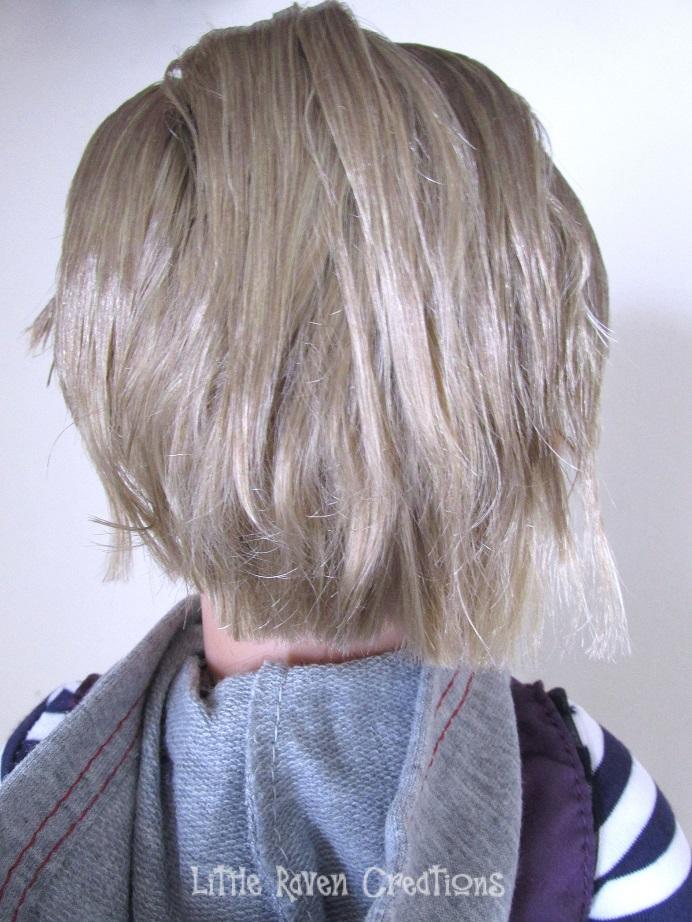 Another thing that surprised me was that his clothes were tacked to him with thread in way too many places! I counted seven on his upper body alone.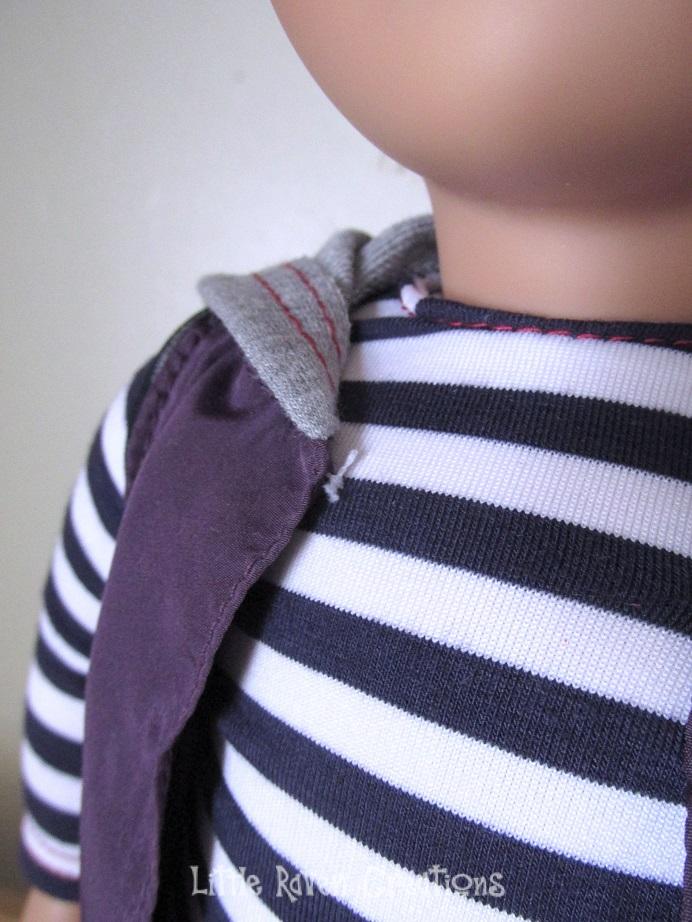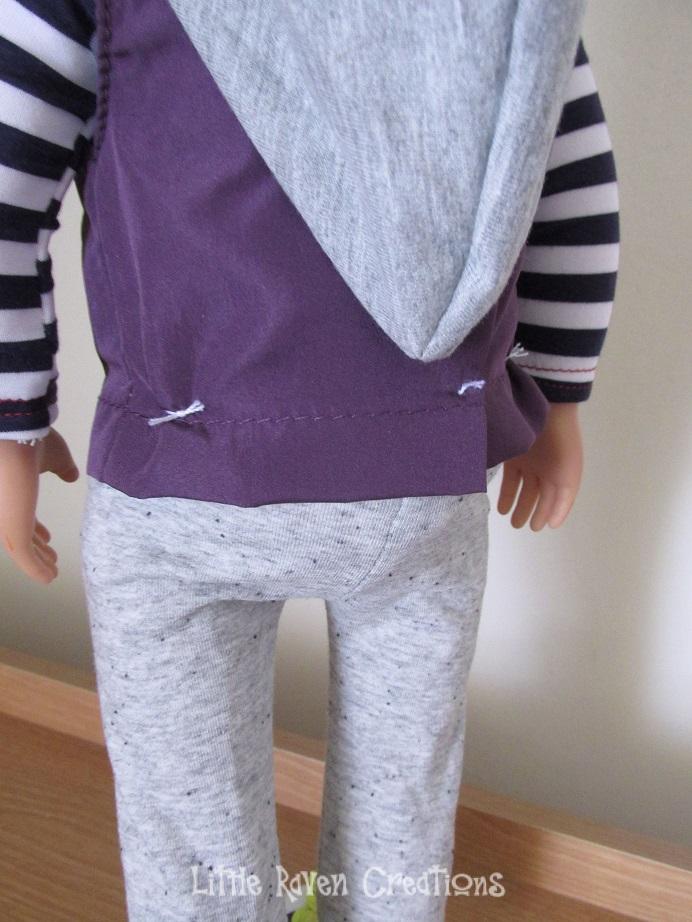 Even the "drawstring" ends to his track pants are very tightly tacked to the front of the pants. I don't know if these threads are intended to stay, but I decided to remove mine. Careful if you choose to do the same; they are closely attached and removing them might damage the fabric.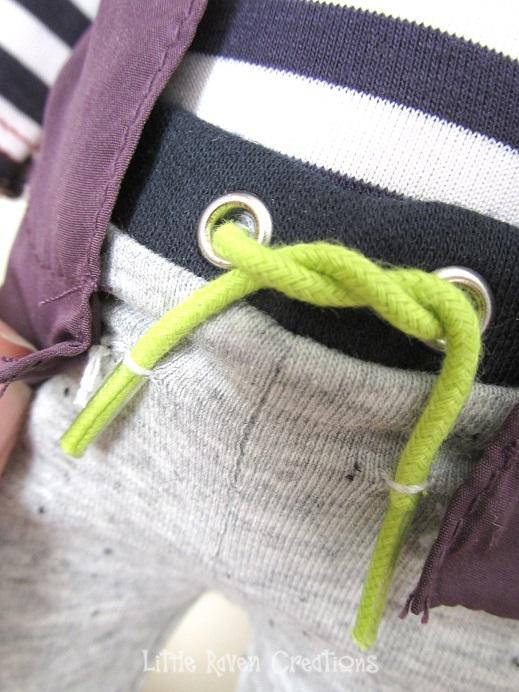 I tried on his hood once I got all the threads off. His immovable gel hair kept objecting, but I managed it in the end!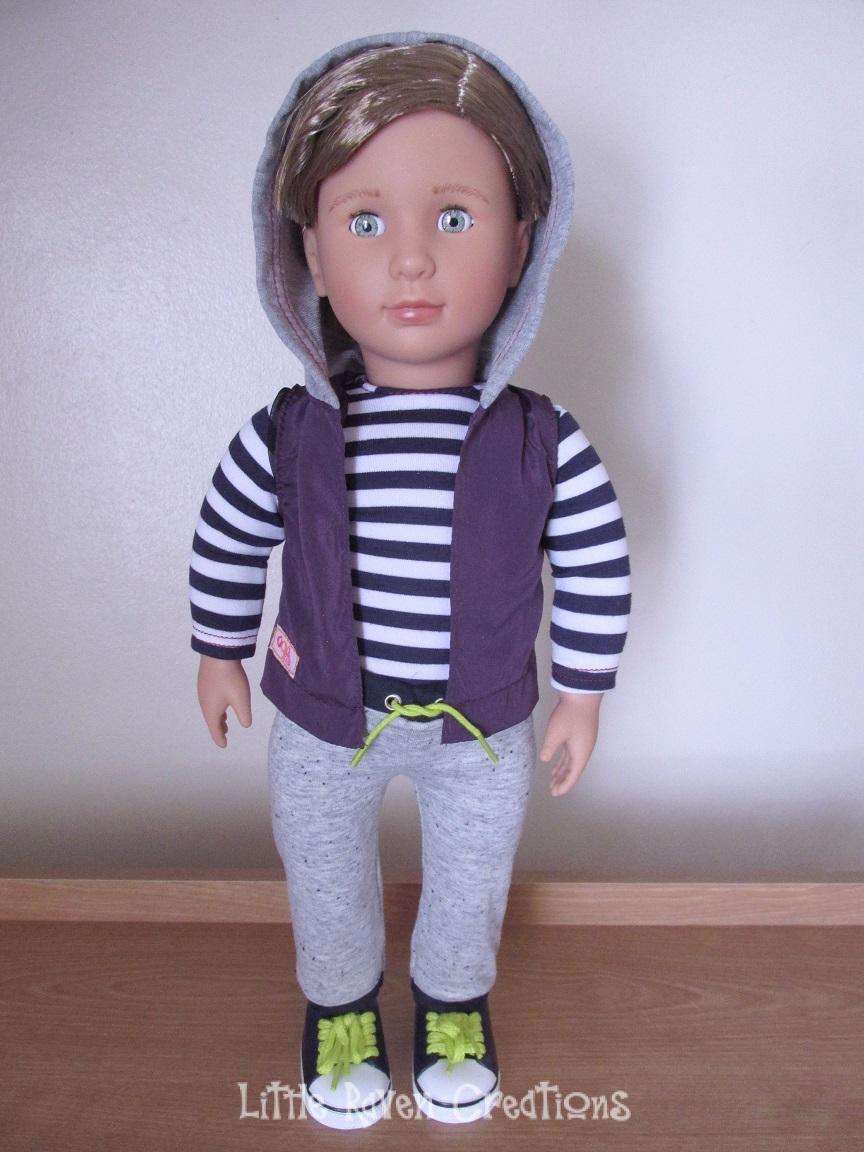 His "hoodie" is actually a very light, sleeveless windbreaker with a stretch cotton hood. It has the Our Generation label on both the inside and the outside.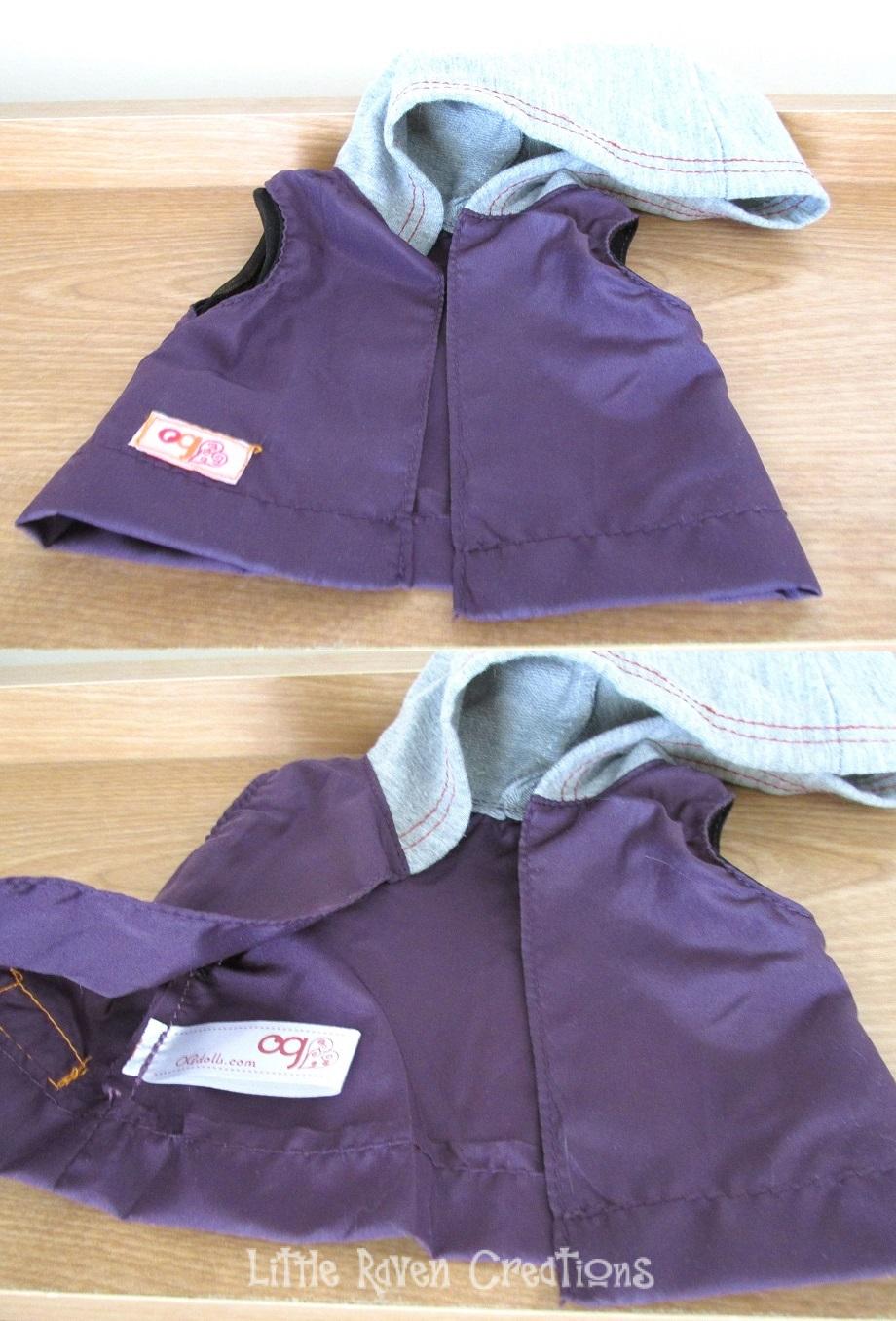 Underneath the windbreaker, he has a long-sleeved striped knit shirt that Velcros in the back. It fits fairly snugly; the cuffs especially don't have a lot of give.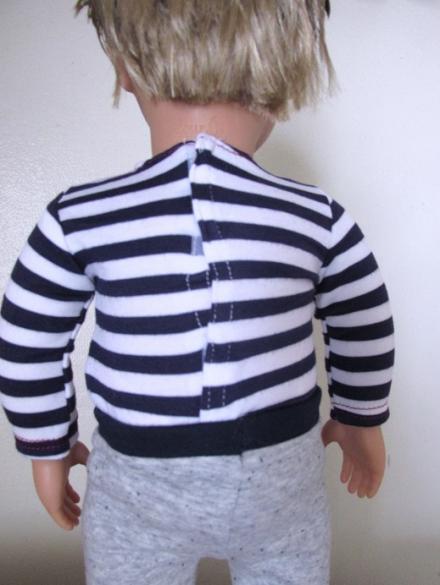 He wears stretchy, gray, track pants with a faux drawstring, The pants have elastic around the waist to hold them up.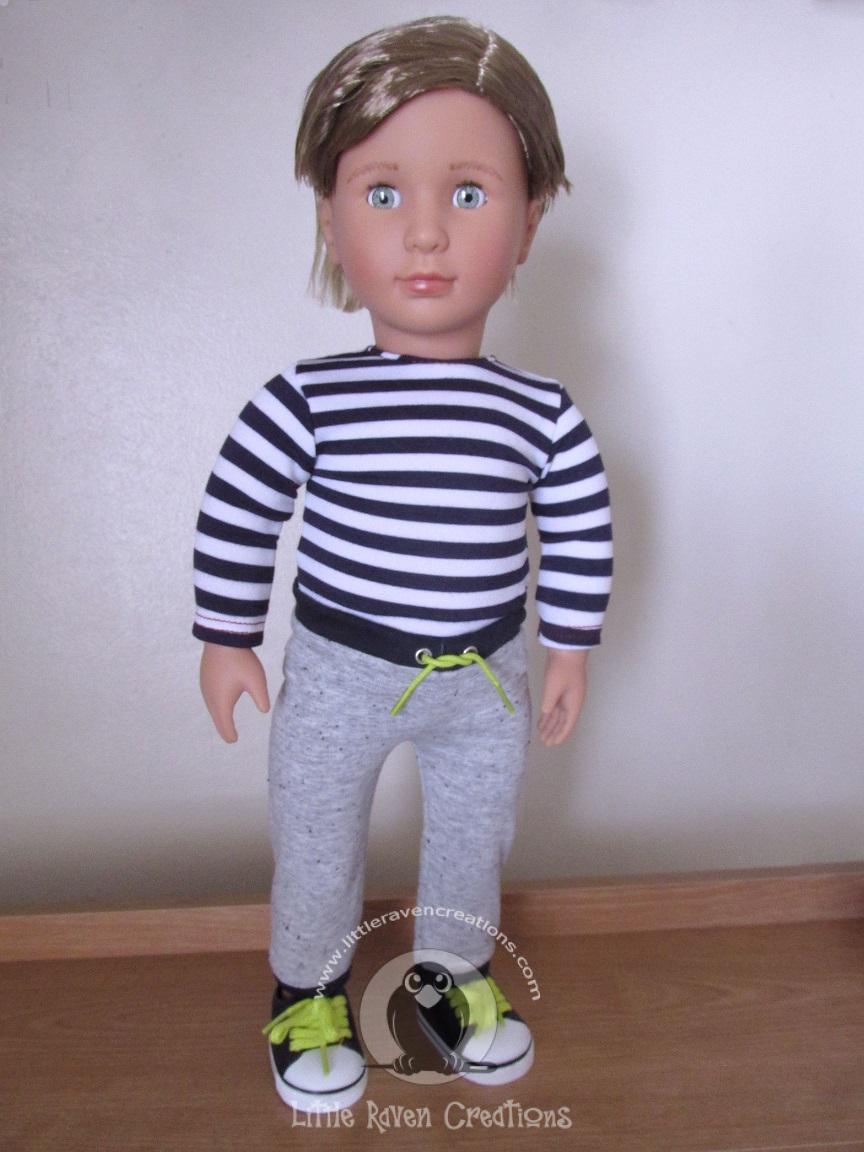 His shoes are secured to his feet with clear plastic wraps. His whole packaging design seems to be geared to keep him in one piece.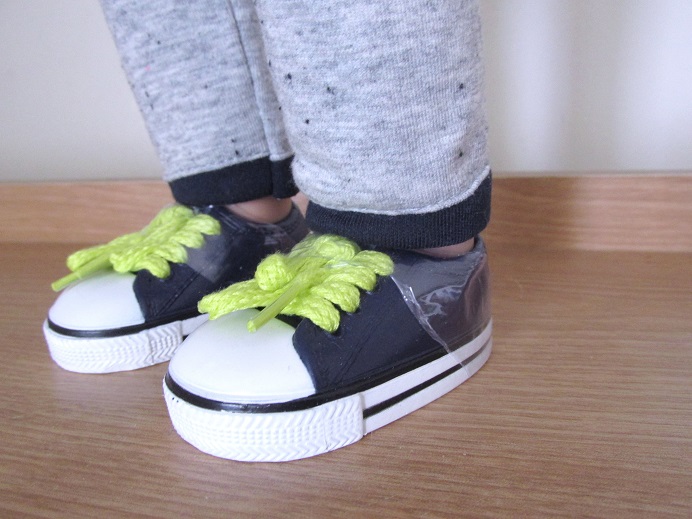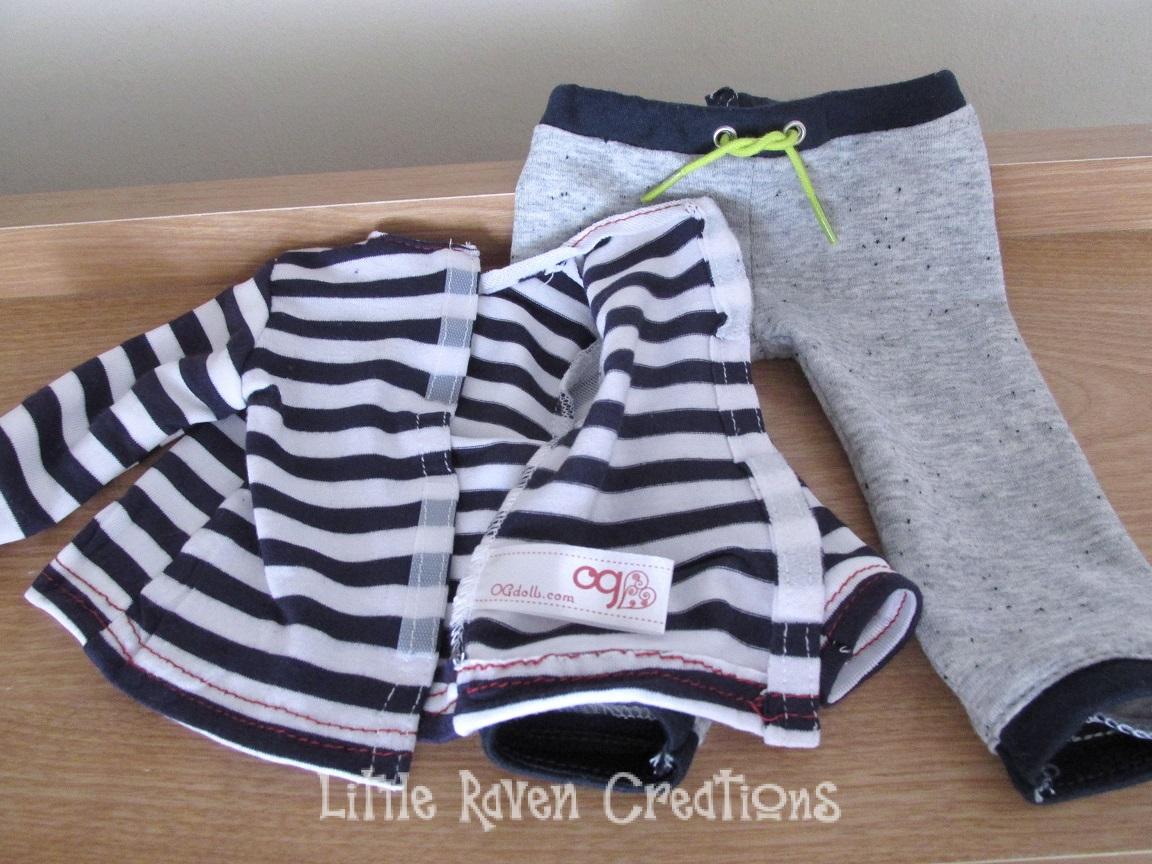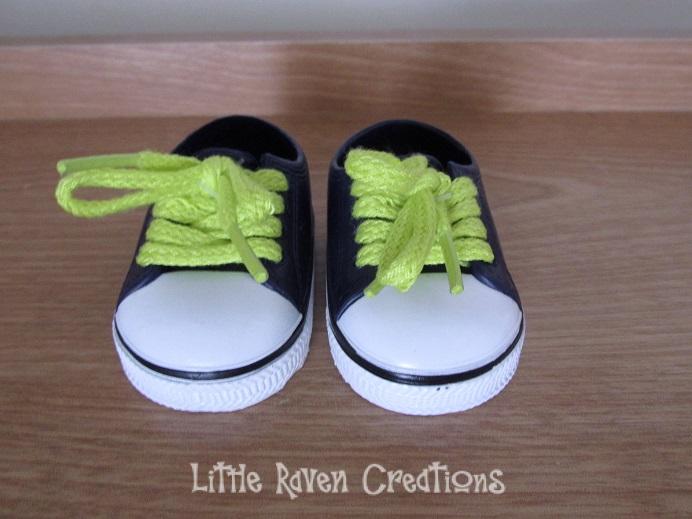 His sneakers are made of a dark blue vinyl with fabric laces. The laces match the color of the "drawstring" on the pants.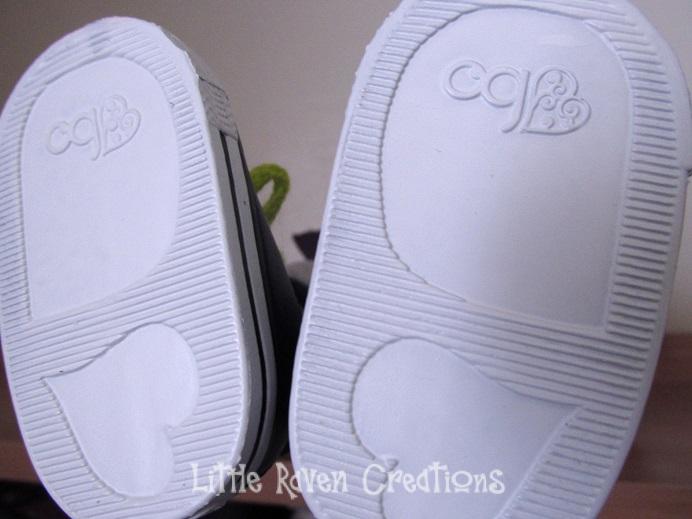 The treads have the OG logo.

Rafael also comes with a pair of very low rise gray briefs under his track pants. They fit him very snugly. He has the standard Our Generation cloth and vinyl body that the OG girls use.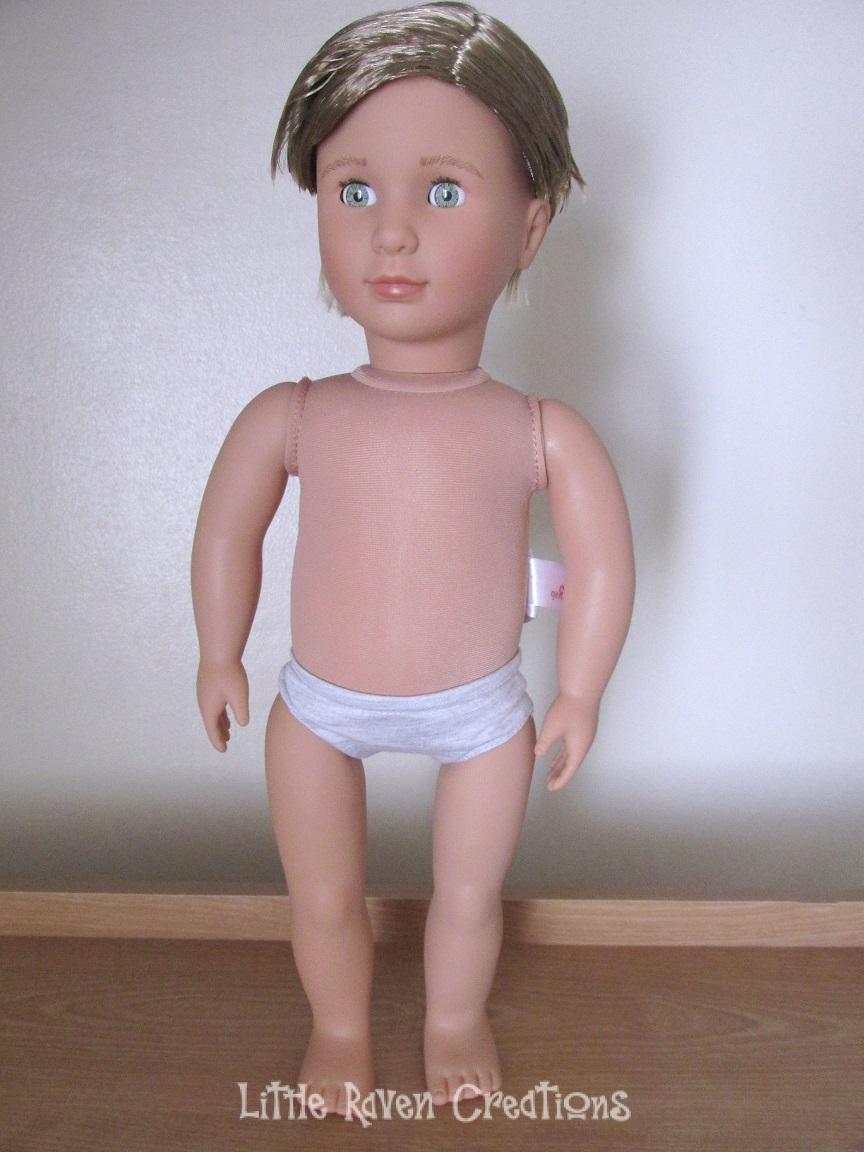 He's fairly stable on his feet, though not perfect. I noticed my Rafael wants to lean a bit to the right when he stands.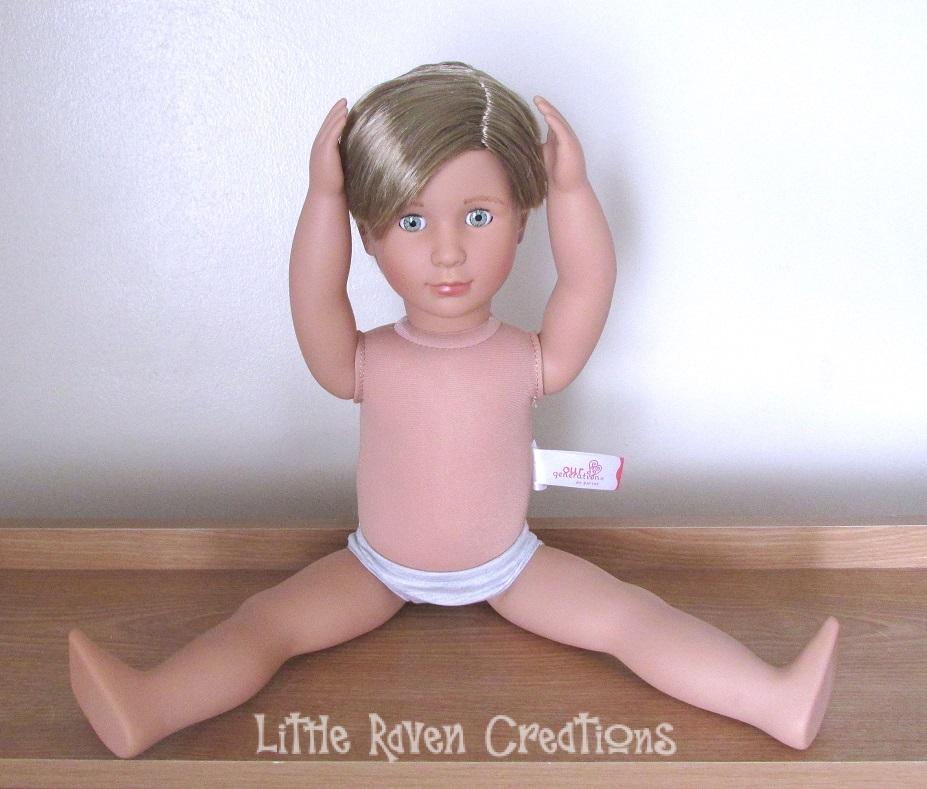 His arm joints move easily, leg joints are tighter but still very moveable; his neck turns with a little bit of effort. Like most 18" dolls, he sits with a wide split.
I decided to see if I could loosen up some of the hair cement by having a go at combing it out.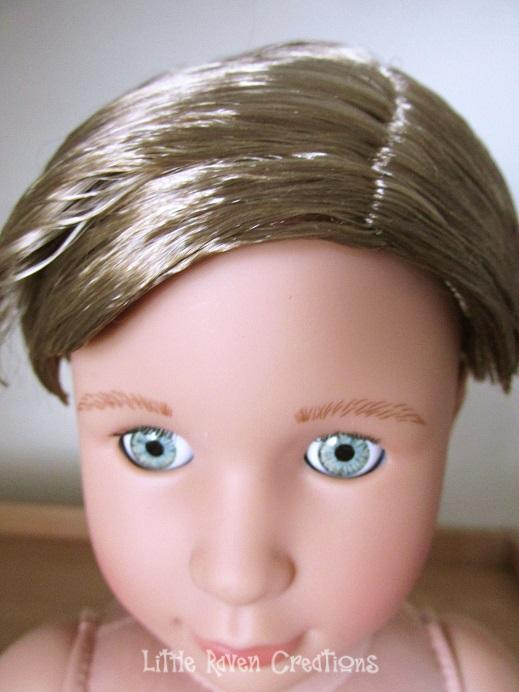 It actually combed out more easily than I thought it would! No water even needed. Now it looks super soft and cute.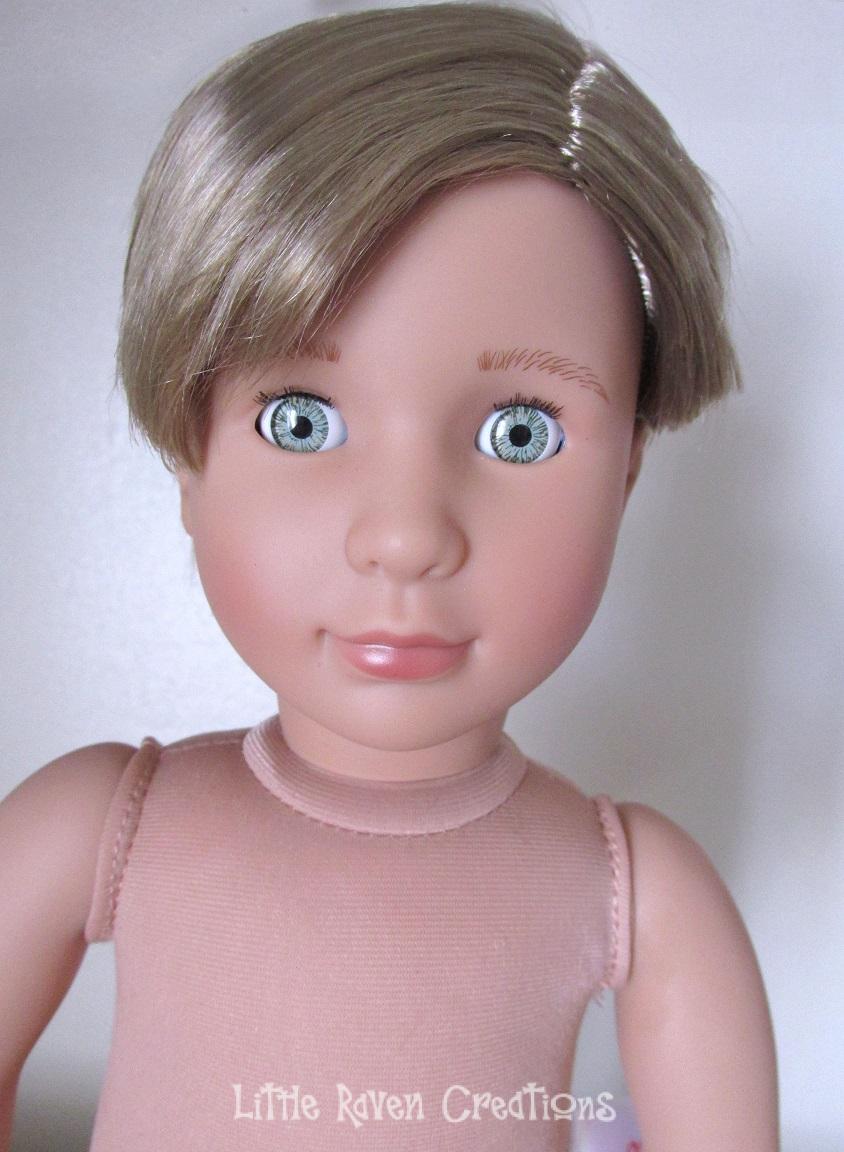 That face tho! <3 I love it. :)

I believe Rafael has a unique face mold from other OG dolls. He has peach-beige skin and rooted ash blond hair with a side part. I noticed his light green eyes are small compared to other 18" dolls, including Our Generation girls. But they work well for him and give him a very distinct look. His eyelashes are also shorter than Our Generation girl dolls' lashes. He has a subtle peach-pink face coloring and feathered eyebrows in a thick but natural pattern.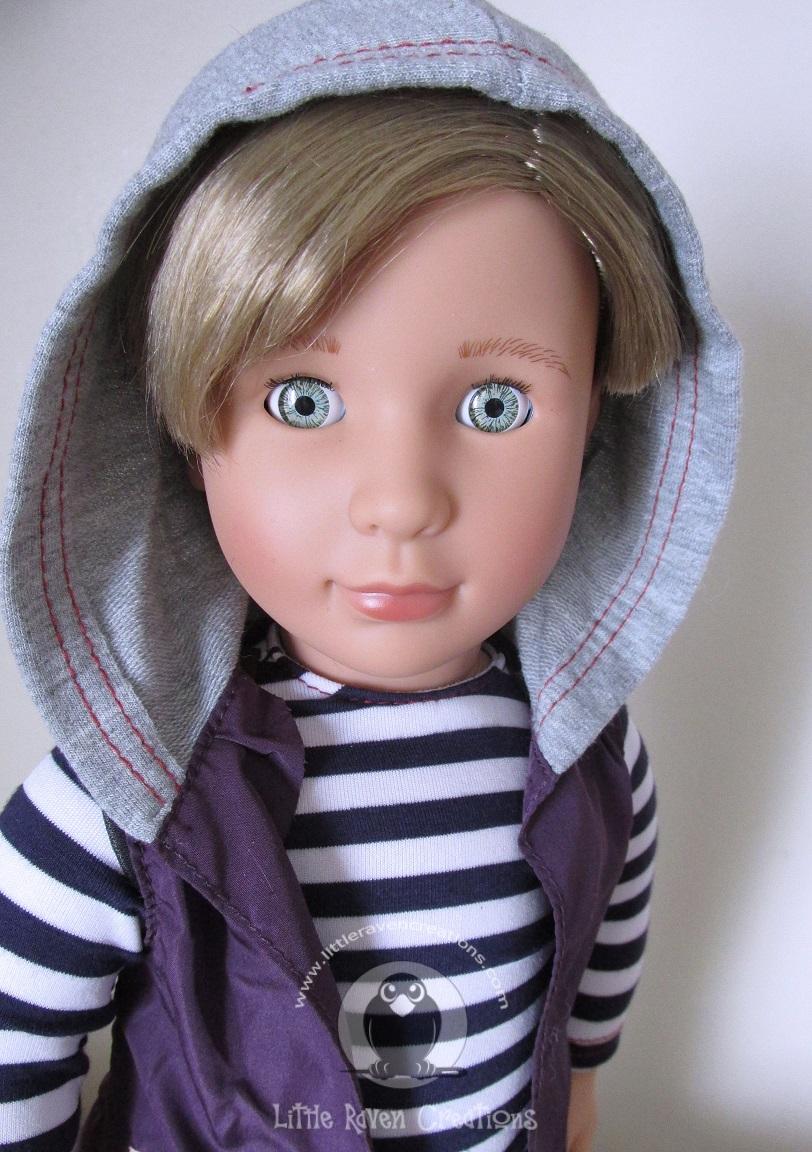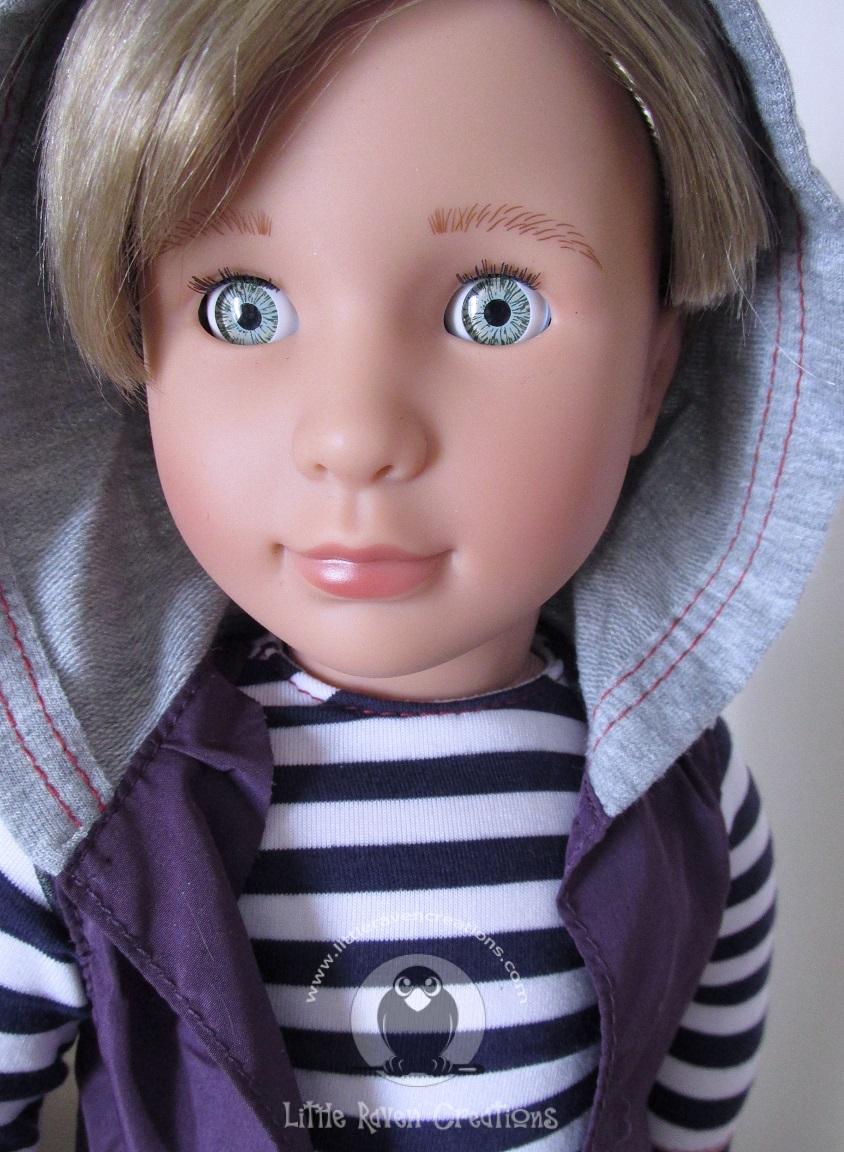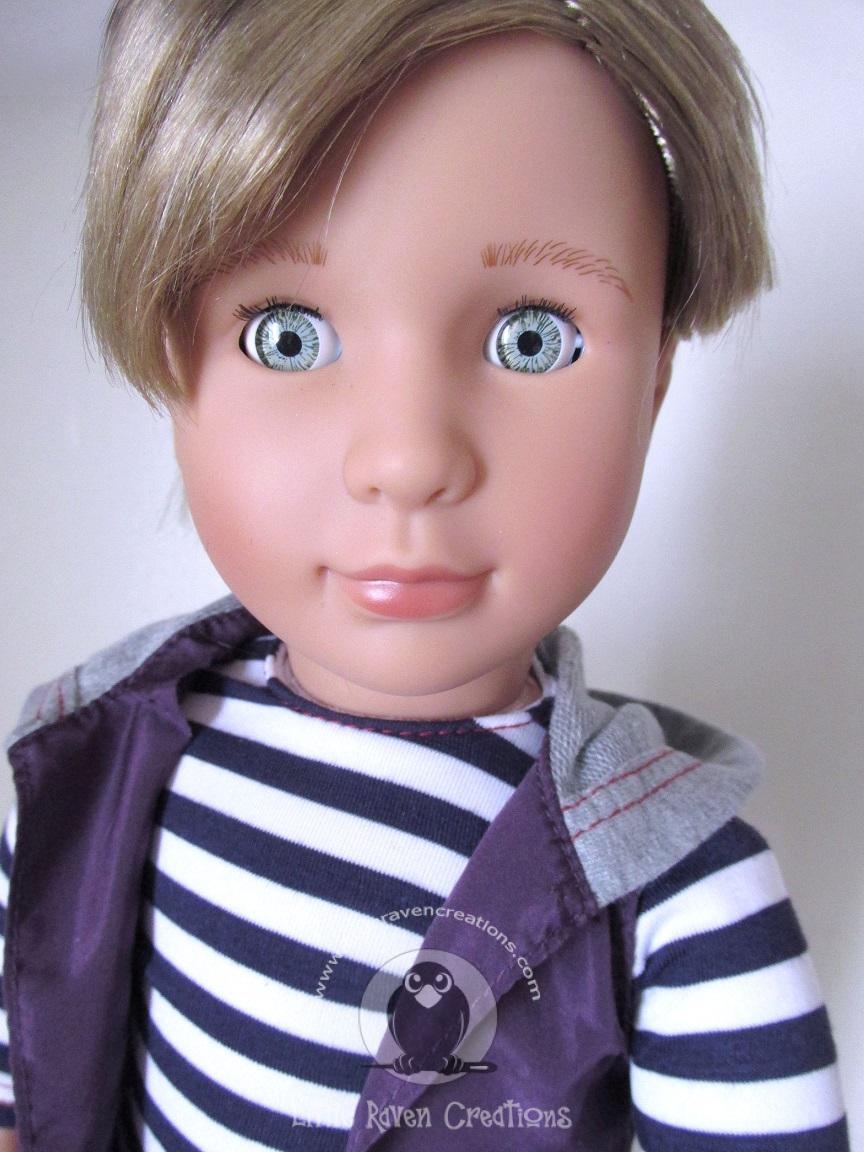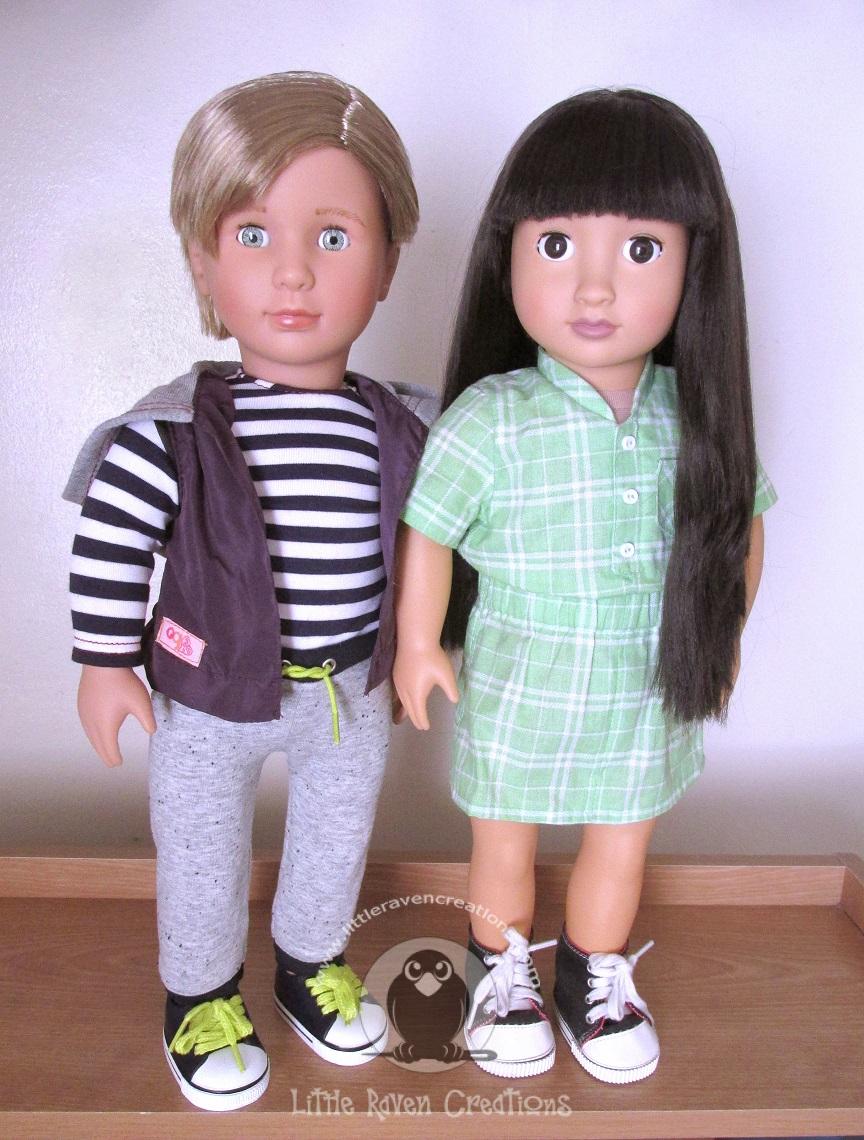 Here is Rafael with fellow Our Generation doll May Lee, for comparison. You can see how small Rafael's eyes are compared to other OG dolls.


Next it was time to size up Rafael against some other popular boy dolls, like American Girl's Logan Everett, and CitiToy's My Life As "School Boy."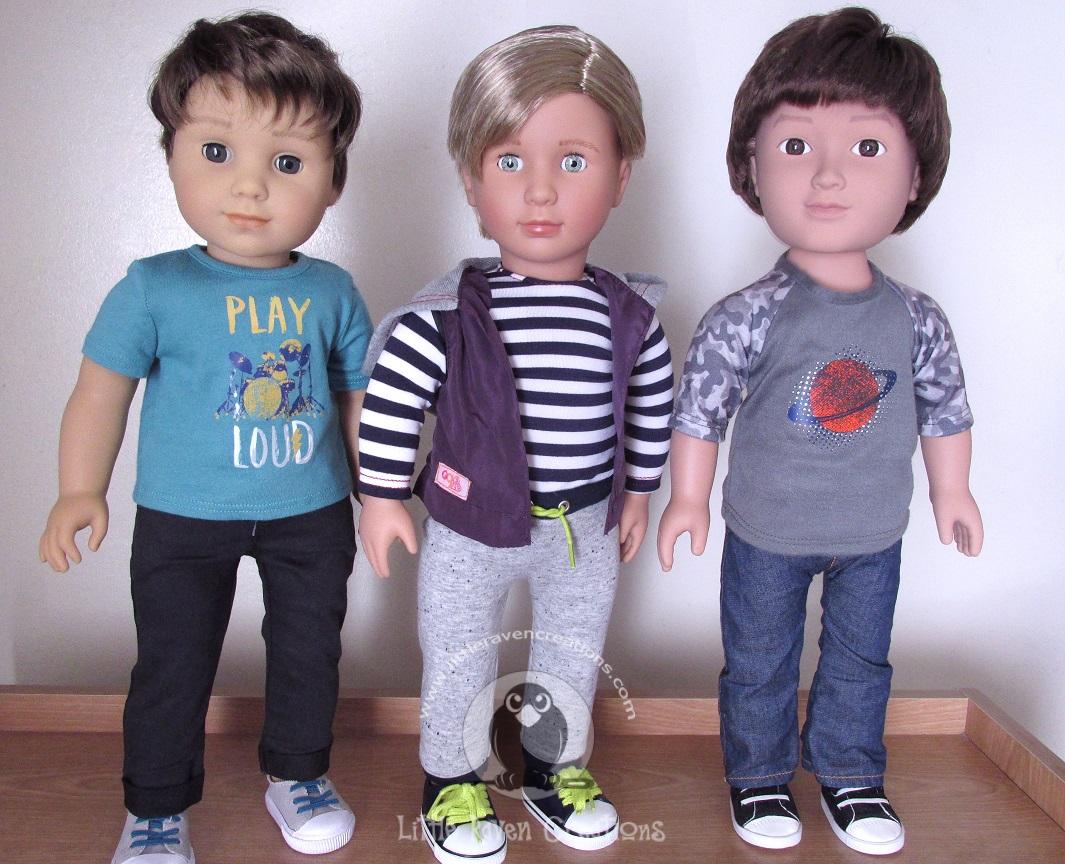 Here is a comparison of Rafael's body style, size, and shape to Logan Everett's. Like most Our Generation dolls, Rafael appears "pudgier" around the middle than American Girl dolls, but the two compare well in general size. They both have articulated cloth-and-vinyl body styles.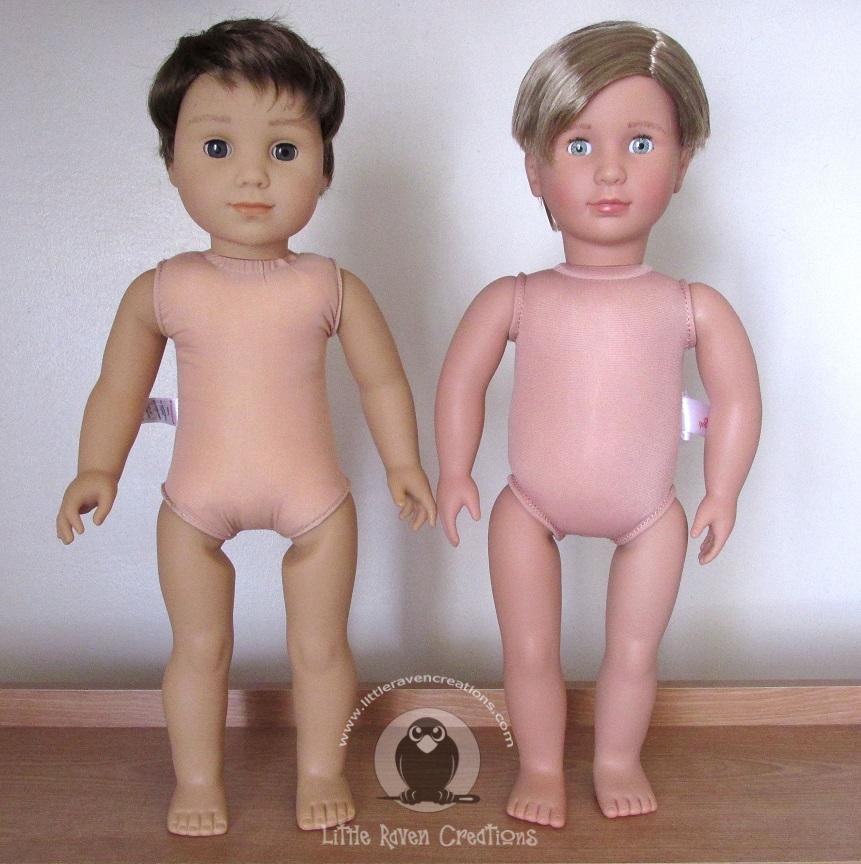 I switched their clothing, even
down to their undershorts
, to see how well the fit was. What I learned is that even though Logan looks slightly slimmer in some ways, he's actually a little bigger all the way around than Rafael. He just carries that extra weight well!
Rafael and Logan each look really good in the others' clothes, but Logan's tight jeans aren't as tight on Rafael, and Rafael's track pants are a little close-fitting on Logan. The difference is marginal, so it shouldn't cause a problem with other wardrobe items. They are actually a good size match.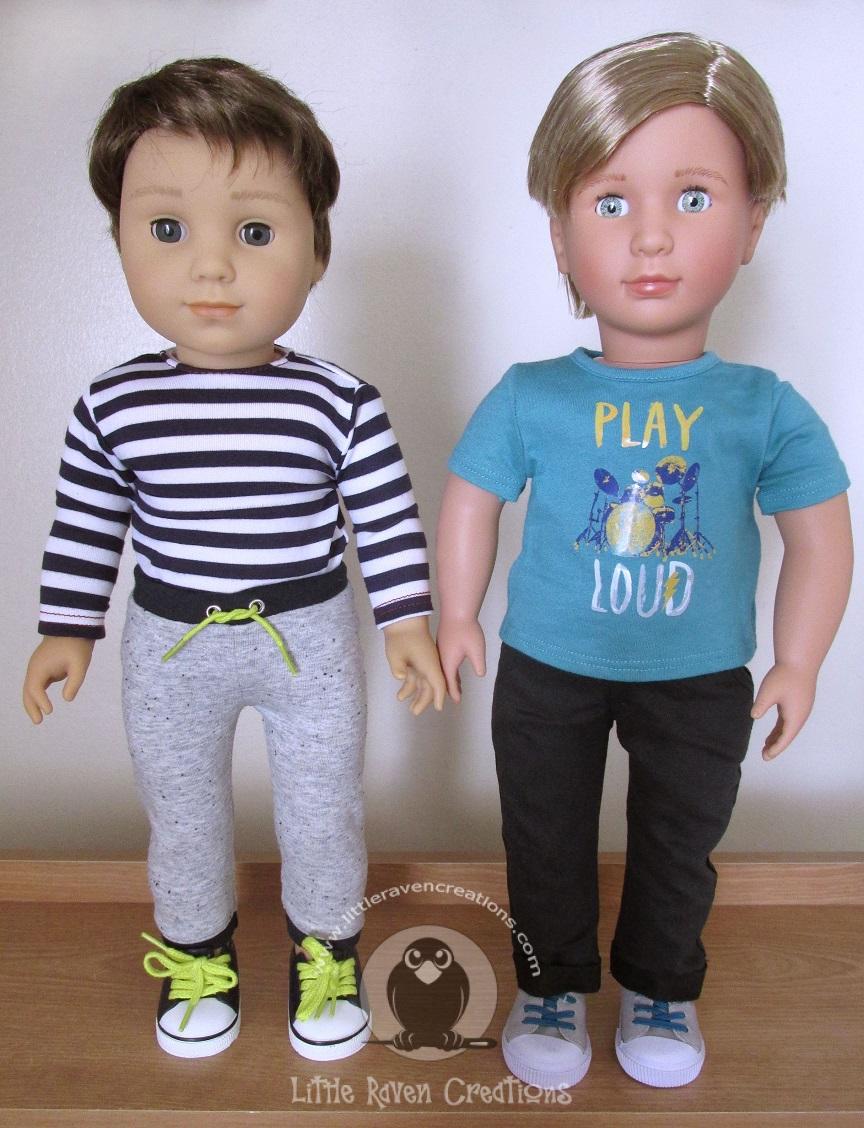 A small problem I did have however, was getting Logan's hands through the small cuffs of Rafael's striped shirt. The cuffs are even snug on Raf, so Logan's flexed fingers required a bit more effort to get them all through the sleeve.
Here's the full clothing switch. . . I really like the complete hoodie look on Logan, and I love Logan's T-shirt and jeans on Rafael. But I actually prefer the T-shirt alone, without the button down shirt on Rafael. Even so, the shirt looks and fits great.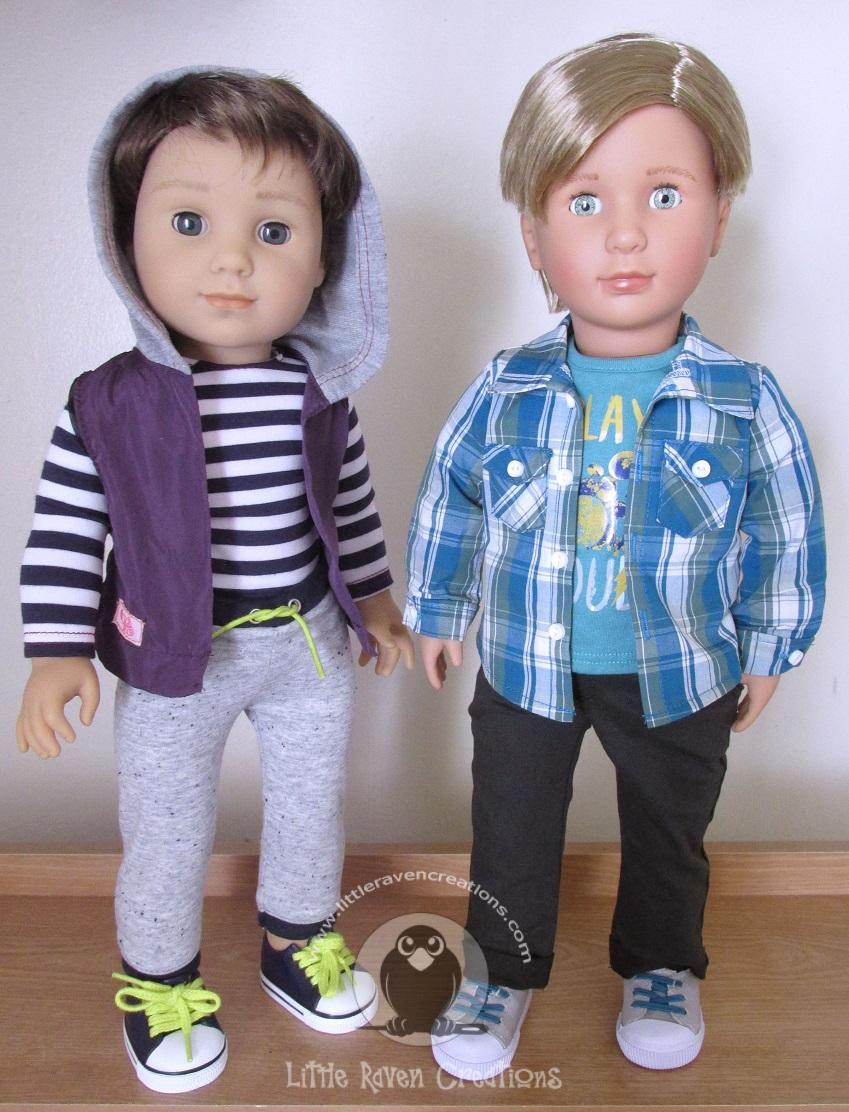 I also wanted to compare Rafael to one of the My Life As School Boys.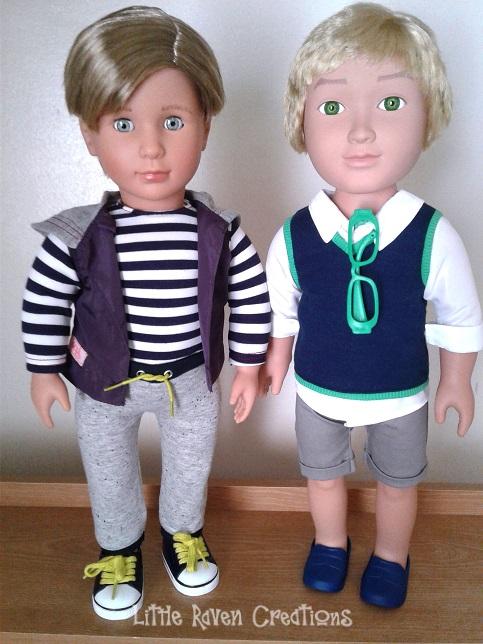 For starters, blond School Boy looks pretty good in Rafael's track pants and shirt, and they fit his slim, vinyl body really well in a nice, relaxed way. (Even the
undershorts fit School Boy
better than they do Rafael!)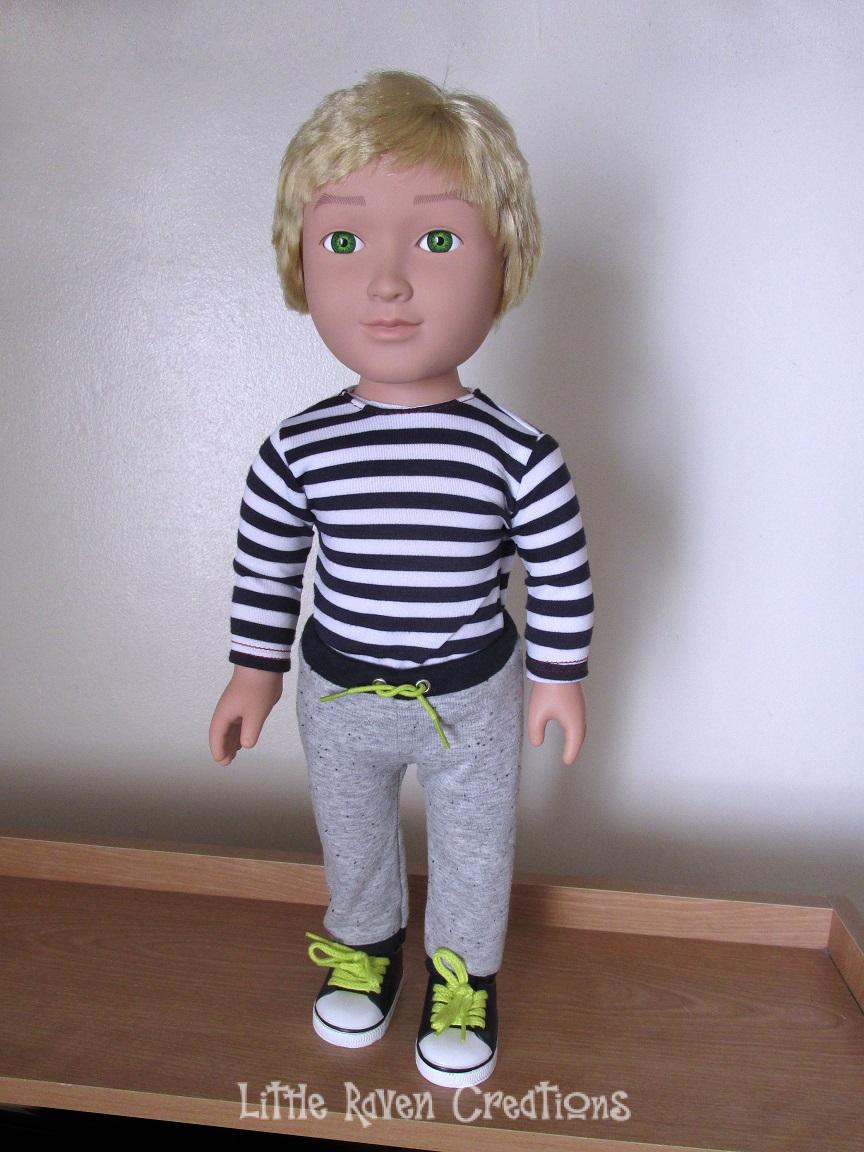 I'm less impressed with School Boy's clothes on Rafael. Like I discussed on both of my reviews of the My Life As Boys, these dolls are slimmer than other 18" dolls; their clothing fits really snug on Logan Everett. It was pretty much the same story with Rafael squeezing into School Boy's shorts and preppy shirt vest combo. They were a bit tight all the way around and didn't do him any favors visually. The glasses were also too big for his narrow face. My Life As boys have broad faces and rather large heads.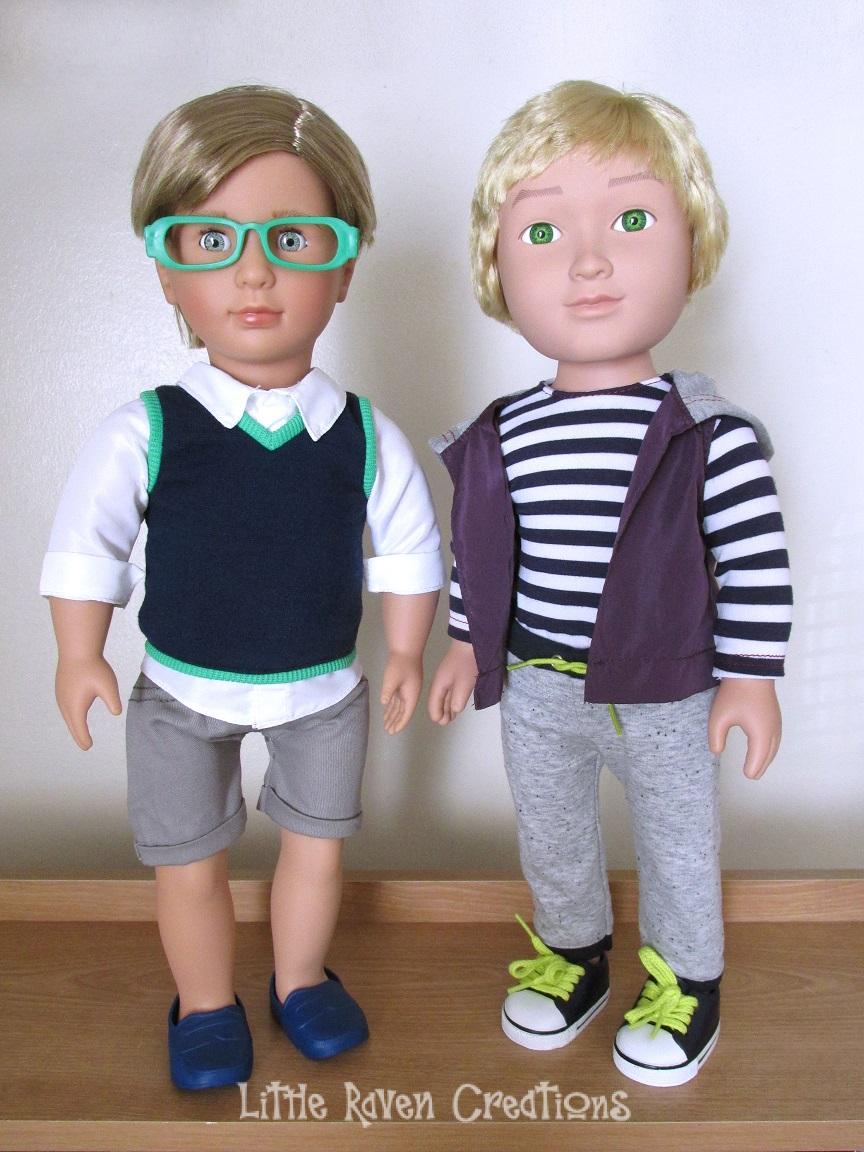 On the other hand, School Boy looked really good in Rafael's casual wear.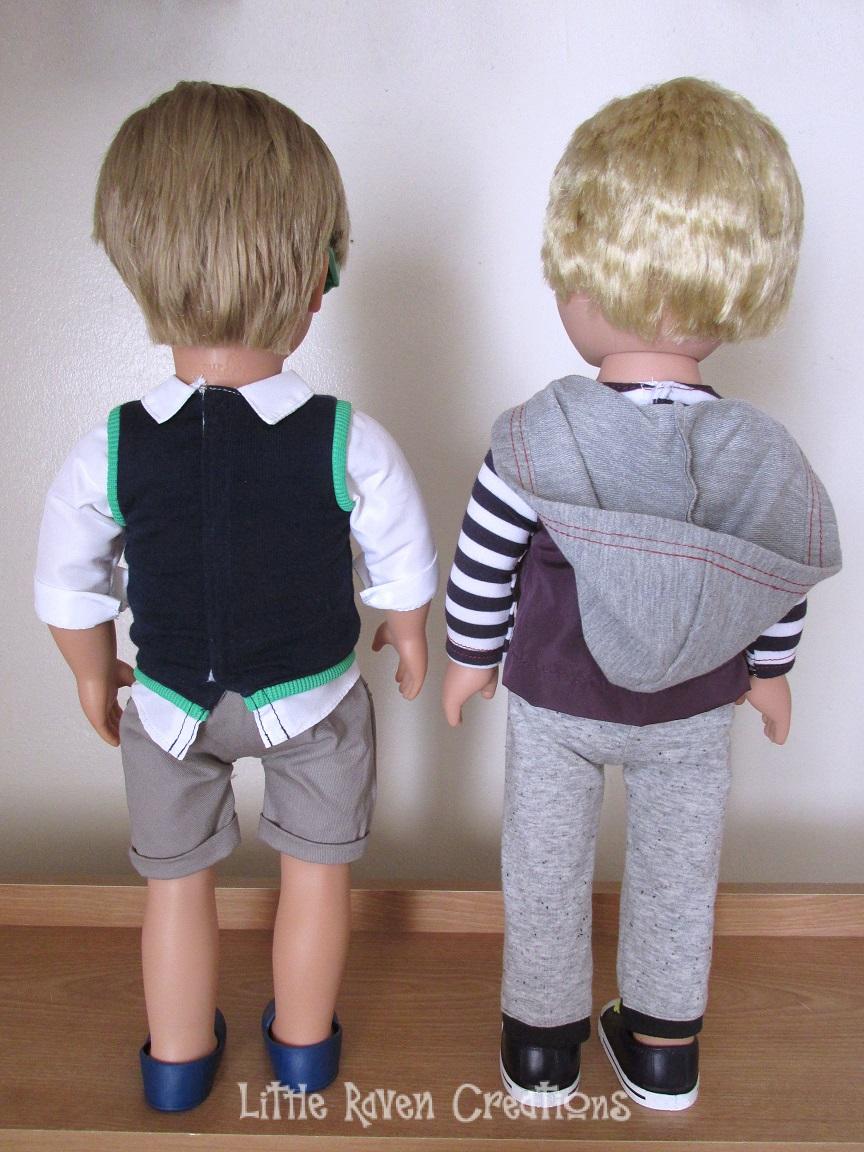 That's enough of that. Next, I wanted to see how "stylable" Rafael's hair was. So I watered down his mullet and gave him a more formal, slicked back do.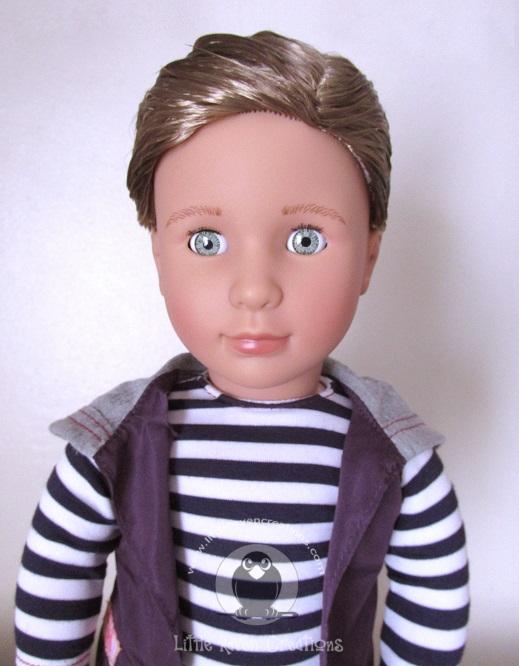 I think he rocks it!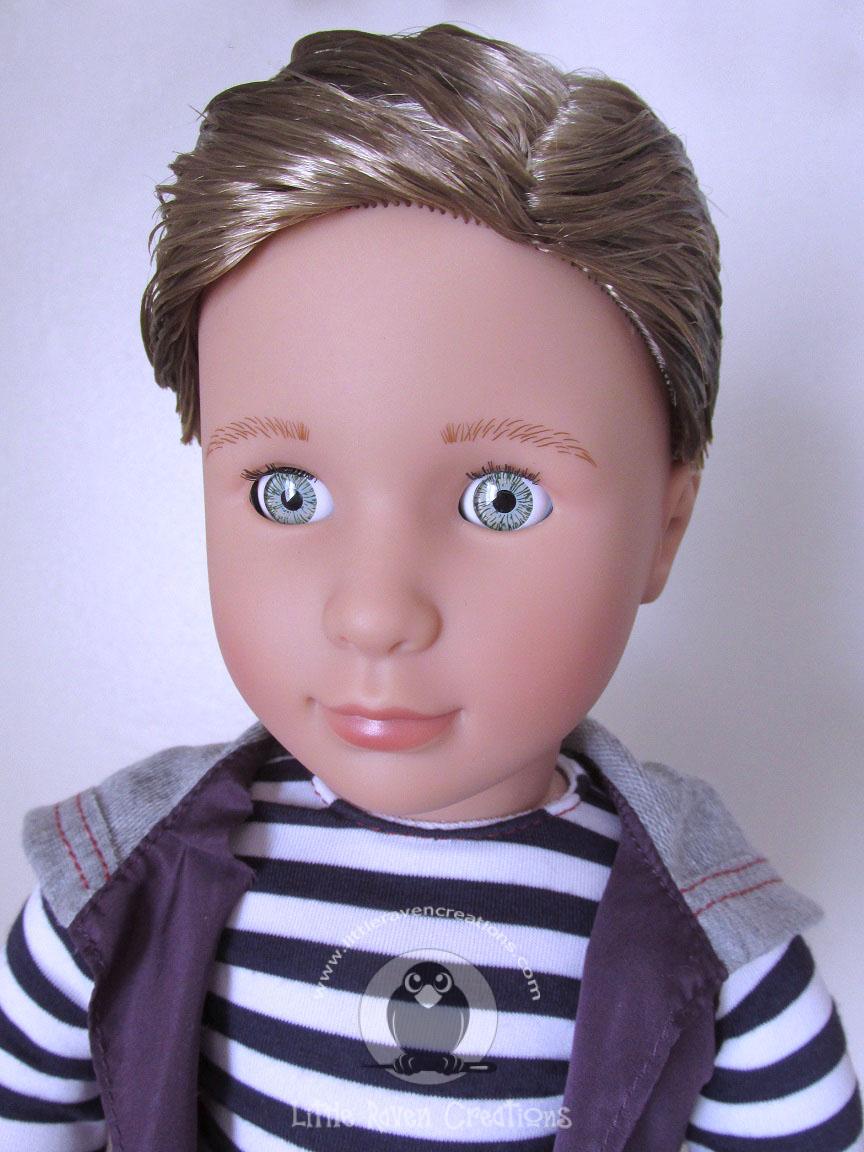 I think he also looks pretty good with this "emo" look.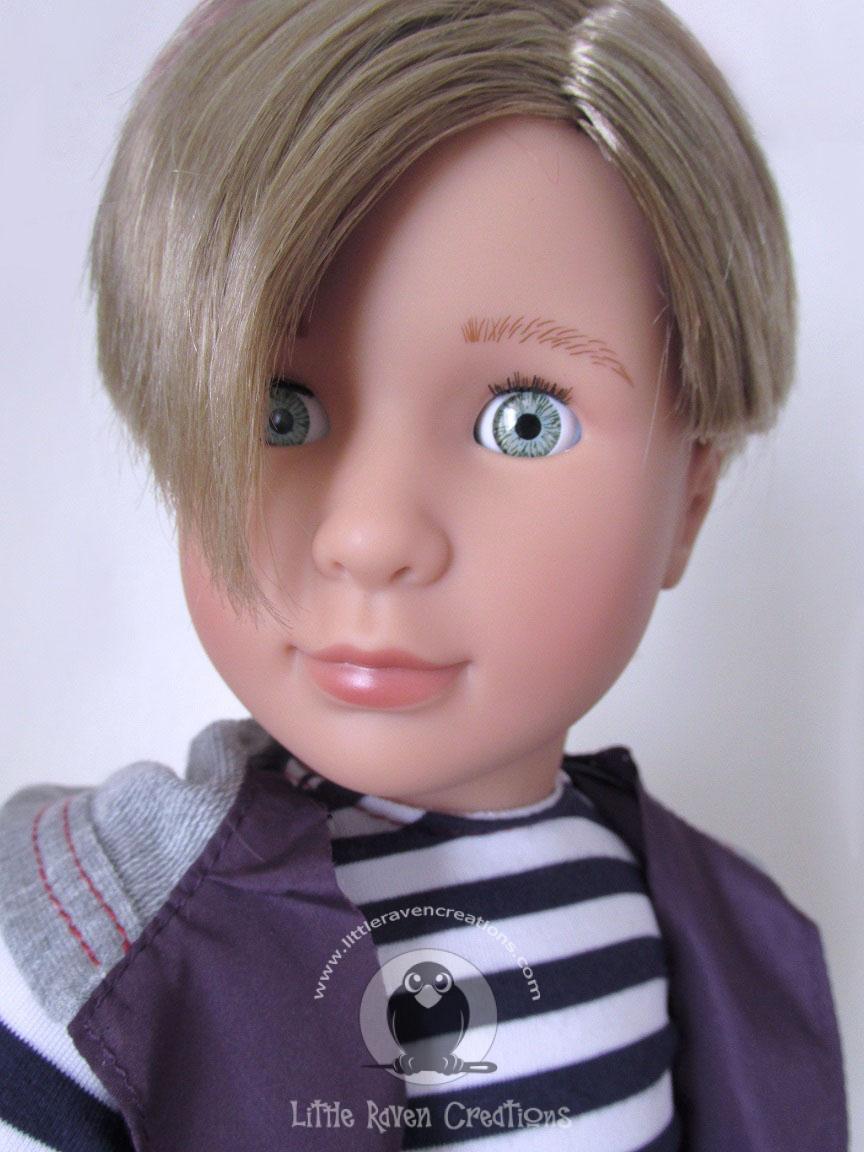 Never mind Zoolander, this guy is a natural!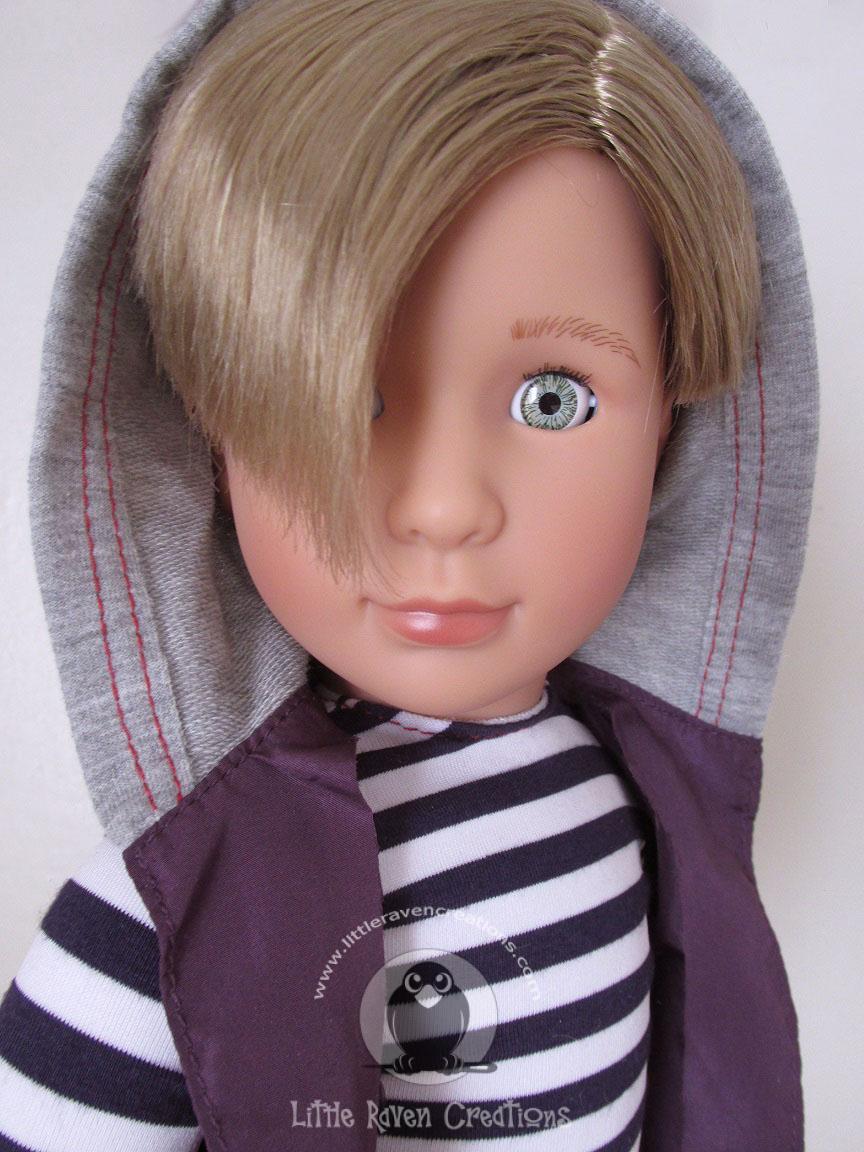 My final assessment: I'm completely sold on Our Generation's new 18" boy Rafael. He's really cute and very unique looking with his piercing green eyes and shiny blond hair in a surfer mullet. He's the first ever boy in the OG collection (the second in Battat's history) and makes a cool friend for Logan Everett and other new boy dolls, like CitiToy's My Life As School Boys.

Look at these cool guys. . .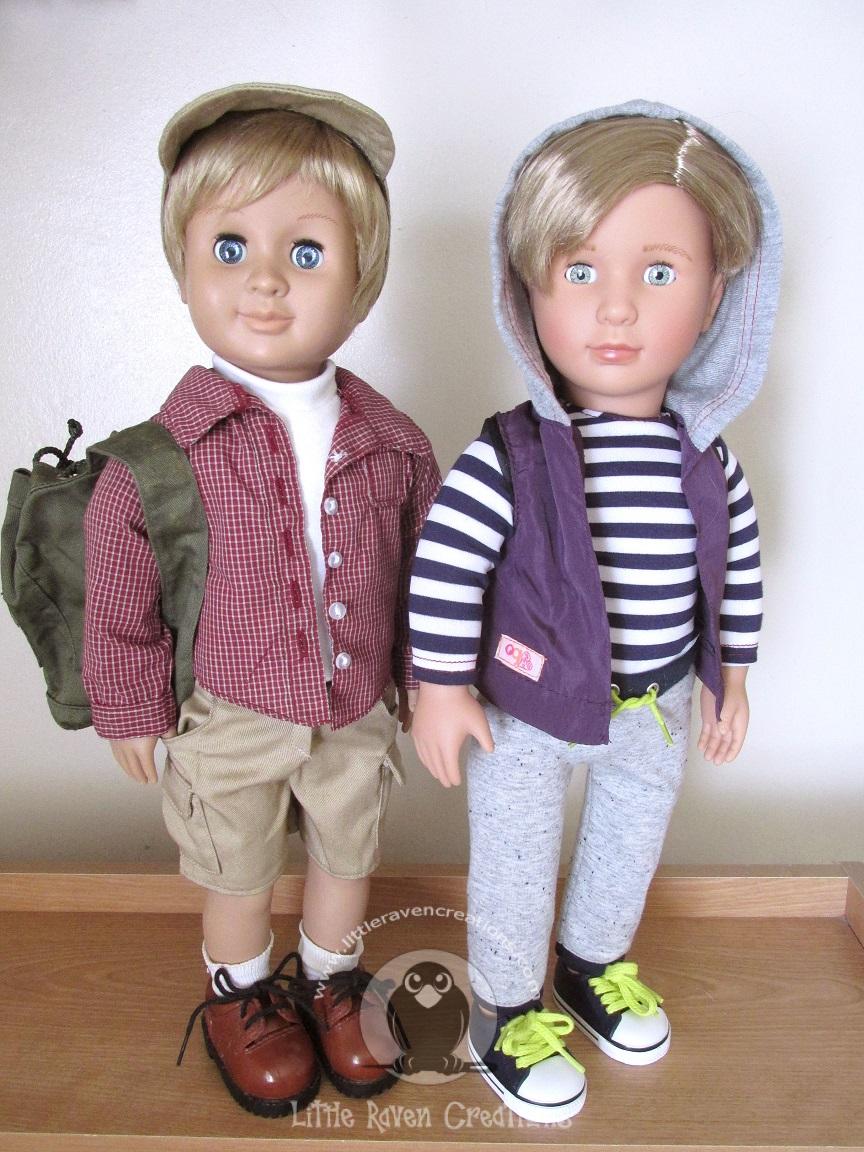 Rafael with his Battat "big brother" Jack.
He comes with a unique face mold, a cute outfit (hopefully more will follow) and all the other usual OG goodness. In some ways I like him better than Logan Everett because he looks a bit more classic "boyish." In someways I like him better than My Life As School Boy (the blond School Boy anyway, more on that to come) for his more natural appearance.

With My Life As School Boy (blond)

He's a high quality affordable boy doll that OG fans, and all doll fans in general, could love. If you're looking for a friend for Logan or just a reasonably priced (about $30) cloth and vinyl boy doll, head to Target and grab Rafael.