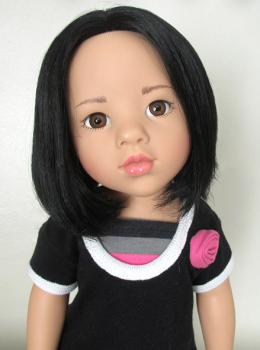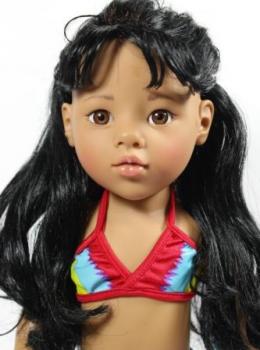 FAO Schwartz Avery and Gotz Asian Hannah
FAO Schwatz Asian Avery (by Gotz) and Gotz Asian Hannah use essentially the same Gotz Asian model. The main difference is in their hairstyle. Avery's straight black hair is worn in a chin-length bob, either with or without bangs/ fringe. Asian Hannah has much longer, wavy black hair with bangs/ fringe. They each have brown eyes and light tan skin, though their face paint may vary slightly. They are slim 18" vinyl dolls.

Avery, who is now retired by FAO Schwartz, can be easily found used on the secondary market for about $30 - $60. Asian Hannah is available from the Gotz website and other online doll markets for about $130 - $150. She can also be found new on the secondary market for about the same price.