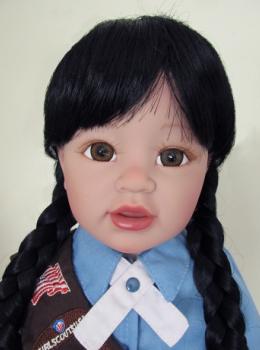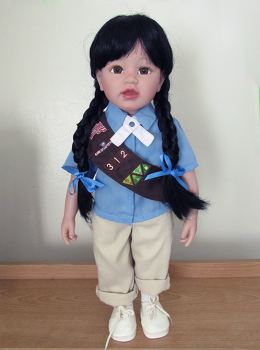 Tenderhearts Girls Olivia
Paradise Galleries' Tenderhearts Girls are five dolls of (mostly) different ethnicities, with Olivia being the Asian doll. She stands about 17" tall, and like her Tenderhearts pals she has a non-jointed cloth body fitted with an armature for poseability. (Only her arms above the elbows and feet above the ankles are vinyl.) She has long black hair with bangs/ fringe, worn in two braids. Her eyes are brown. She shares a face mold with her Tenderhearts friend Maria. Her original retail price was $50. She is now retired and can be very hard to find.

One or two of Olivia's Tenderhearts friends will sometimes make an appearance on eBay used, though Olivia seems very rare. Amazon however will sometimes sell Tenderhearts Girls, including Olivia, for about $30, brand new.