First-Born Customs Part I
Submitted by

Little Raven

on Thu, 2017-01-12 23:47
Here's what been occupying me for the last couple of weeks: I had a whole lot of blank doll heads that needed some love and they weren't going away. Previously I had been focusing on cleaning up and restoring some TLC dolls I had picked up on eBay, listing them, selling, and trying to create some working space for myself! Did I mention I had somehow accumulated around 150 dolls over the last couple of years and needed to reclaim my living space?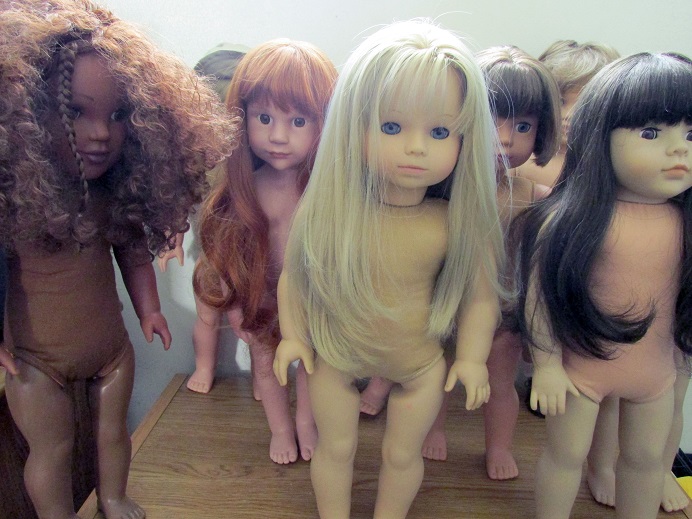 So I picked a handful of heads and started painting them. Easy, right? Yes and no. I'm actually still learning how to do this, kinda sorta. I've been practicing with acrylics for about a year and thought it was time I cracked out the reborning paints. Here's how My adventure panned out, in a two-part post. (Apologies for the poor lighting. The skies were dark and rainy for days.)
I started with the Secrist "English" sculpt, which was also the first Secrist mold I was ever introduced to about 2 years ago and fell instantly in love!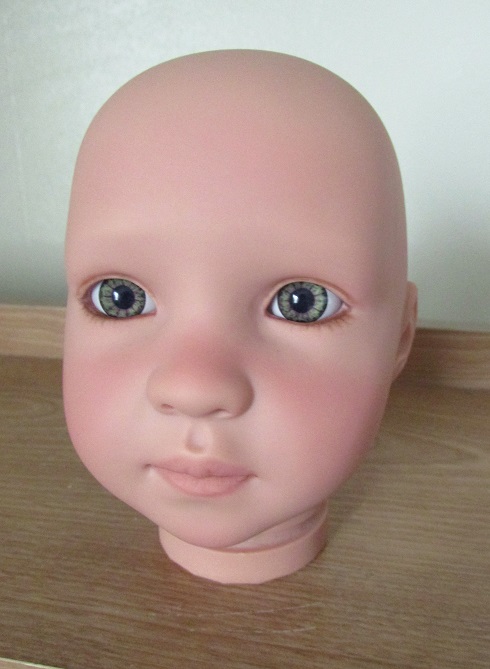 GETTING STARTED: CHEEKS, LIPS, AND EYELASHES
---
I had already decided hazel-eyed English was going to be a boy with brown hair, so I kept the colors suitably muted. Here he is with his first bit of cheek and lip color and painted lower lashes. Go figure, I was actually happy with my results. (Hint: reborning colors are easier to work with than acrylics!)
---
Next I tackled the brows, which were done with both a stencil and freehand, since I was still getting familiar with this process.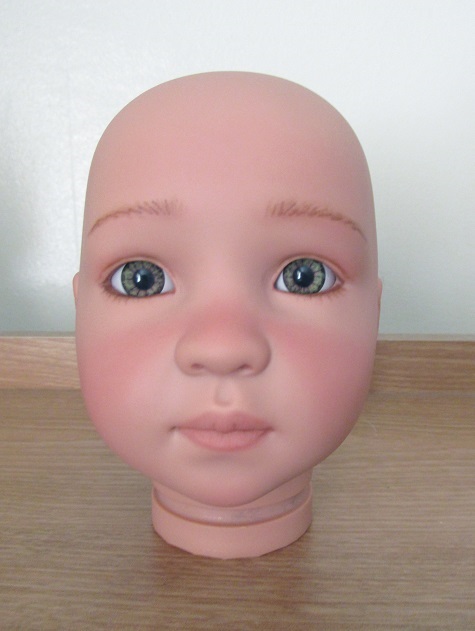 ---
At the same time I also started working on an AA "Punkin" sculpt in darker vinyl with hazel eyes--this one I decided was going to be a girl. I mostly ditched the brow stencil and used free hand this time, as I wanted her eyebrows to be really expressive. I was very happy with the results! A few more light layers of lower lashes and brows and
viola
, done.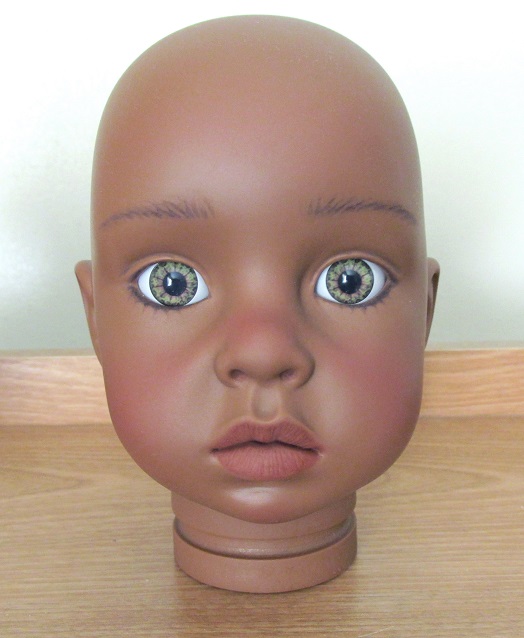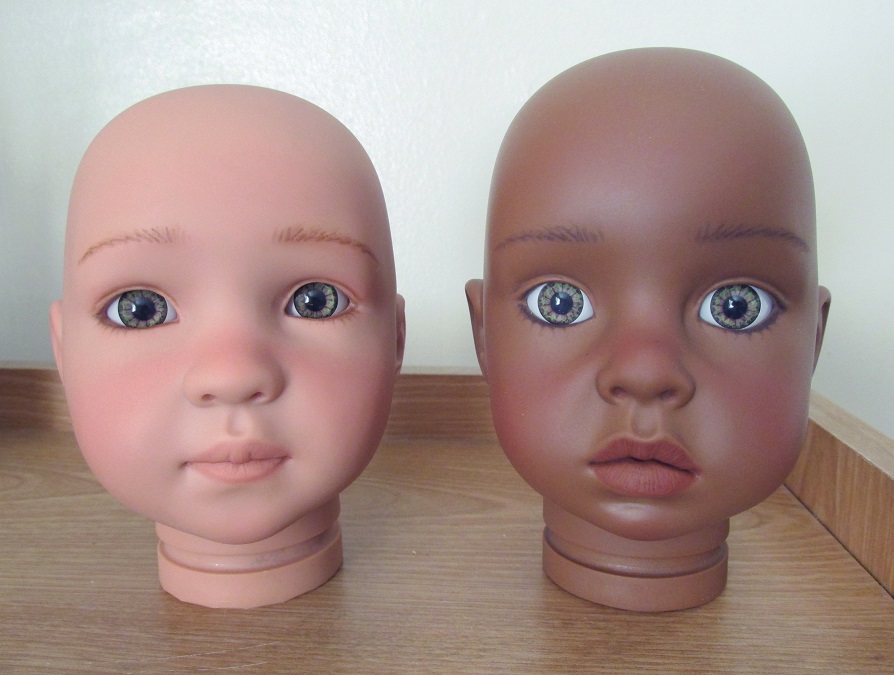 ENGLISH AND PUNKIN HEAD - READY FOR ACTUAL EYELASHES AND SATIN LIP SEALER
WOW, EYELASHES REALLY BRING PUNKIN'S EYES TO LIFE
---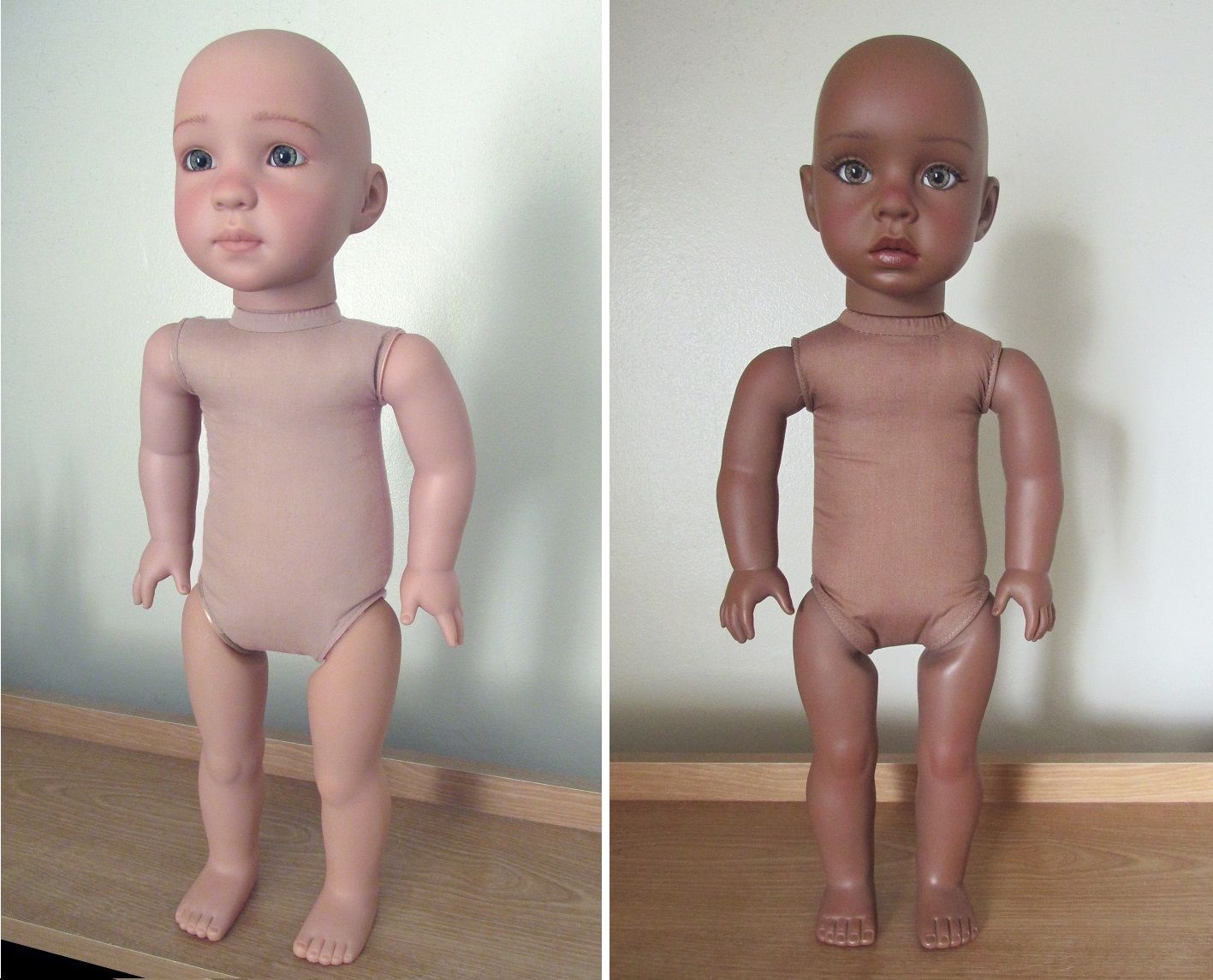 GETTING NEW JOINTED BODIES
I next fit their heads to a pair of generic, articulated bodies chosen for their close color match to the heads. At this point, Punkin's nearly done, just needs her wig; meanwhile I was still trying to decide on both suitable eyelashes and a wig for Boy English.


---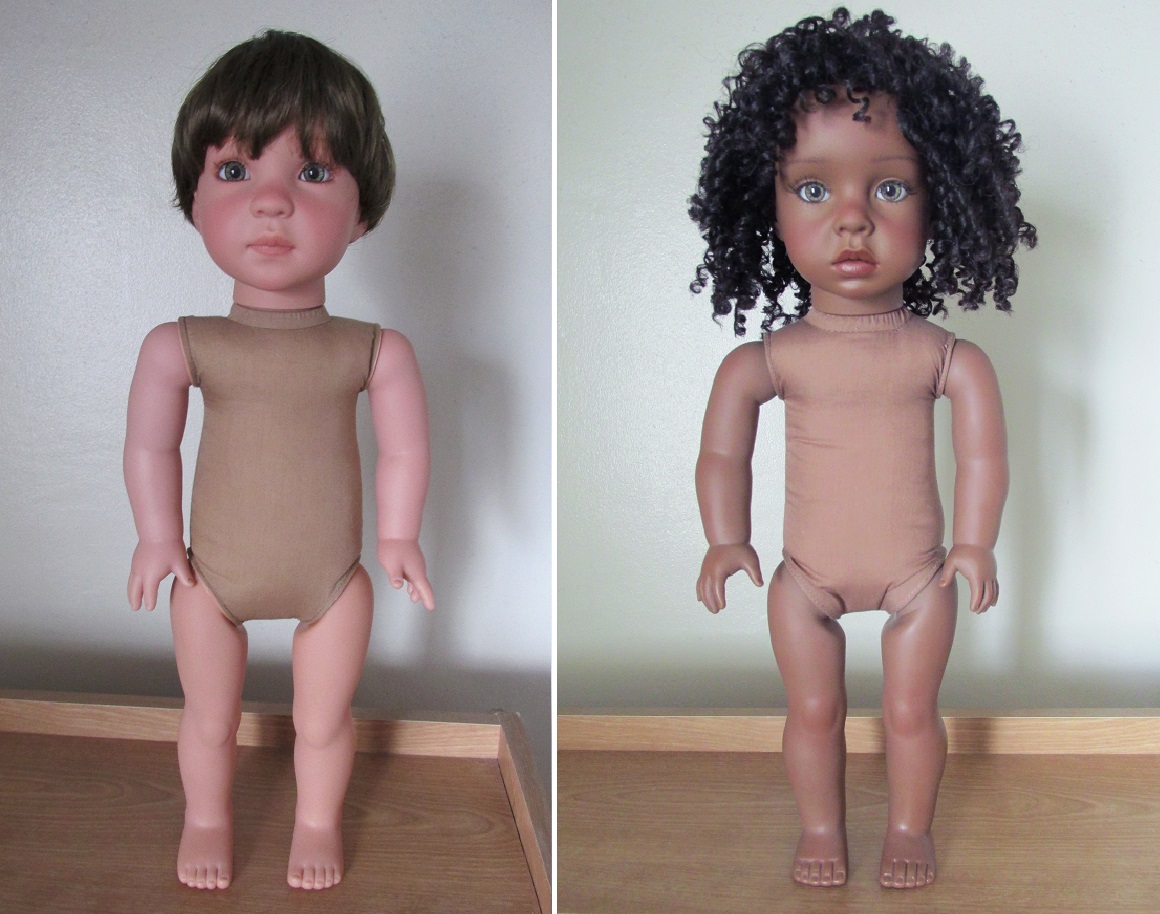 CHOSEN WIGS (AND LASHES) LOOK PERFECT--MAYBE A LITTLE BRUSHING OR FLUFFING, BUT PERFECT
---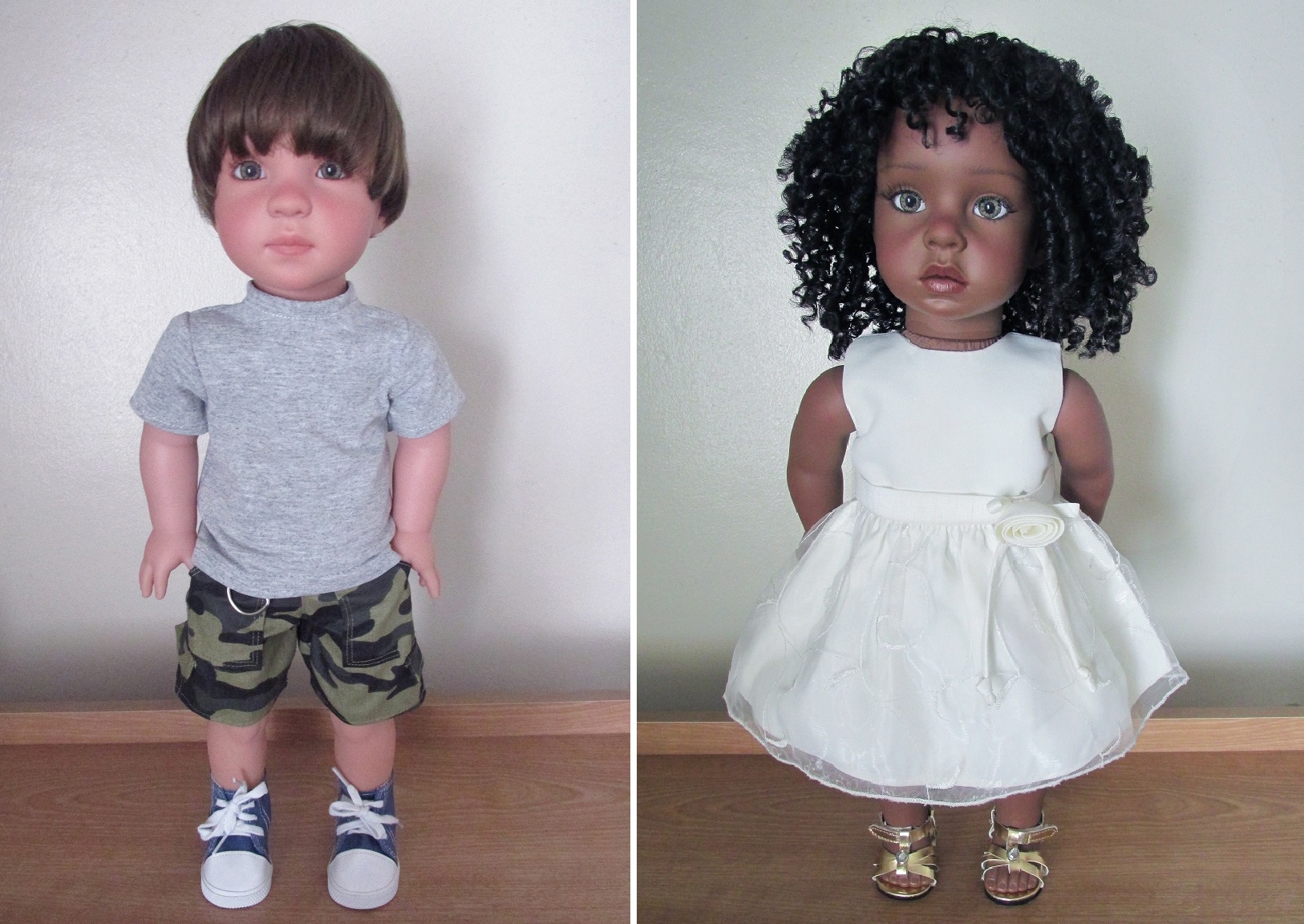 CUSTOM OUTFITS COMPLETE THE PROJECT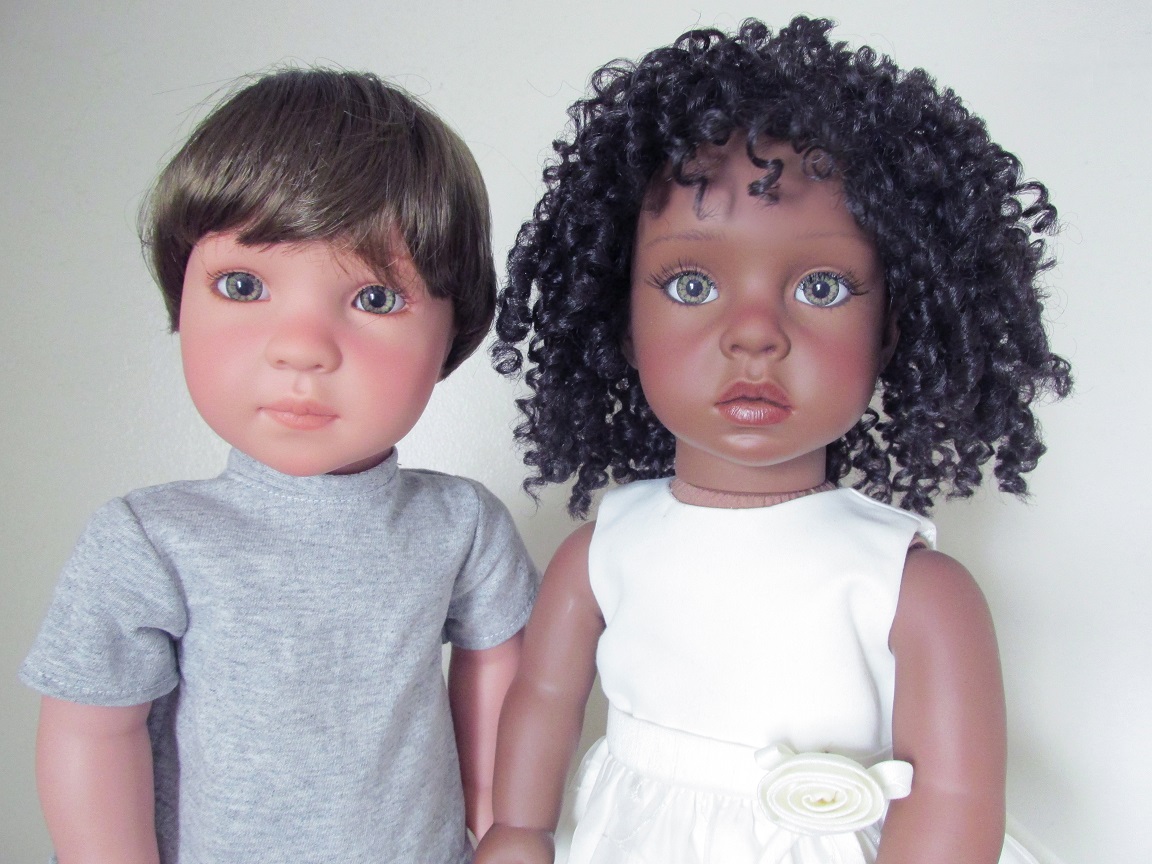 These were just two of a group of first-born customs I worked on last week. Part II incoming. . .