I'm Just Saying. . .
Submitted by

Little Raven

on Tue, 2015-04-14 11:38
My Twinn advertises that you can create a customized doll that looks however you want (or like whomever you want).
But my experience every time I go to the My Twinn website and try to create a custom doll is error messages. "Selected Face Shape not available in Fair or Olive." "Selected Hairstyle not available in Blonde, Brown, Red, or Black." "Selected Eye Color not available for that Face Shape or any Face Shape, deal."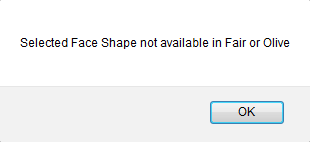 ;) So I'm exaggerating a bit, but so far I have not been able to create a single genuine "custom" doll. I always have to make one or two concessions that completely throw off what I was trying to do.
Recently I was at the My Twinn site again and got error message after error message, no matter what I tried to. Actually, what I was trying to do was select the "Danielle" face shape (number #038) for a custom doll, but every time I did, I got. . .





Selected Face Shape is only available in Light Brown or Brown??! As far as I can tell there is no Light Brown or Brown Face Shape.  I'm so confused! There is Very Fair, Fair, Olive, and I think the last one was Dark. So how do I select and option that is not available as an option?

So I tried selecting Light Brown or Brown EYES. But that did not change the error message. In fact selecting any combination of hair or eyes (and I tried them all) still gave the same error message. Conclusion: the Danielle face just isn't available with any eye or hair color combo. It's just not available. Give up. Go home. (So much for customizing.)

And "Danielle" isn't the only kind of doll I've tried to create. It's several different face and hair/eyes combos that I can never quite achieve. This is probably why I don't have a My Twinn doll yet, though I have wanted to add one to my collection because some of these dolls look really amazing. But I end up feeling either frustrated or just disappointed and disinterested and just move on to another doll site.


So are your dolls actually customizable or not, My Twinn? The funny thing is I'll see a MT face along with a skin/ hair color I really want all over the internet and even all over the My Twinn website, yet it is never actually available on their custom creator, either at all, or in the skin/hair/eye combos I want. Is it because they have run out of specific faces that are popular? Are certain face/color combos just discontinued? Is the custom creator on hiatus? Can we get some indication of what the issue is? It seems My Twinn needs a little work in this department.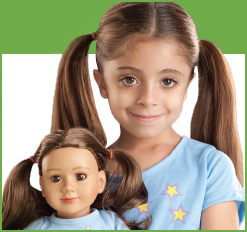 THIS DOLL IS NOT AVAILABLE IN FAIR, OLIVE, LT BROWN, LIGHTBROWN,
BROWN, BRIGHT RED, PURPLE, OR ANYTHING YOU WANT IT TO BE AVAILABLE IN.
 
I think I'll start a new feature on my blog called "I'm Just Saying" where I can beach and moan about stuff like this that annoys me lol.
---
UPDATE: I was on the My Twinn site today to learn their custom doll creator has completely changed. I don't know if this is temporary or permanent. but it seems you are no longer able to choose a face mold yourself; all you can do is submit a picture of your child. What?!
Kinda dumb IMO because maybe you just want a doll for yourself which has nothing to do with looking like anyone else. Well, I suppose the name My Twinn says it all. They want to be a lookalike manufacturer first and that is how they are promoting themselves now. No more making dollies for yourselves instead of for all the sad little doll-less children out there, you lot of self-absorbed adults! ;)

Truthfully, I can't even say I agree with some of the "matches" they have created using this dynamic--some of them look nothing like the child in question! Mostly it's bothersome because it really takes all choice away from the buyer. I guess its Adopt a Friend from now on, and bye-bye to custom doll creation. Boo-hoo sob, not happy.