Tonner My Imagination Doll Review
Submitted by

Little Raven

on Sun, 2015-12-20 21:44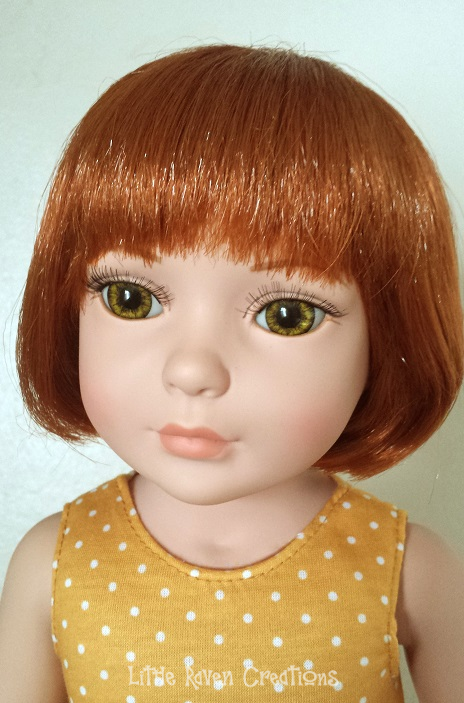 I was super happy to get my Tonner
My Imagination
doll in the mail over the weekend. She was a preorder from months ago, so it looks like some of the My Imagination dolls are finally coming in. This is only my second Tonner doll--third if you count Effanbee Katie who was sold through Tonner a while back. But I've been following the Tonner website for a while now, and have long been a fan of their gorgeous art and play dolls. Naturally when they announced they would be adding their own contribution to the 18" doll market, I was on board!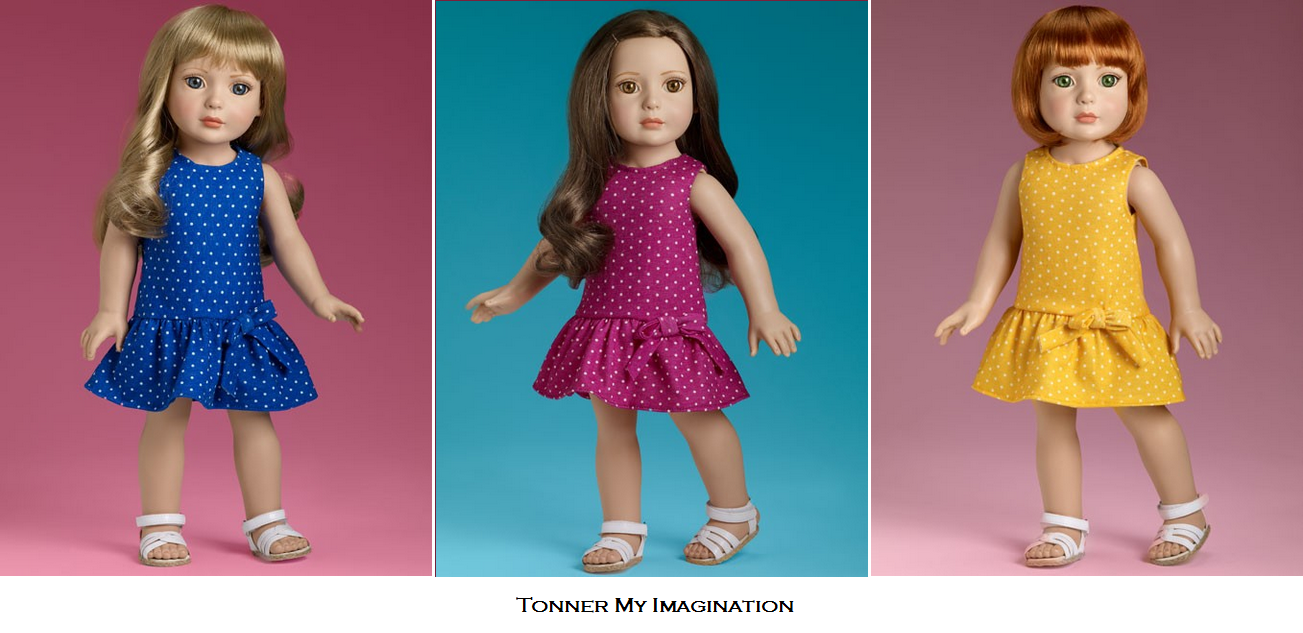 I chose the Starter Redhead because I loved her unique green eyes and cute ginger bob. It was a real tossup though. The blonde and brunette Starters were also super pretty, but I figured I already had a lot of blonde and brunette dolls, so I went for the redhead. Plus the hairstyle was just cute and different.
(Of course I would have loved the Deluxe doll with the bendable knees, but at $124.99, she's a bit out of my budget. Besides, she's not available yet anyway.)
So when the mysterious box arrived marked "TonnerDirect," I realized the wait was finally up! I was so eager to have a look at my little ginger girl.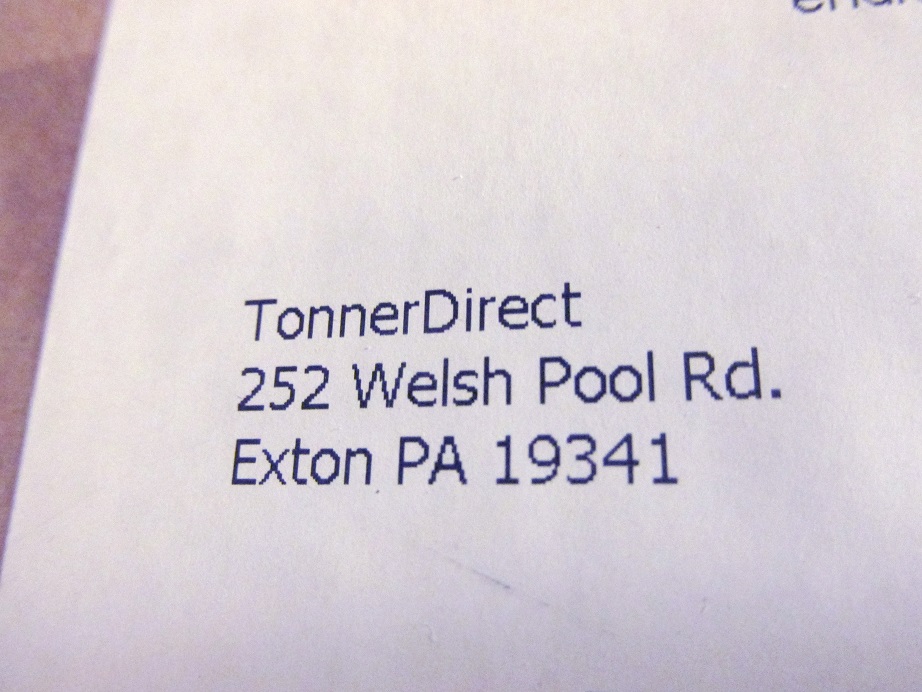 She was sealed in a series of nested boxes: the mailer, a plain white box with the style number and name, and finally her "My Imagination" packaging. This was my first look at her!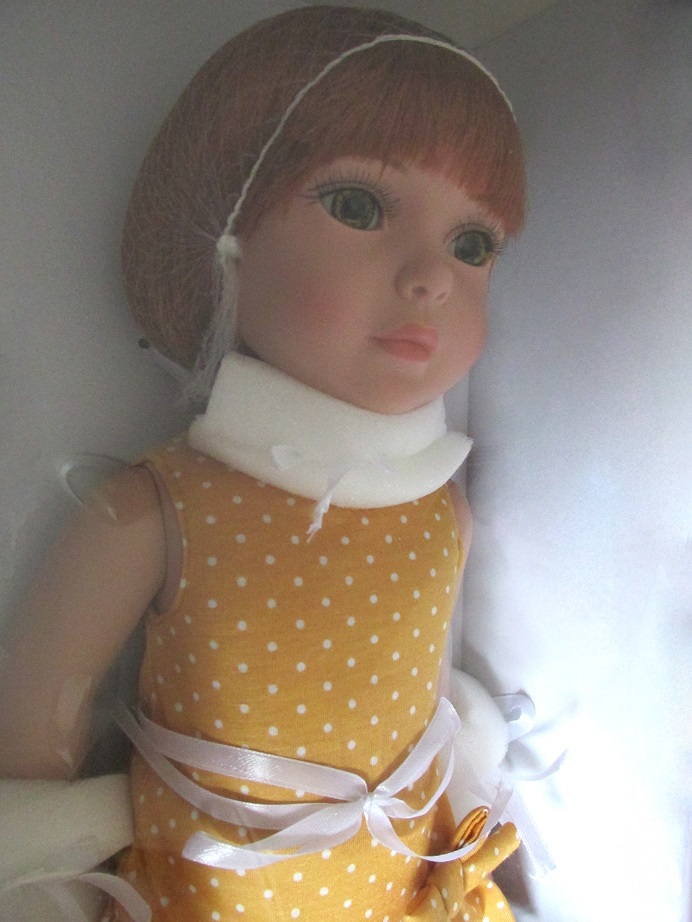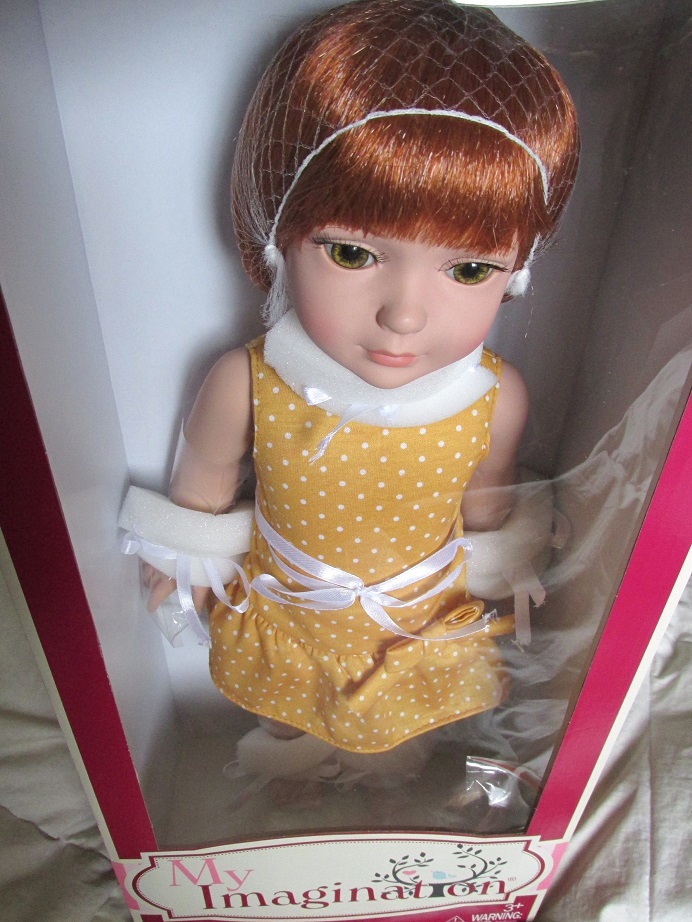 The thing that immediately stood out to me were her very large, beautiful, inset eyes. The Tonner website lists the Starter Redhead's eyes as "green," but I found they were more of a hazel-green, almost gold in certain light. They were really striking and unusual. I couldn't stop staring at them!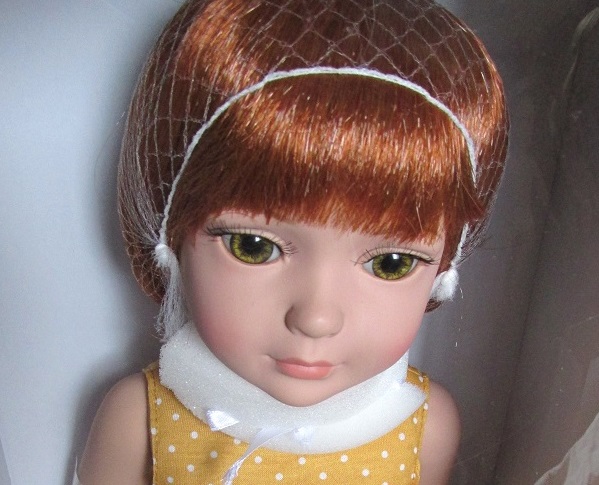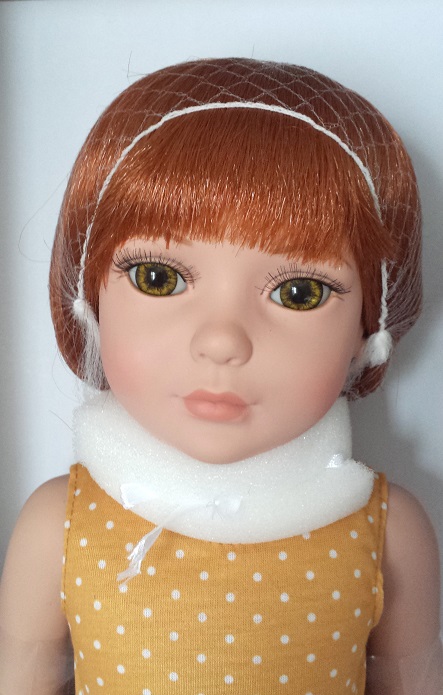 Once I had the box open, I could get a better look at her: she has a very pretty, pale, rosy complexion, and delicate and very subtle face paint. I'm not generally a fan of really bright or heavy doll "makeup," so this was a winning matter for me. She has a button nose, a cupid bow mouth, and a quiet, "mature" expression: a lovely and unique doll!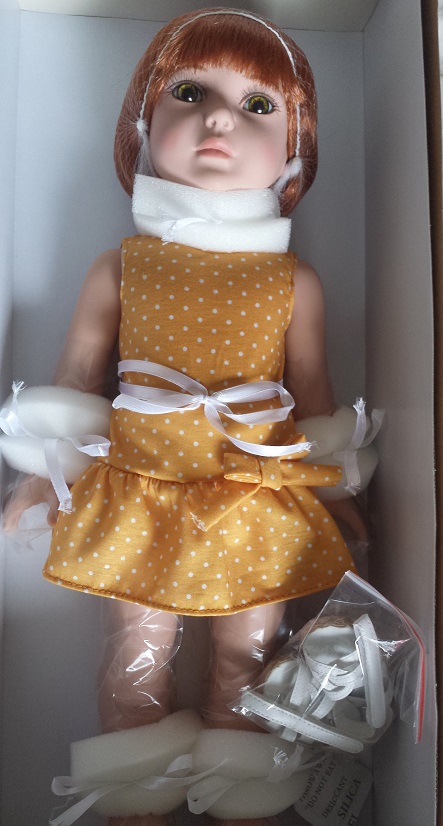 She comes securely attached to her box with satin ribbons, though with thick foam protecting the vinyl. (I actually had a bit of a struggle untying the ribbons which were pretty tight!) Her sandals are stapled to the side of the box.
Underneath the foam the vinyl is further protected by plastic wrapping. The leg wrapping goes all the way up to the thigh.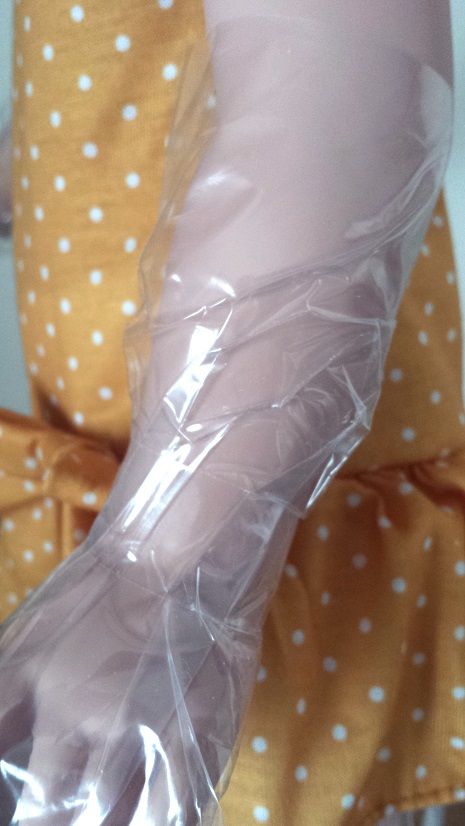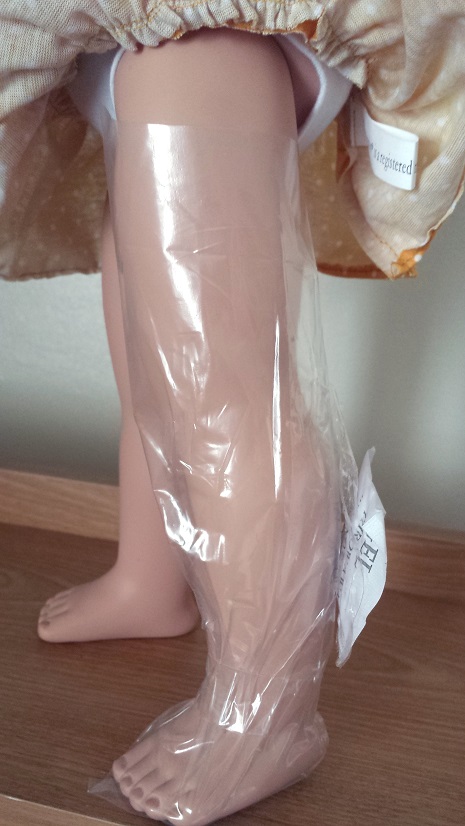 And here she is finally released from her hairnet, ribbons, foam and plastic binds! She's very striking and graceful. I'd even call her elegant. She has a solid, balanced stance. She is easy to pose, easy to stand. Her hands are flexed upward slightly at the wrist, almost giving her a dancer's look.

Here she is from the back.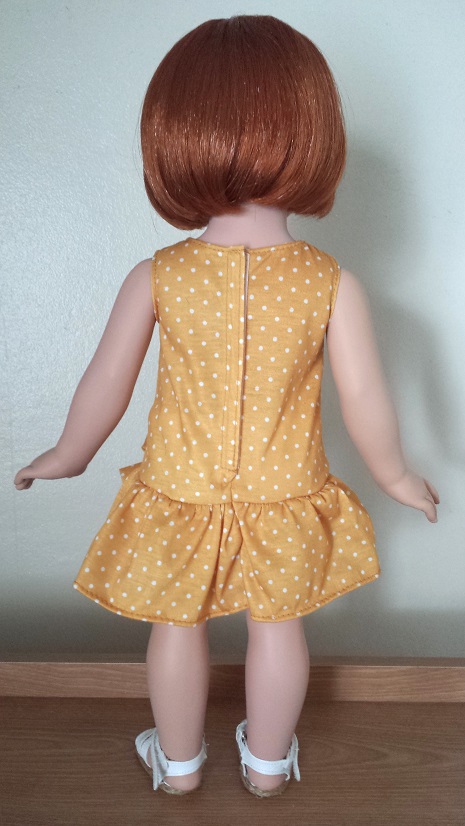 A pleasant surprise is that she can sit in a much more lady like fashion than some 18 inch dolls! It's not a perfect sit, but an improvement over the usual extreme "split sits."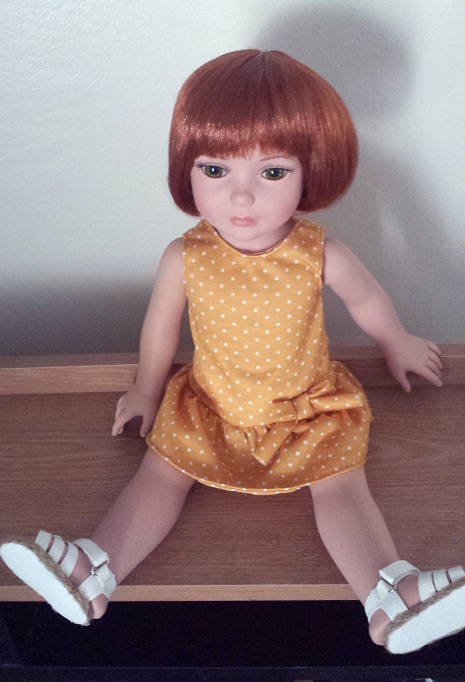 Underneath her simple sun dress she is wearing white, stretch cotton underwear. She is a full vinyl "child" doll, with a smooth torso that is wider at the top than at the waist, unlike
some full-vinyl child dolls
that have rounder bellies. Her legs have a simple but natural shape to them.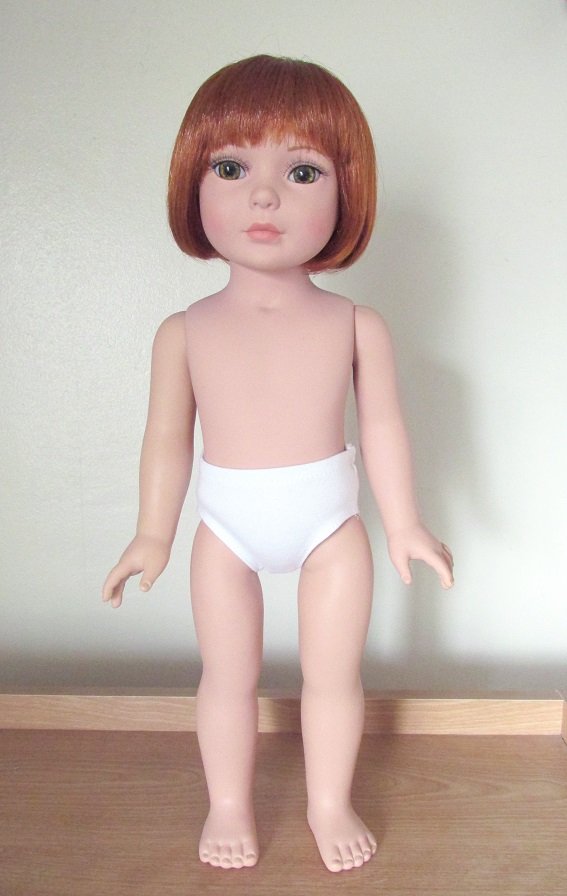 Her measurements (11" chest, 10" waist, and 11.5" hips) are fairly close to the newer Mattel American Girl dolls, and she could probably share clothes with them (or even some of the thinner Pleasant Company dolls) very easily. Here she is next to American Girl Felicity for comparison.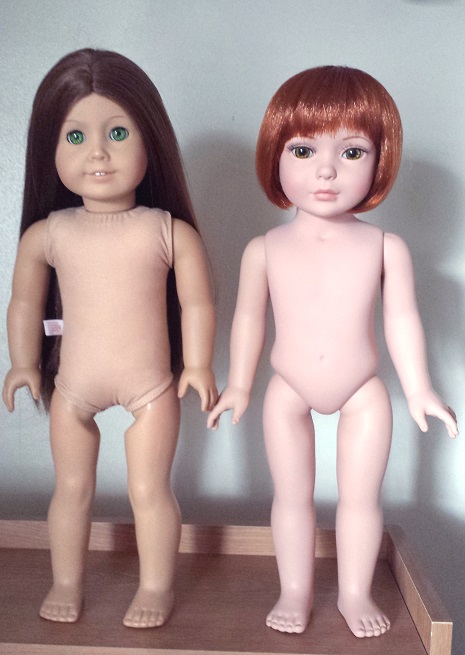 The foot size is fairly identical to American Girl dolls as well (barring slight camera distortions) so there should be no issue sharing shoes.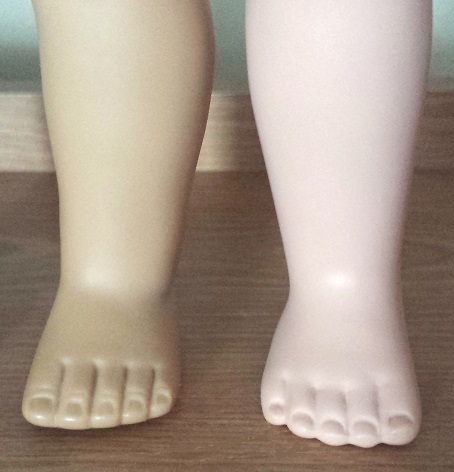 A closer look at her cotton knit sundress shows that it has a very simple design, with no lining or overlock stitching. Her sandals are fairly standard (though cute). Both dress and shoes have a Velcro closing.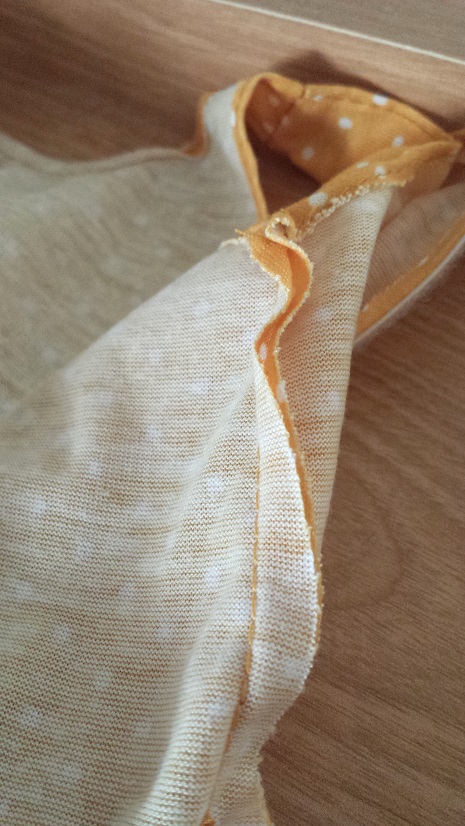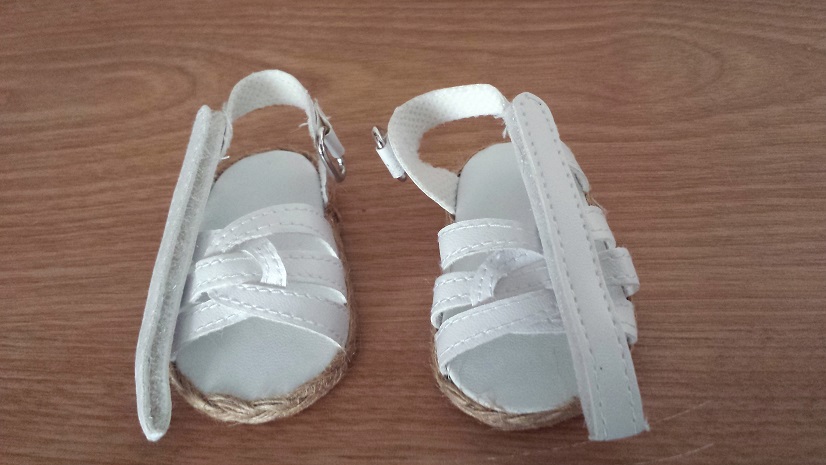 One thing that did slightly disappoint me about Tonner's My Imagination Starter Redhead was the quality of her wig. I couldn't help but be reminded of my Effanbee Katie's rather coarse, short bobbed hair. For a higher quality doll, that struck me as unusual. This doll has the same problem unfortunately. While smooth enough just out of her hairnet, I can see the wig becoming dry and unmanageable over time.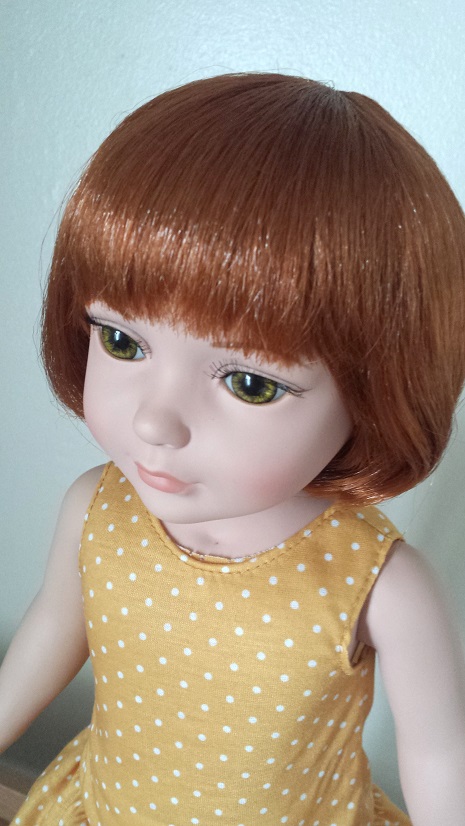 Plus it definitely doesn't look like the smooth, silky, shiny bob shown on the Tonner website. It has a lower end, rougher feel to it--though it is by no means terrible. I can't say if this is the same situation for the blonde or brunette starter doll, both of whom have longer hair, but the low quality wig is a weak point for the redhead.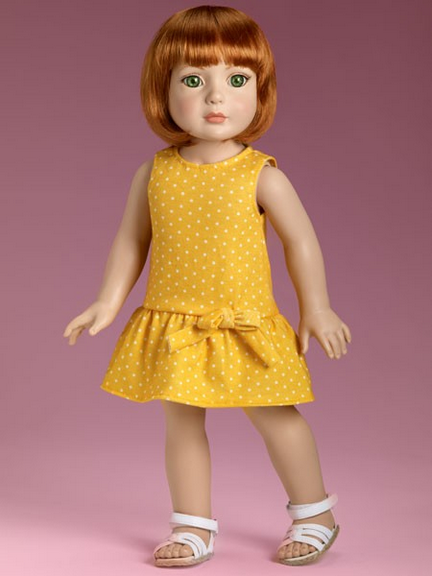 STARTER REDHEAD AS SHOWN ON THE TONNER WEBSITE
The starter dolls are supposed to have permanent wigs, while the deluxe doll will have interchangeable wigs. None the less, I can probably guarantee I will be exchanging my starter red's wig at some point in the future for something much more like the website doll's wig!
Conversely, this doll's stunning eyes just about make everything else ok. Like mentioned before, her eyes are inset (they don't close) and are very large, wide, and "doe-eyed" in shape. The color is really beautiful and seems to change from green to hazel in different lighting.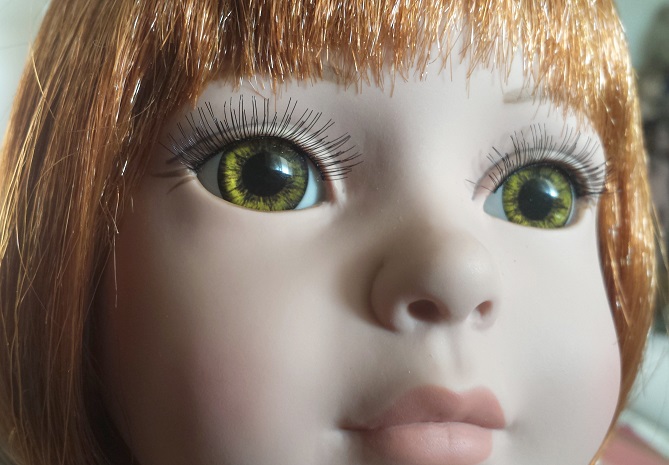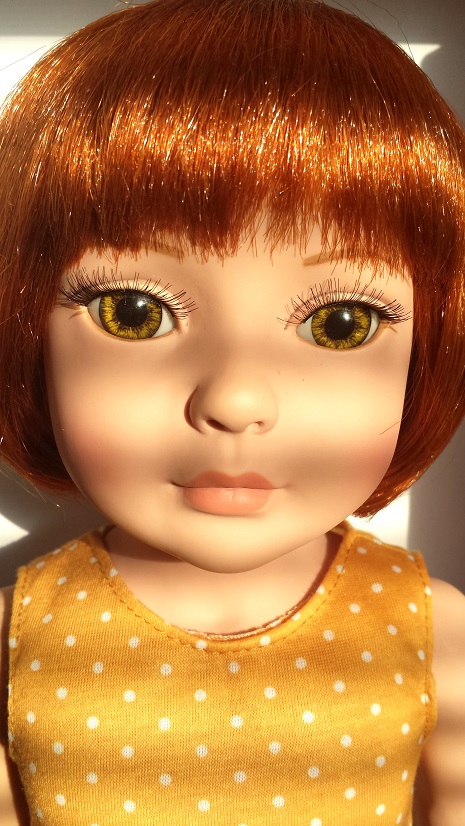 The brows look to be hand painted, and while they aren't feathered, they have a delicate, artful look to them. The doll has very long, black eyelashes.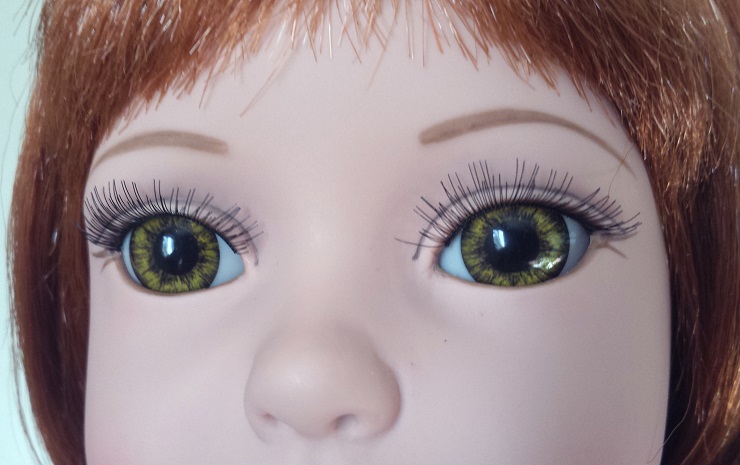 My other favorite thing about My Imagination is the doll's hands. Like I said before, they bend upward slightly at the wrist making them look rather chic, while their fingers also are posed very gracefully, though the camera may not do as well capturing it.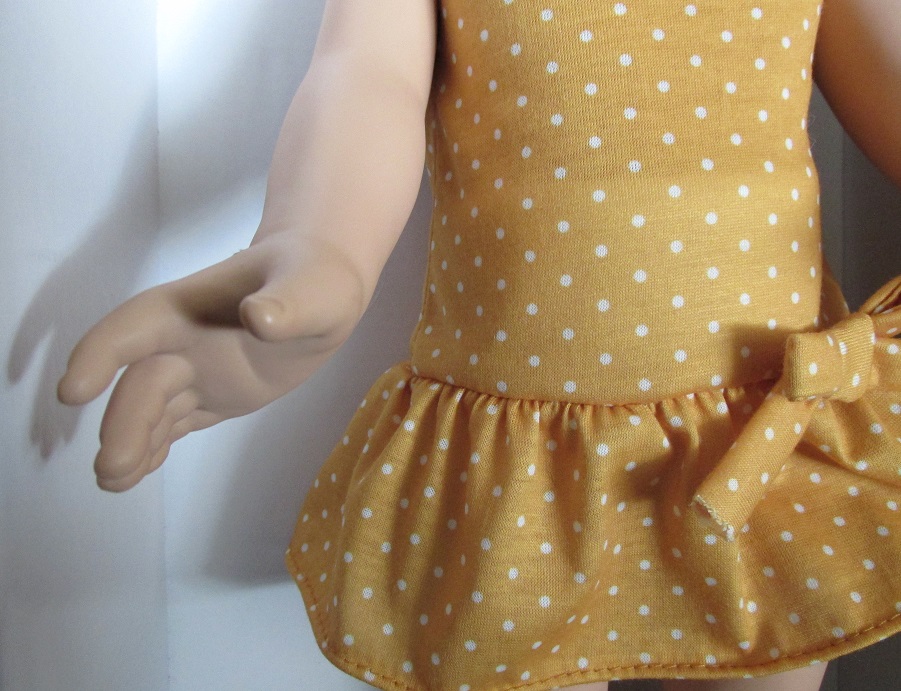 My Imagination dolls are without a doubt a fantastic addition to the 18 inch doll market. They are beautiful and unique, different enough that they don't tread the exact same ground that many of the 18-inchers have done before, yet not so different that they wouldn't easily secure themselves a place alongside favorites like American Girl, Madame Alexander, Gotz, and so on.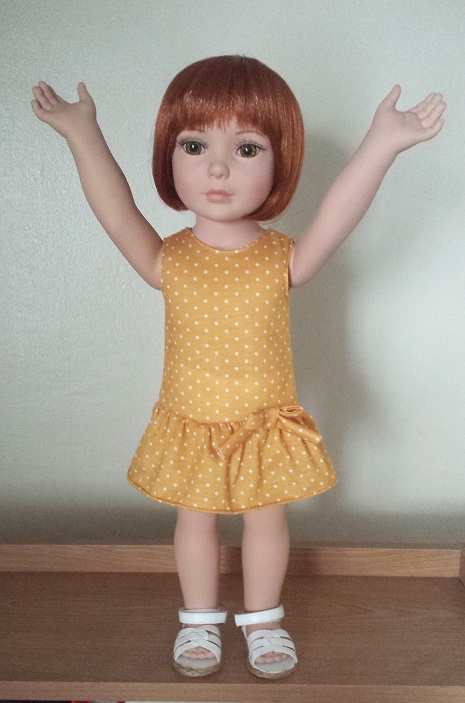 While they may have a few shortcomings (starter wigs) or may lack some variety (there are no ethnic My Imagination dolls currently) they are nonetheless of excellent quality and beautiful. With their serene features and elegant poses, they make a classy addition to anyone's doll collection. And although different dolls may appeal to different tastes, I can see these as having great appeal for both children and adult collectors alike. I predict Tonner will mark out a comfortable niche for themselves in the 18 inch doll market.